Happy New Year 2012
01.01.2012
Gd Golliat (3238 m) - Val Ferret
25.11.2011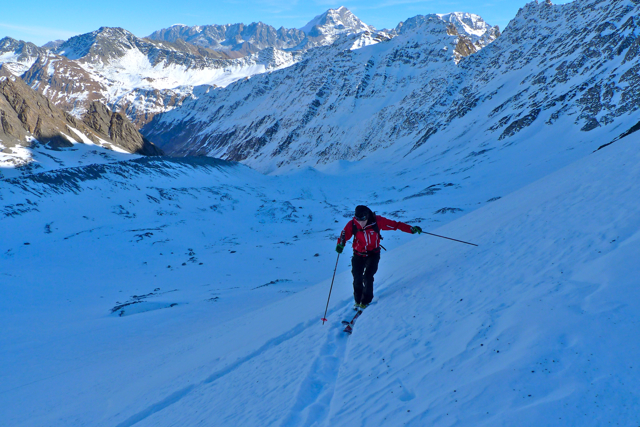 On the Swiss/Italian border, and further South, there's plenty of snow above the tree line.
With Gilles, we skied the 2 North/East Gd Golliat's couloirs. What a great day!
For more details: gillesleskieur.com
Cala Gonone - Sardinia
09.11.2011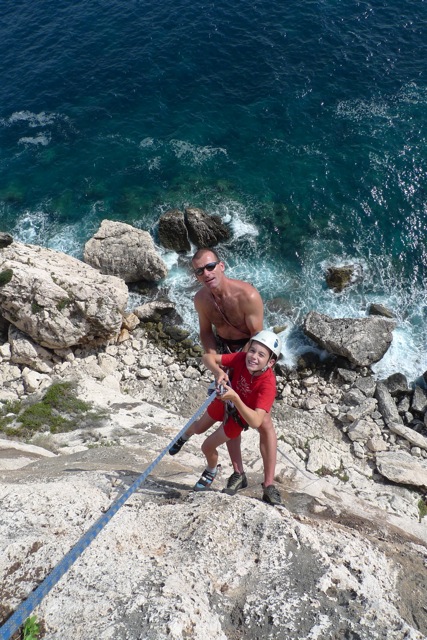 End of October, we enjoyed a warm and beautiful weather in Sardinia for a 2 weeks break. It's our family traditional destination for the automn's school holidays. Climbing, biking, beaches, pasta, pizza, gelati and cappuccini.
Rätikon - Gemstobelwand, route Rialto
11.09.2011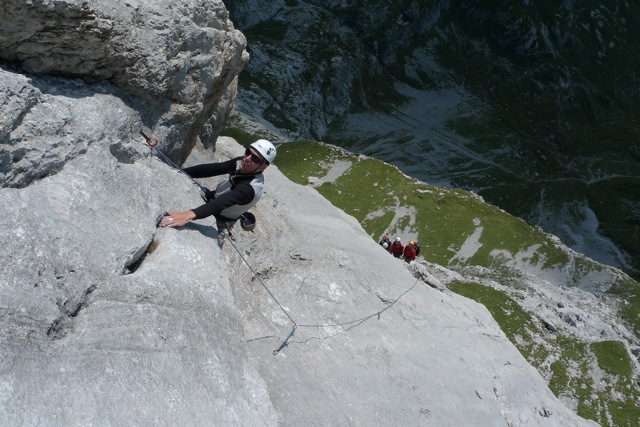 On the border with Austria, the Rätikon's range offers, on the Swiss side, steep limestone's walls.
Rialto, 15 pitches of perfect limestone, is a beautiful modern climb.
Gd Combin (4314 m) traverse South->North
15.08.2011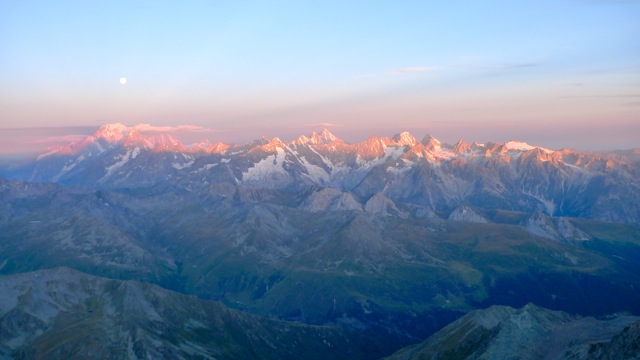 "Excellent conditions on this majestic traverse from Valsorey to Val de Bagnes. The scenic Arête du Meitin on the way up and we follow the tortuous ""Voie du gardien"" on the way down. The last one, classic this season, but seriously exposed to ice fall is not recommended."
Rock trip to the Dolomites
10.08.2011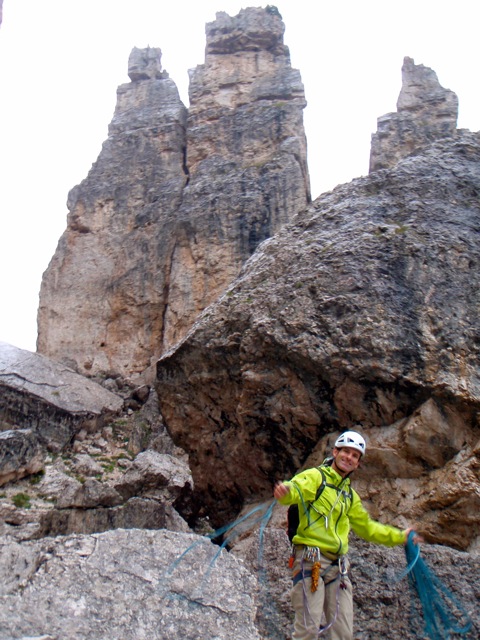 Arnad, Passo Sella, Cinque Torri, Arco.
The Dolomites are a climber's paradise ! Even with a unstable weather, we took advantage of every single day.
Thanks Didier, we'll be back...
On the picture, the Cinque Torri above Cortina d'Ampezzo.
Via cordata + North Ridge - Mont Fort 3228 m
12.07.2011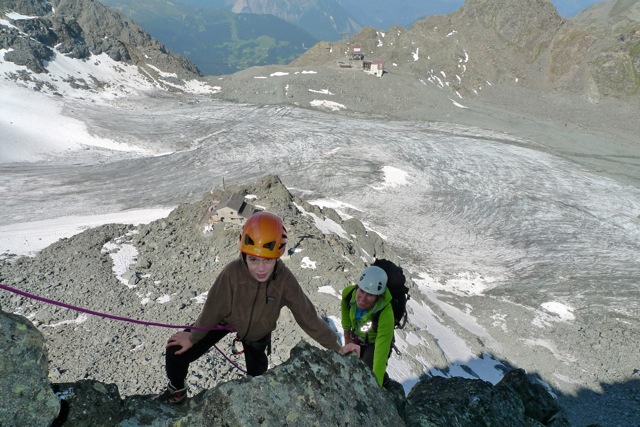 Enjoyable family trip to discover the brand new Via Cordata on the Mont-Fort.
To follow the North ridge to the top of Mt-Fort offers an alpine touch and also a comfi way down with the gondola.
La Rébuffat - Aiguille du Midi
31.05.2011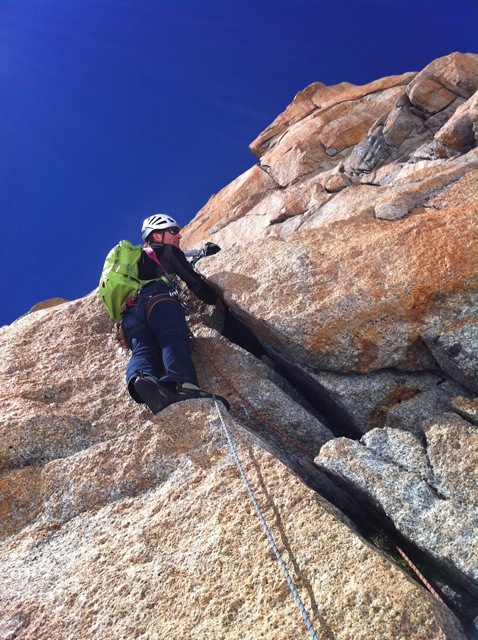 The day after skiing the Mont-Blanc, the South Face of the Aiguille du Midi was on the menu. It was a great pleasure in good company. Even if the route was over crowded, 10 parties today, the belays are too short in such an incredible scenery.
Pointe Dufour, 4634 m - Monte Rosa
11.05.2011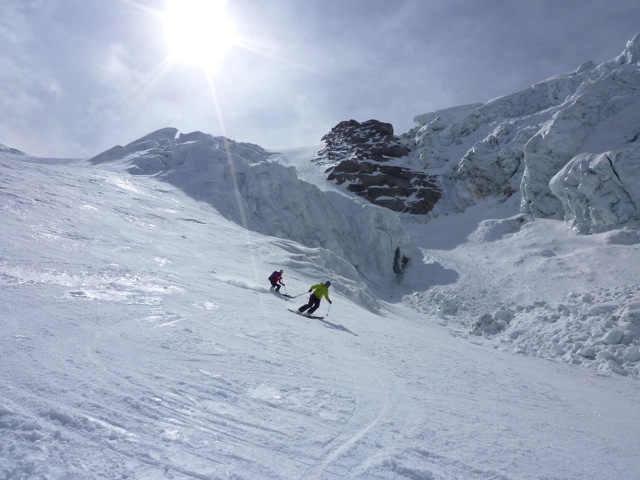 After a comfortable night in the brand new Monte Rosa Hut, we have sumitted the Punta Dufour. Early summer skiing conditions, but still excellent on these high glaciers, allow us to reach the hut from the Klein Matterhorn via the Schwarztor.
Zermatt - Furgghorn 3451 m
02.05.2011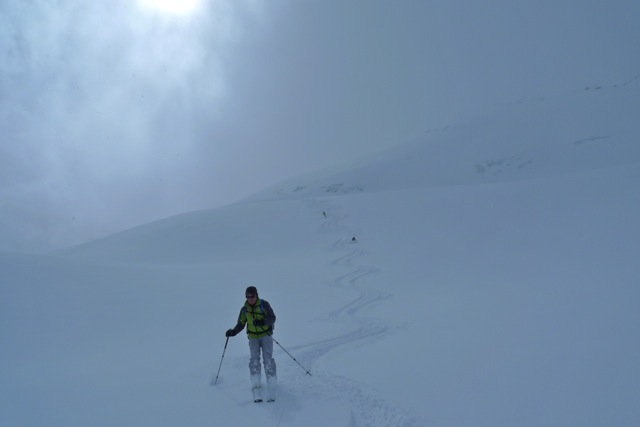 We had powder snow for the last turns of April and probably of the ski season ! The Furgghorn offers a nice descent on the Furgg-Gletscher, just below the East face of the Matterhorn.
High up, on the 4000er, the ski touring season goes on. Conditions will stay excellent for a few more weeks.
Col des Avouillons - Petit Combin 3672 m
24.04.2011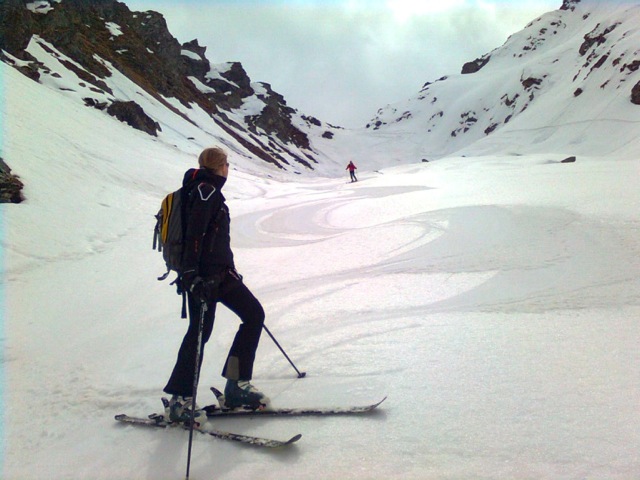 I don't remember  a ski season with so little snow...
Summer temperatures at the beginning of April has dried a lot of slopes, but we are enjoying 1st quality spring snow for 15 days. Today, héli-touring trip on Petit Combin, where conditons were top. The taxi was waiting for us on the Brunet hut's road, only 10 min away from our last turn... Who said there's no more snow ?
Grand Paradiso - 4061 m
09.04.2011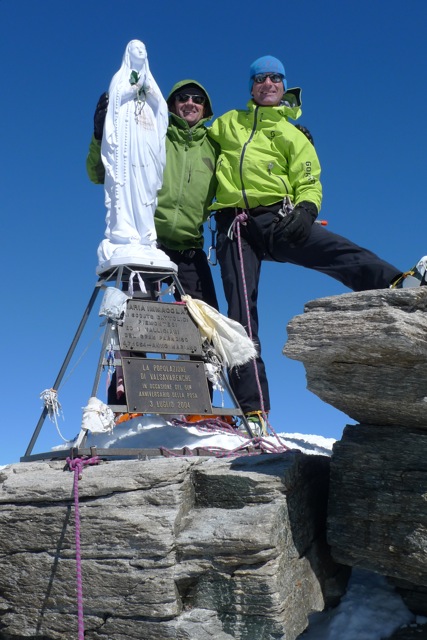 Summiting the Grand Paradiso, the highest peak entirely in Italy, is always a highlight for a skier-alpinist.  We have enjoyed great conditions with spring snow all the way from summit back to the car at Pont.
Ginat's route - Les Droites 4000 m
24.03.2011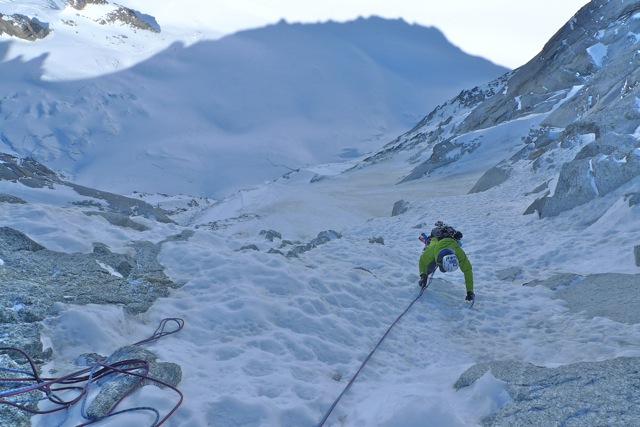 "24 years after the Davaille, 12 years after the Tournier, a 3rd visit to the North face of the Droites was for a while in my mind. Nothing to do with yesterday's ""Grandes courses"", thanks to good conditions and modern equipement we have climbed the crux pitches with fluidity. We needed less than 5 hours for the 1000 m face, and to achieve the whole trip in one day.
On the picture, my rope mate Reto Schild, a very efficient bernese mountain guide."
Great conditions on the Pigne !
18.03.2011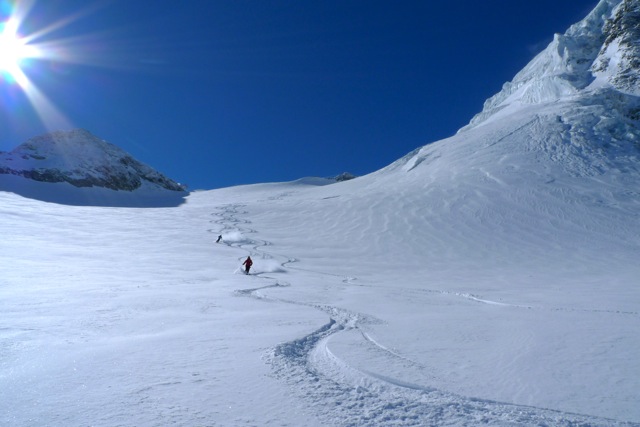 Fabulous ski conditions today on the Pigne d'Arolla 3796 m. We found around 30 cm of powder on the summit slopes.
Bramois - Arête Sud
15.03.2011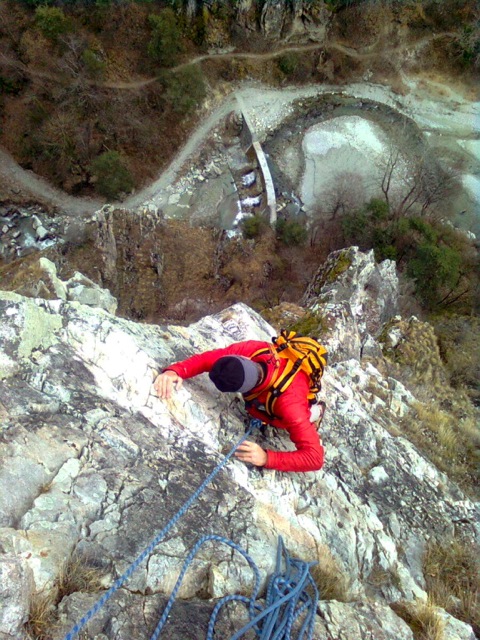 Mild temperatures on the North of the Alps, the foehn is blowing for a few days. We did escape from high winds in the Borgnes's canyon, next to Sion.
On the picture, Edouard focusing on the 5th pitch.
Mont Labiez 2632 m (AO) - North Couloir
20.02.2011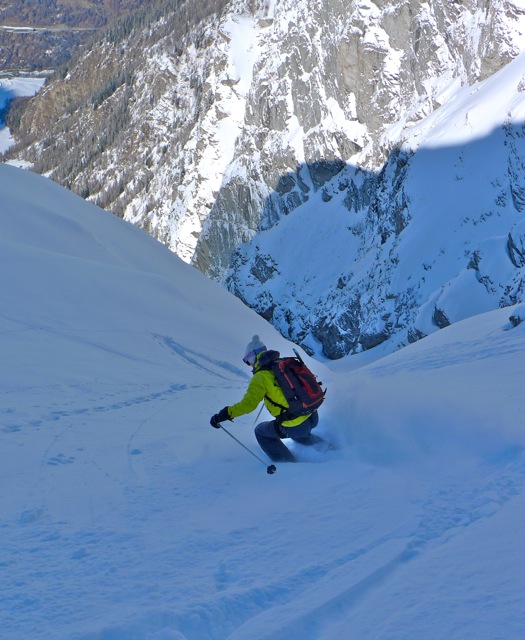 Great conditions in the Aosta Valley, thanks to recent snow falls.
With Tom, after so many years of skiing together, we still share the same passion. One more time,  we discover together this great line in powder snow.
SkiBike to Etna 3321 m - Sicilia
10.02.2011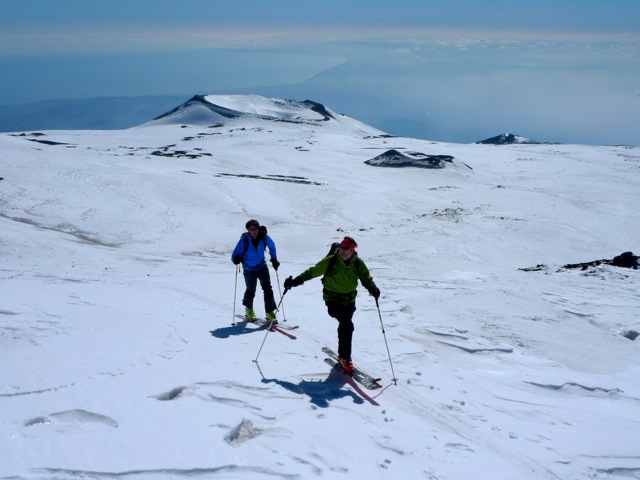 The Etna volcano, on the East coast of Sicilia offers these days great snow conditions. Our small team enjoyed bike riding and ski touring. We achieved in two stages, a sporty challenge. From sea level up to 1950m we've been riding our road bikes. On the next day we have climbed with skis to the summit.  Great skiing conditions, plenty of snow and  sunshine: Sicilia was very generous.
Ski touring - Val Ferret
28.01.2011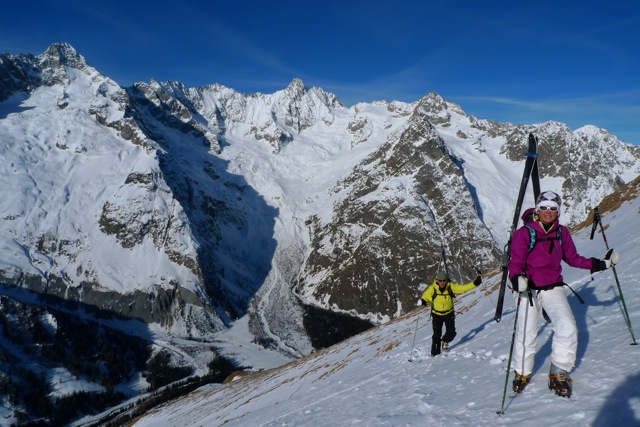 Ski touring conditions are good, we have enough snow to ski all the classics and the snow layer offers a good stability. After more than two weeks without serious precipitations, we take advantage to discover confidential areas. Like today, deep into the Val Ferret, after a strenuous climb, we enjoyed a fabulous descent.
Ice climbing conditions - Fionnay / Mauvoisin
12.12.2010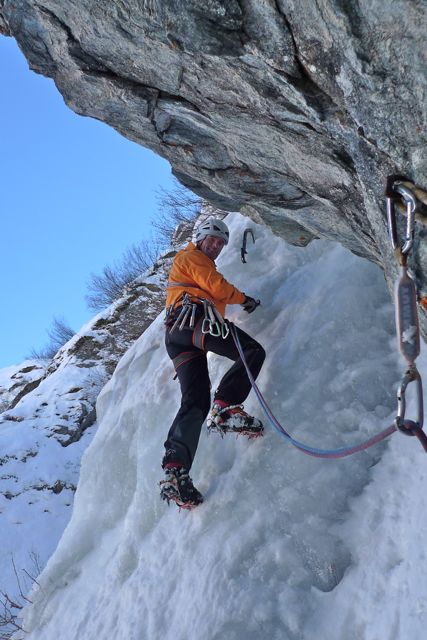 The road, clean of snow up to Mauvoisin, is closed to all vehicles (barrier) from Fionnay. Most of the classics are in good conditions, but there's only a handful of team who climbed in the Valley until today. Thanks to firm snow, snowshoes or skis are not necessary.
Climbing in Sardinia 2010
23.10.2010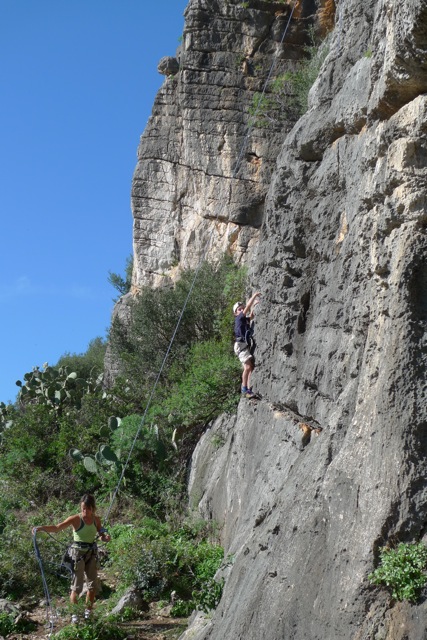 I'm just back home after two weeks in Sardinia, to optimize Luc's school holidays.
Perrons's Traverse
04.10.2010
We spent a beautiful sunny sunday on the edge of the Perrons, between Valais (CH) and Haute-Savoie (F). With some airy abseils and beautiful sections, this long traverse streches in a fabulous scenary.
Dolomites - Val di Fassa
19.09.2010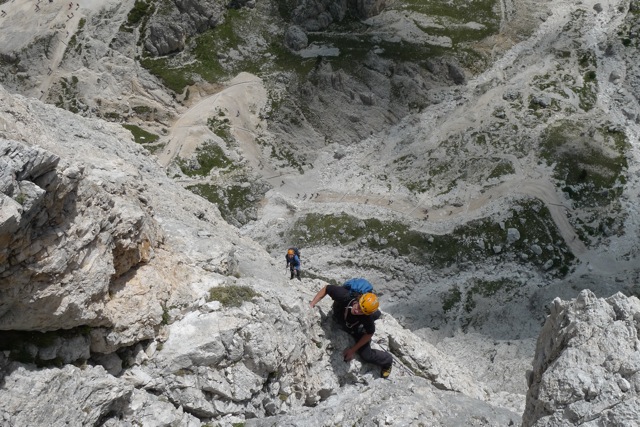 In the Dolimites, European climbing Mecca, trad climbs are still majic and popular. Cassin, Comici, Dibona, Detassis, Solleder, Steger, Dimaï, Preuss, Piaz, Vinatzer and many others did open with vision and fearless attitude lot of modern routes, up to 100 years ago. Next generations, until today,   were able with a strict ethic to keep this masterpieces clean : no bolts.
Piz Bernina 4049 m - Bianco Grat
18.09.2010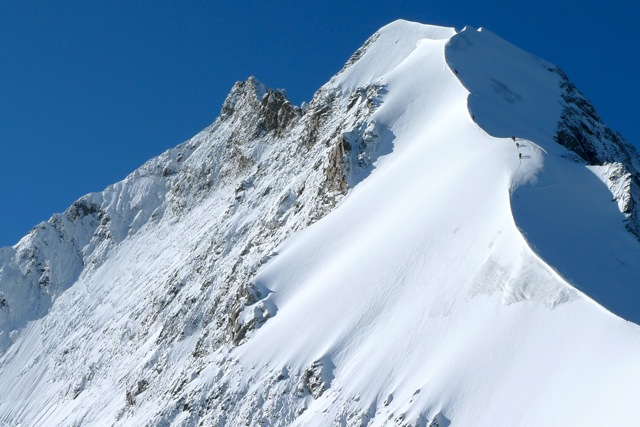 The nicest snow ridge in the Alps, the Bianco, also presents beautiful rocky sections.
Punta J. Charrey - Valle d'Aosta
29.08.2010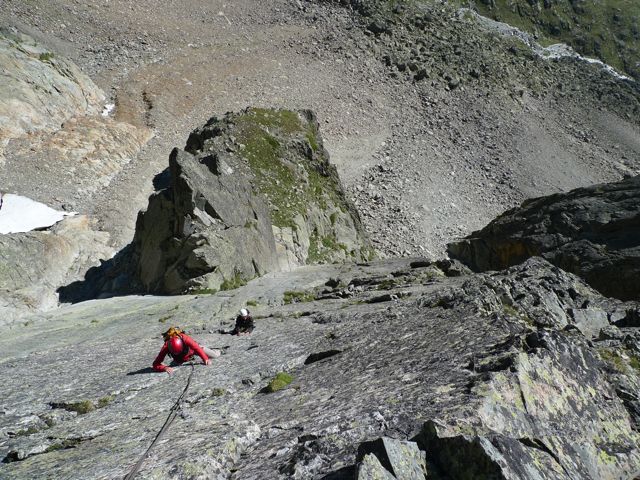 "My favorite destination of the summer : multipitch climbs at Crête Sèche in the Valpellina. Today for my 3rd visit in last August, we climbed the ""Brontolo-Balakov"". That fabulous 15 pitches line follows an esthetic spur on best gneiss.
On the picture the technical slad,  3rd pitch."
Gd-Combin de Valsorey - 4184 m
15.07.2010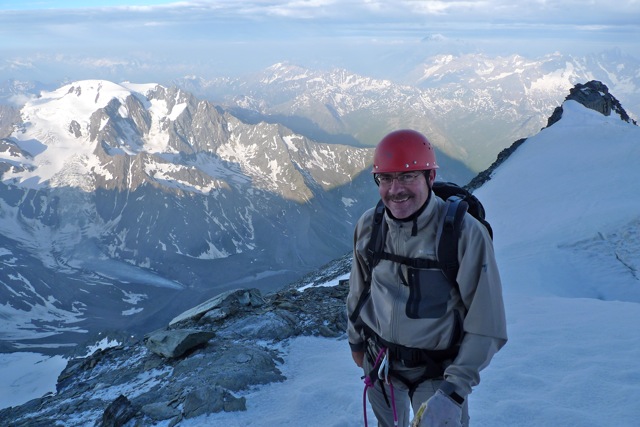 "Good conditions on the Meitin's ridge, from the Valsorey's hut.
On the picture, Philippe very happy to summit his first ""serious 4000er""."
Pilier de la Maye - La Fouly
05.07.2010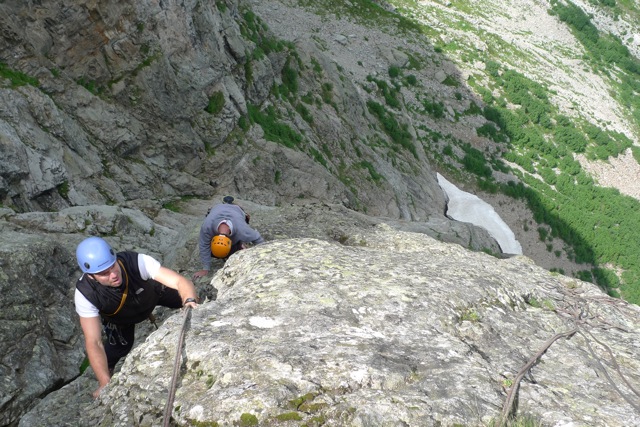 Looking for a long multipitch route with the current hot temperatures? The Pilier de la Maye, 11 pitches on granite, is a good day trip to get some fresh air.
Satellite du Portalet - Val Ferret
25.06.2010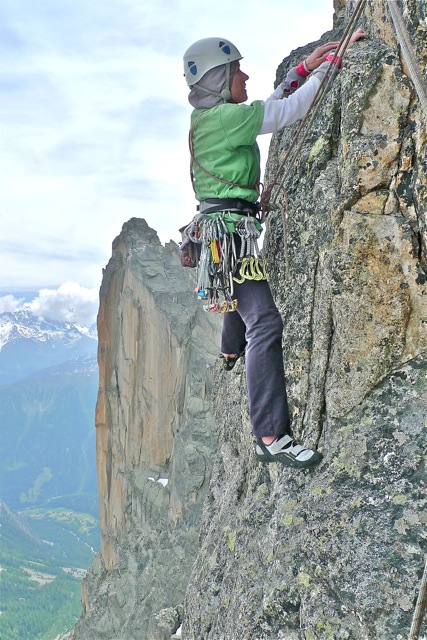 First climbed in 2008 by the Rémy's brothers, this nice route follows a crack/dihedral line on good granite. First class belvedere to spot the North Face of Petit Clocher du Portalet, this pinacle deserves for sure a visit.
Andrea, leading the 5th pitch.
Mauvoisin - New multi-pitch route
11.06.2010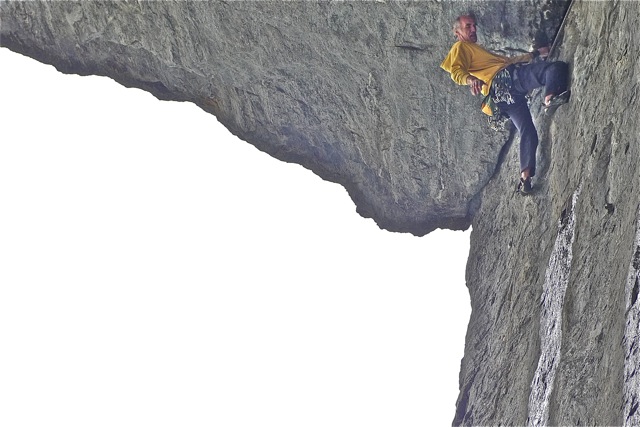 "Les chemins de traverse, ED+, 220 m
First ascent, Fred Roux and Olivier Roduit.
Dolomites like climbing: tortuous, steep and airy. 7 pitches, 6b to 7a (to confirm).
On the picture, the local climbing legend ""Lulu"" Abbet very efficient in cracks."
La Nord du Petit-Combin
02.06.2010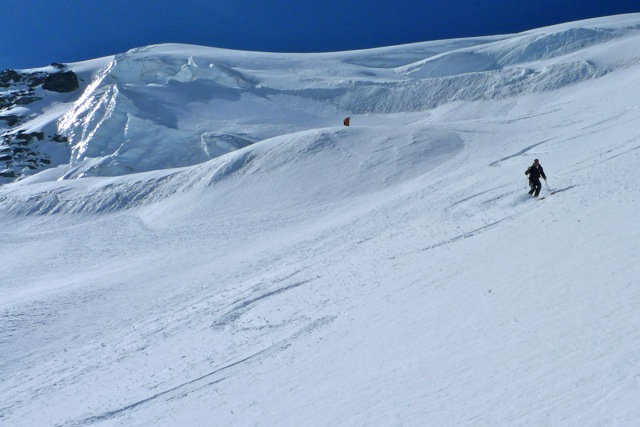 Last week-end, the snow came down to 2200 m in the Alps. We wanted to take advantage of it.
The North Face gave us pure pleasure. It was a perfect trip to carve the last turns of a long ski season.
Berner Oberland
19.05.2010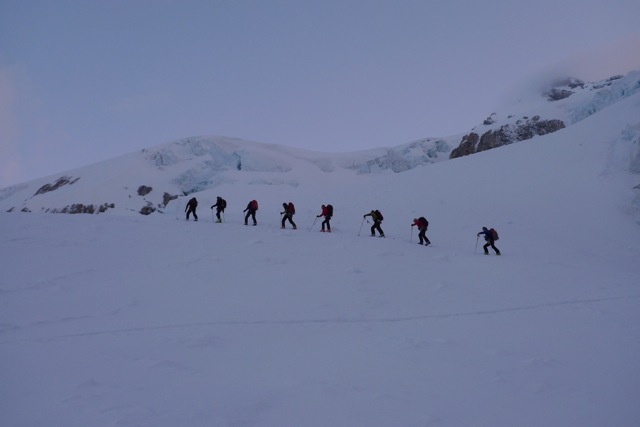 It smells like the end of the skitouring season in the Oberland, the result of changing conditions.
Climbing, bike riding season starts. But because of exceptionnal snow conditions at high altitude, I'm still ready for a last trip...
Col du Tacul 3337 m - Chamonix Mont-Blanc
23.03.2010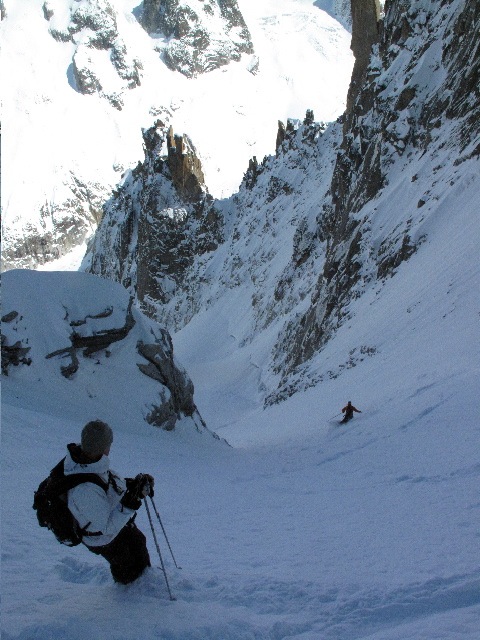 Today we enjoyed ideal conditions on a major trip over the Col du Tacul. To ski down this North Couloir, with the approval of the Capucin du Tacul, is definitly a highlight of the current season.
Thanks for the picture Gilles.
Rhône's elbow - Martigny
09.03.2010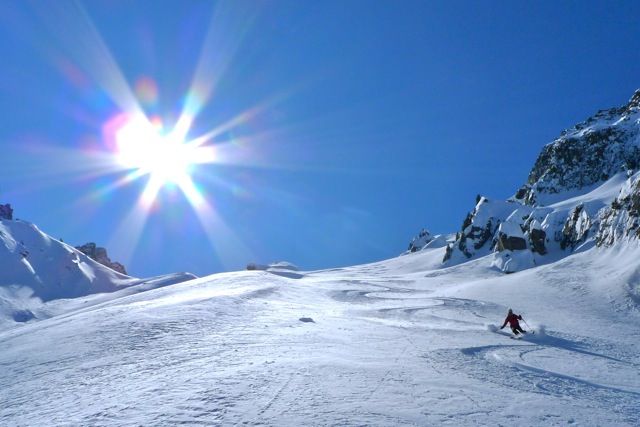 After a stormy week-end, many valleys are affected by the wind and the skiing is not so good... But today, above Martigny, sunshine and powder were with us.
Champorcher - Zero 70
03.02.2010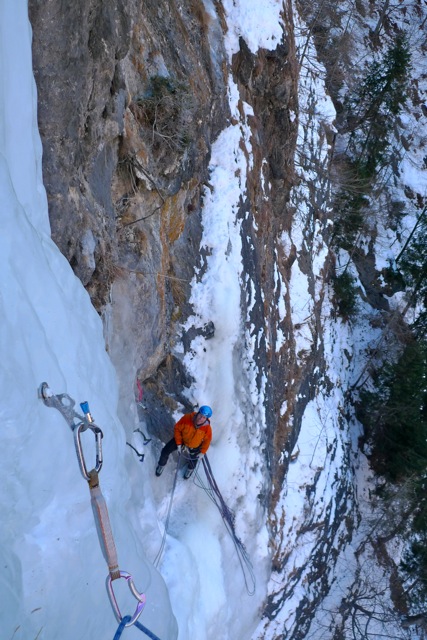 Airy line on hanging cigars, only 100 meters high, but on an overhanging cliff. Easy to spot and to reach from the road to Champorcher (Valle d'Aosta), this route really deserves a visit.
Pierre, smiling on the comfi 2nd belay.
Skiing in Verbier
28.01.2010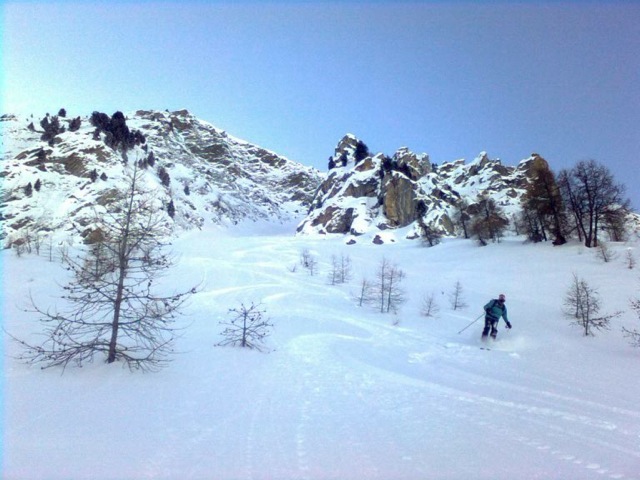 For the third season, we are enjoying great conditions early in the season. The last snow fall didn't bring much, but we still find some great runs like yesterday.
Valsavarenche - Trip in the night
20.01.2010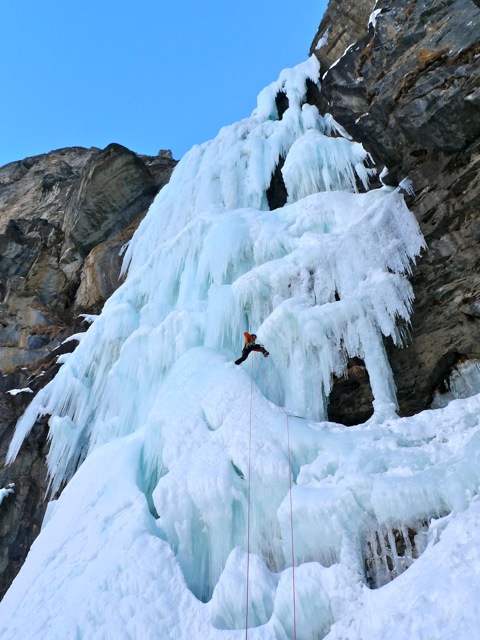 "In the Val d'Aosta, Cogne, the ice climbing mecca, attracts specialists from all over the world. The Valsavarenche, on the other side of Grivola (3969 m), offers a superb 5 pitches line to climbers: Trip in the night.
On the picture, ""Bouc"" on the 3rd pitch."
Happy New Year 2010
01.01.2010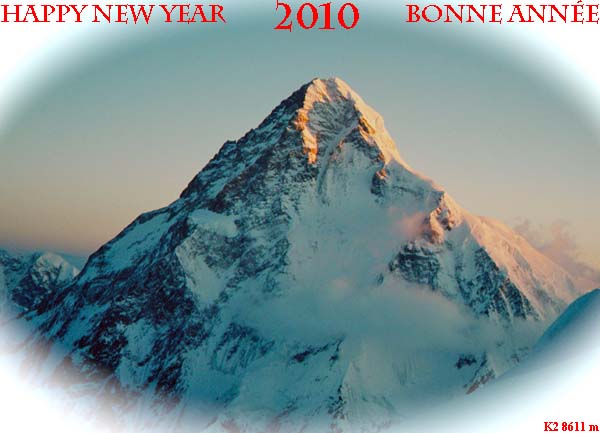 MOUNTAIN-GUIDE.CH wishes you good health, happiness and to achieve your goals in 2010.
Olivier Roduit
Les Chasseurs de Glace - Mauvoisin
16.12.2009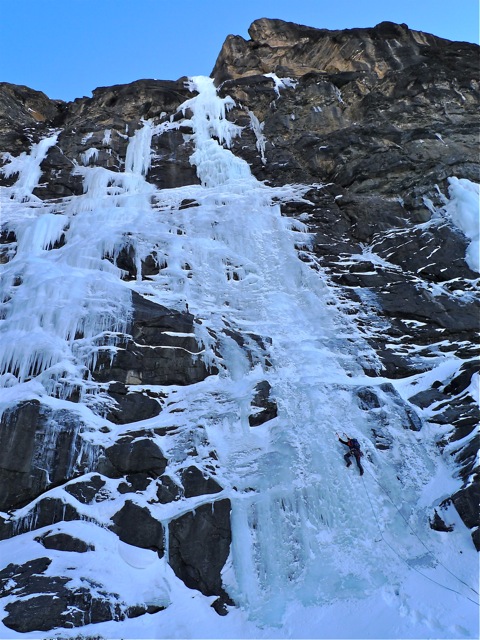 Finally, the season starts, and we have found superb conditions in the Giétroz's Canyon. Arctic temperatures and a long approach didn't affect our motivation. It's a fabulous line, not to be missed.
On the picture, Pierre leads the 1st pitch.
Toubkal 4167 m - Morocco
10.12.2009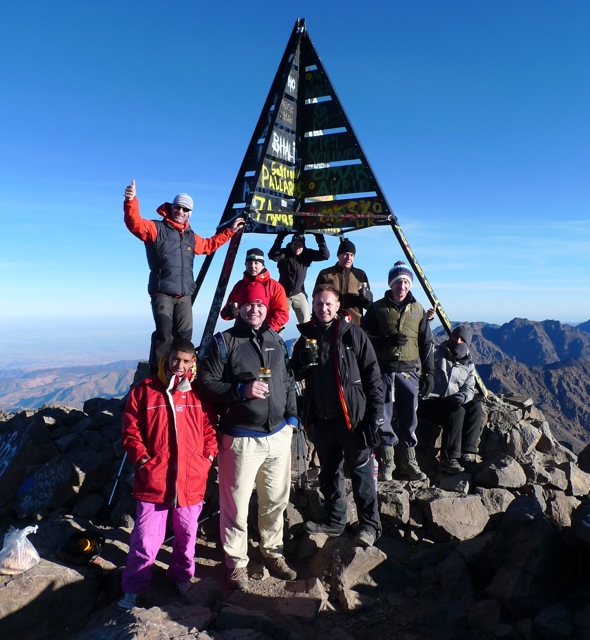 I'm just back from the Berber's land after climbing the Toubkal. Highest peak in the High Atlas and even in the entire North Africa, this mountain offers a superb trekk or, when there's snow, an exotic ski touring trip
Thanks and congratulations to the team.
Rock climbing -  Kalinka
25.11.2009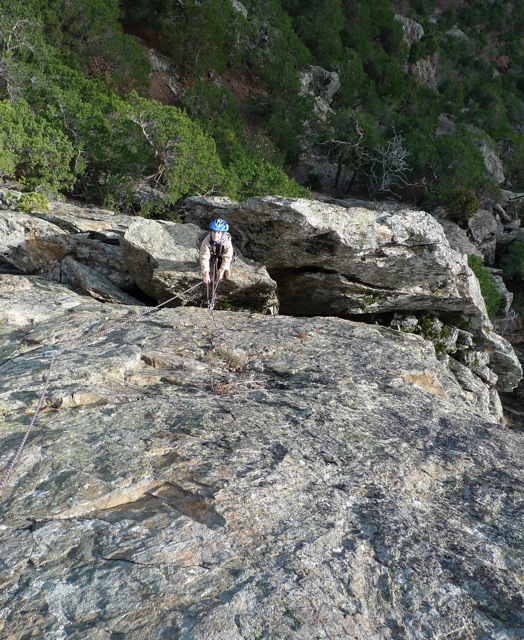 Indian summer is still on the Alps and we enjoy it. A fun and easy seven pitches climb, Kalinka is  a great classic of the Entremont.
Grotta dell'Edera - Finale Ligure
31.10.2009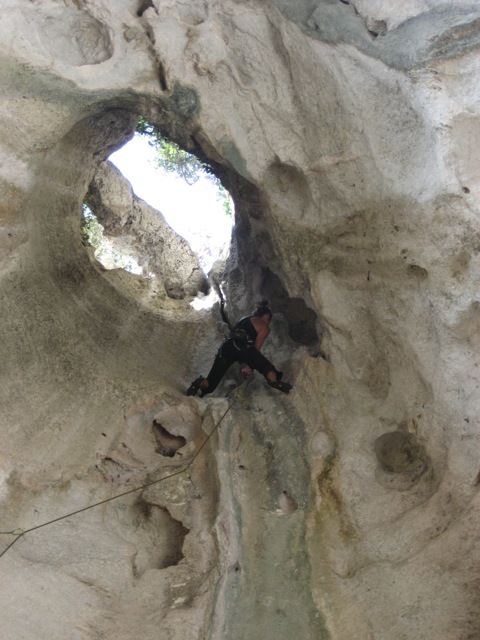 Back from Liguria with Andrea and Luc, where we enjoyed great climbing, beaches, pizzas and gelatis. Our climbing level improves, but it's soon the end of the season...
Clocher d'Arpette - 2610 m
02.10.2009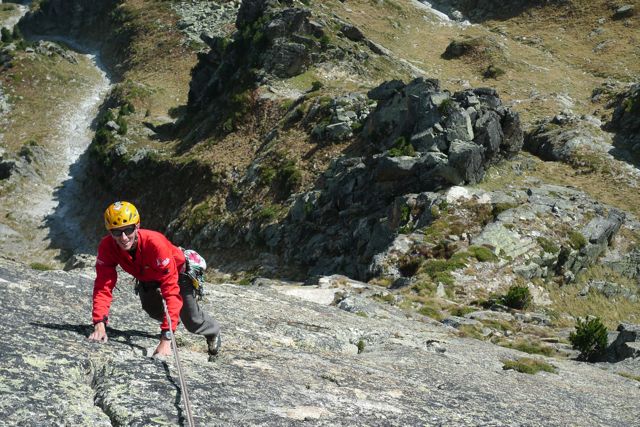 "The well named ""Guide ou guignol"" follows up 12 pitches to the Clocher d'Arpette, at times following grass ledges.  Well done and thanks to the local guides, JF Osenda and D. Taramarcaz, for opening the route to a remarkable monolithe."
Eiger 3970 m - Mittellegi
19.09.2009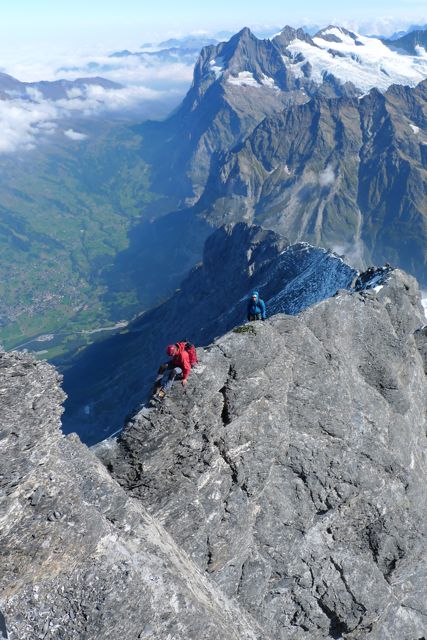 The airy Mittellegi ridge leading to the Eiger is a fabulous climb. To follow it from the bottom, stopping for the first night at Ostegg and at Mittellegi for the second one is a true alpine adventure.
Aig. Purtscheller 3478 m - Arête Sud
18.08.2009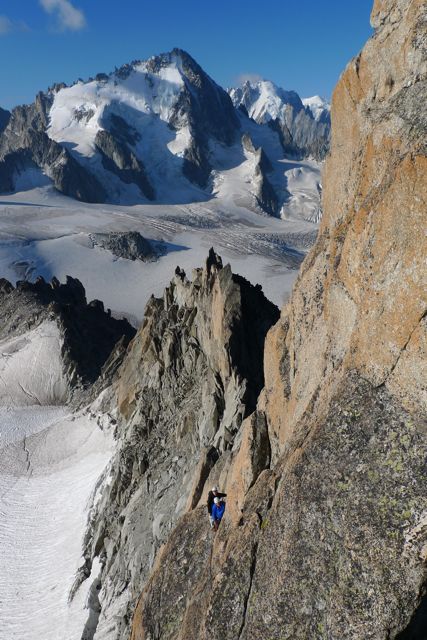 Another alpine rock climb in Trient area, the granite's climbing paradise. From the Trient's hut, after a scenic glacier's approach, 6 pitches of moderate climbing are waiting for you...
Grand Bargy - Arve Valley (F)
08.08.2009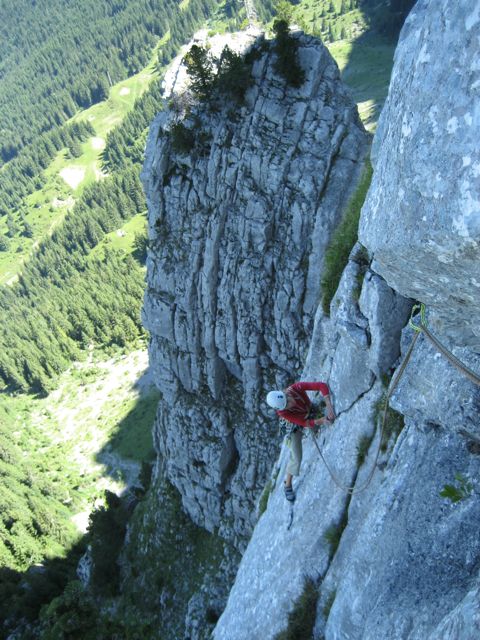 "Another superb Périllat's route, who is doing a great job opening fabulous climbs, mainly in the Haute-Savoie. ""Les gros veaux"" offers great climbing on steep limestone for 13 pitches."
Zinalrothorn 4221 - SW Ridge
27.07.2009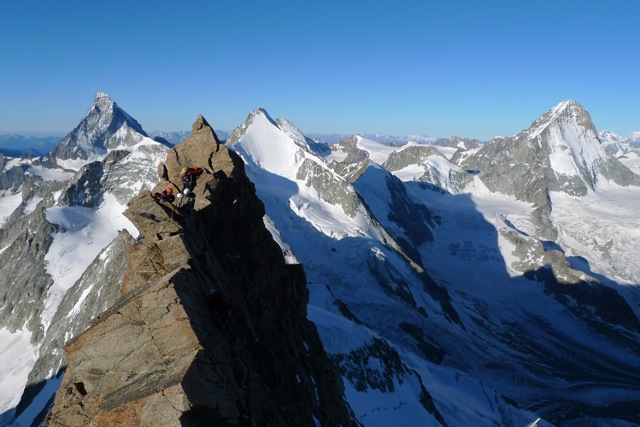 The SW ridge of Zinalrothorn is probably the must beautiful route leading to a Valais's 4000er.
In the back ground, Matterhorn, Obergabelhorn, Dent d'Hérens and Dent Blanche...
Expedition Pakistan
20.07.2009
Another fabulous adventure is over, we are back in Switzerland since the 15th of July!
Really bad conditions had slow down all expeditions to the 8000er in the Karakorum. On the Broad Peak (8047 m), our team has reached 7800 meters after 15 hours of climbing through very deep snow.
To give up  only 250 meters below the summit was a difficult but safe decision; we were exhausted.
On the picture, courtesy of S. Bonvin, Olivier is getting close to the Broad Peak's pass.
Le Pleureur 3704 m
20.05.2009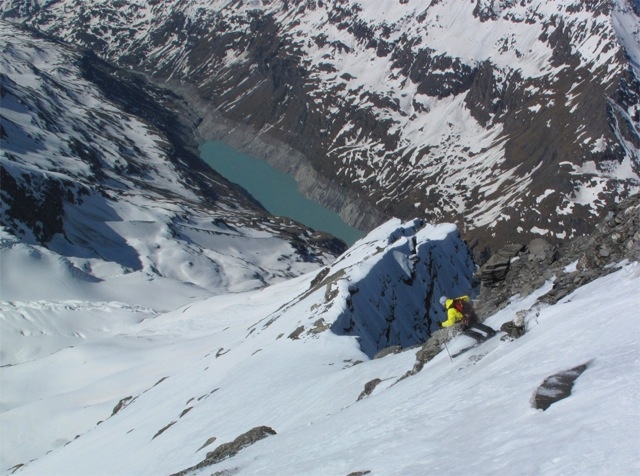 Last tracks of the season, for me,  on the sentinel of Val de Bagnes.
On the picture, myself negociating the South face. Thanks for the pictures Gilles.
Finsteraarhorn 4273 m
15.05.2009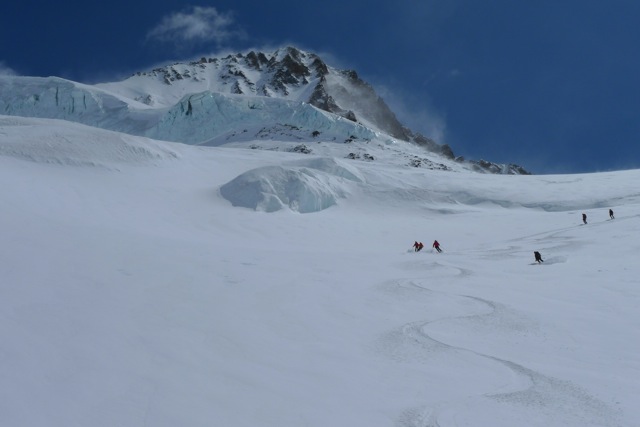 Thanks to excellent snow conditions, the season for 4000er on skis will go on. After Aletschhorn, Gross Grünhorn, Finsteraarhorn and the Mönsch I'm back in the green Bagnes's Valley.
Zermatt - Matterhorn
23.04.2009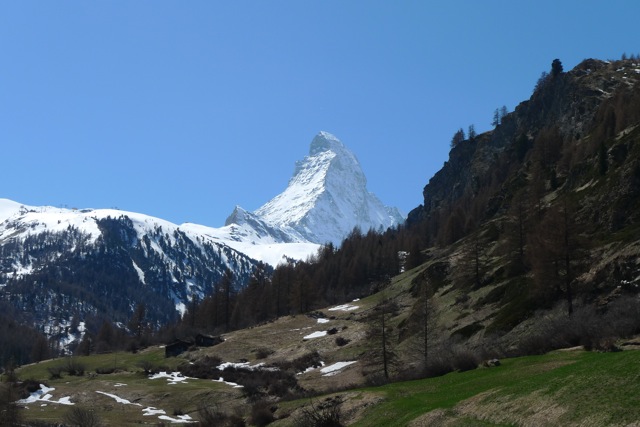 Even if spring has sprung in the valley, the winter still rules in the high mountains. Yesterday, at 4200 m we skied in 1,20 m of fresh snow...
Fabulous skiing at Trient
31.03.2009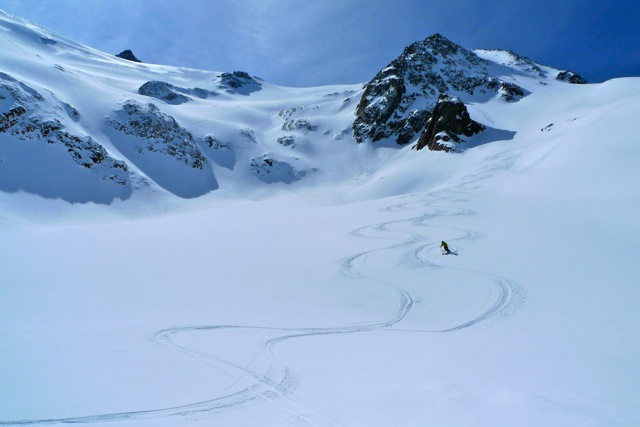 The light was exceptionnal today on the Alps, only   in spring it can be so shiny with contrasts. The snow, between powder and corn depending on exposition and altitude was delicious.
New route on the Tournelon Blanc
03.02.2009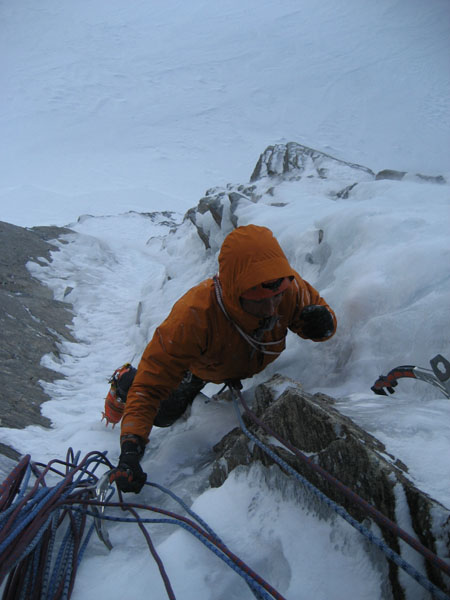 "When we achieve an ambitious alpine project, with style, we can say we had a nice day.
The first ascent of the ""Goulotte roro"", 7 pitches of steep ice on the North-West Face of Tournelon Blanc, will stay in our minds as a nice day.
On the photo, Fred Roux reaches the 2nd belay.
Detailled description of the route, soon on this page."
Saleina - Ice climbing
07.01.2009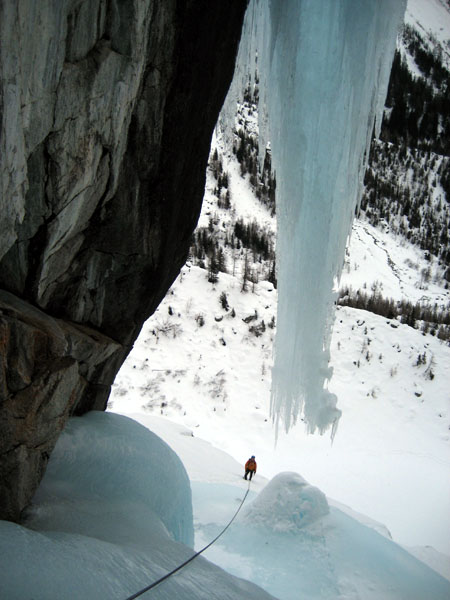 Even if these line has to wait for it's first ascent, we did enjoy an extreme and fabulous 4/5 pitches climb in Saleina's Valley.
Over the Entremont, conditions are excellent and all the classics are fat! It's time to ice climb...
Héliski at Trient
01.01.2009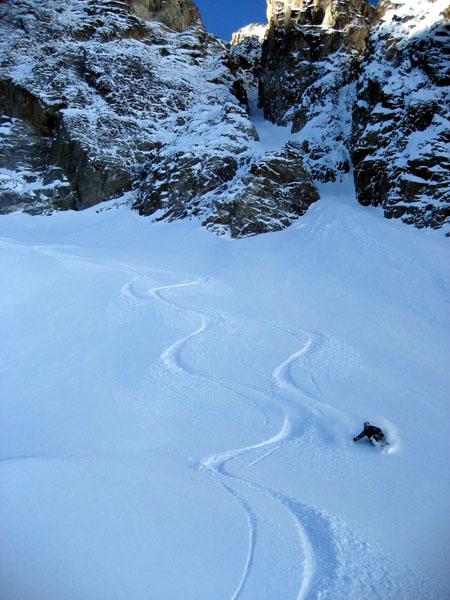 "For the 1st run of the New Year, we had powder up to the knees.
Jean-Yves Michellod ""JYM"", with a magic snow touch, offers us a demo of handi-freeriding down the Saleina's Glacier.
mountain-guide.ch wish you a Happy New Year !"
Ski touring in Marécottes
27.12.2008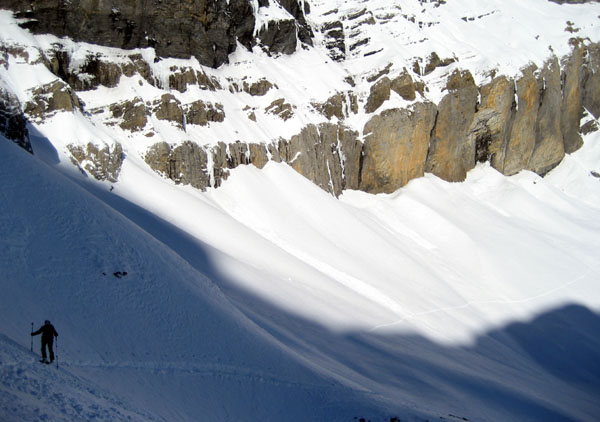 After weeks of storms, the weather is calm. Lot of snow, blue sky and sunshine for Christmas and New Year! For years it hasn't been so good...
On today's picture, no man's land  between Marécottes and Emosson.
Ice climb at Trient
02.12.2008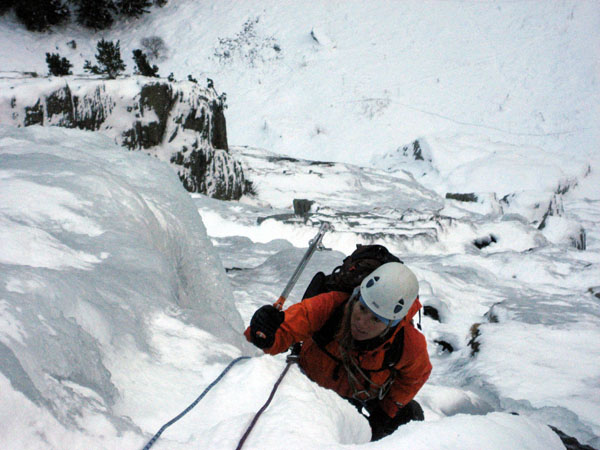 Since mid-November, there's plenty of snow for good skiing. A few lines are in shape to start the ice climbing season, like today at les Charcotins or also at Mauvoisin.
Just before winter...
21.11.2008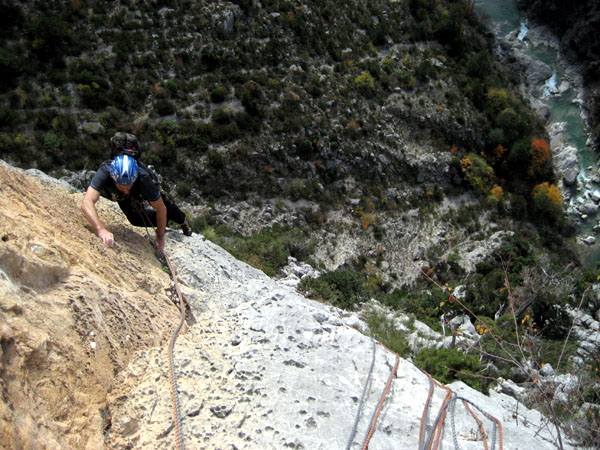 "After a trip to Sardinia in october; we finished the season on the sunny cliffs in the South of France.
On the picture, Eric enjoying a nice pitch on ""Les Chevreuils de Calendal"" at Aiglun."
Rochers de Leschaux - Haute Savoie
14.10.2008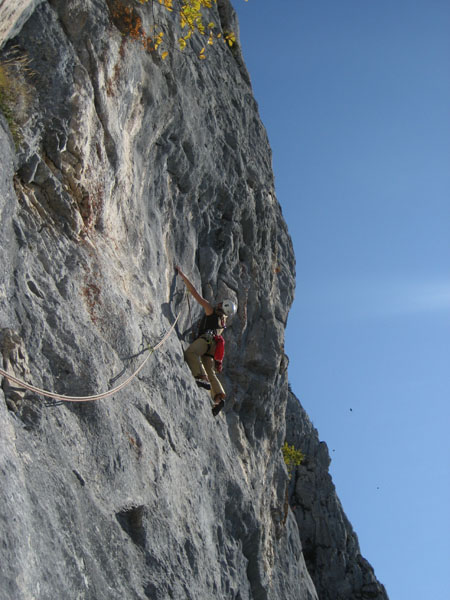 "We went to Haute-Savoie to climb sunny limestone.
On the picture, Andrea is leading the difficult 3rd pitch of the route ""A boire, à boire..."""
Young climber
09.10.2008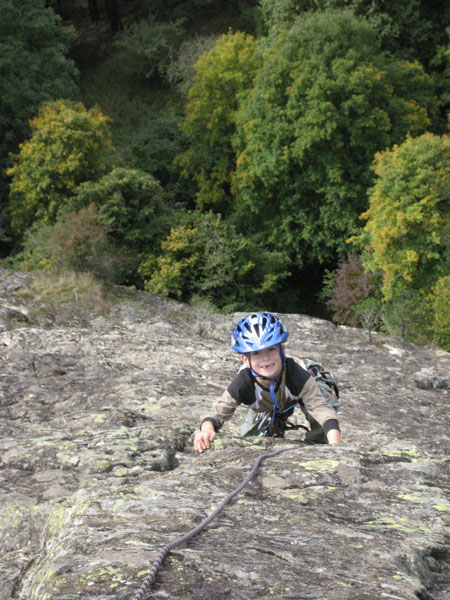 "First multipitch route for Luc, 6 years old, in the ""voie Hiroz"". We had a lot of fun on another beautiful day."
Weissmies 4017 m + Lagginhorn 4010 m
28.09.2008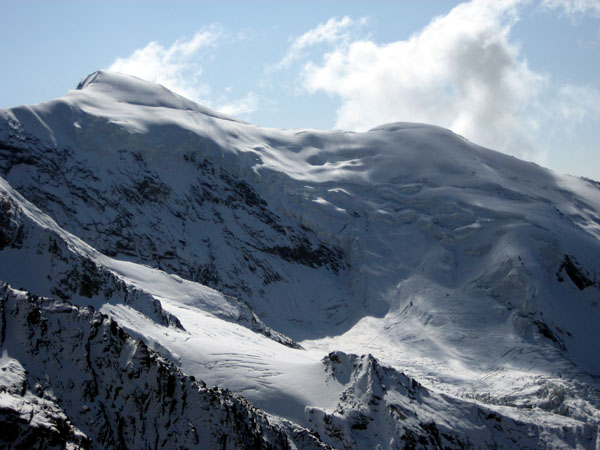 Best conditions, with polar temperatures on these 4000er in the Saas Valley.
Until the first snow, don't hesitate to contact me, even last minute, for rock climbing here or further South...
Piz Scerscen - 3971 m - St Moritz
15.09.2008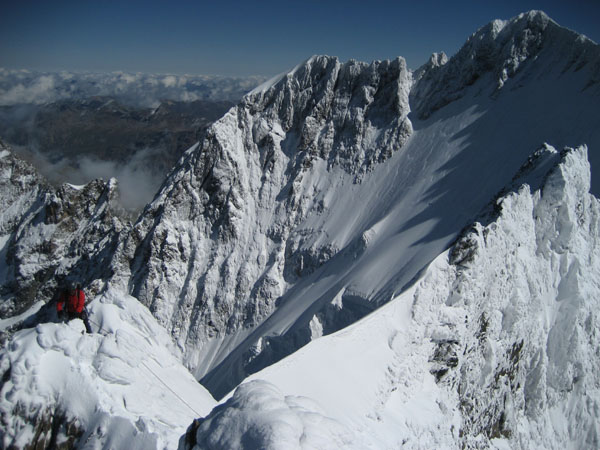 Like the Roseg or the Palü, the Scerscen is just below 4000 m. It's an airy and serious ascent for experienced alpinists. The summit on the Italy/Switzerland border offers great view on the Bernina.
Kilimanjaro - 5895 m - Uhuru Peak
21.08.2008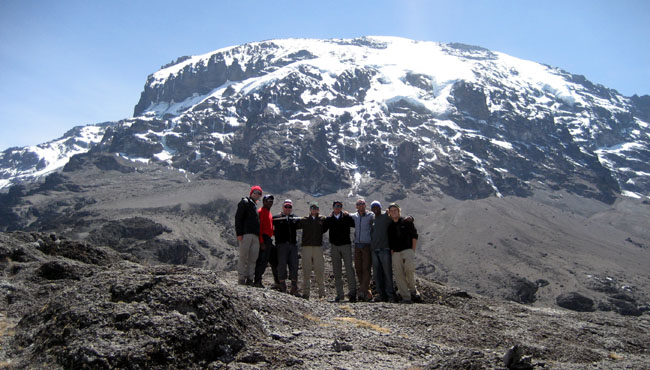 Exotic climb to the roof of Africa in Tanzania. On the picture, the tim at the foot of the South Face where snow and glaciers are still orning these  high and isolated peak.
Congratulations and thanks to all the team for this great trip!
South Face of the Aiguille du Midi - Chamonix
19.07.2008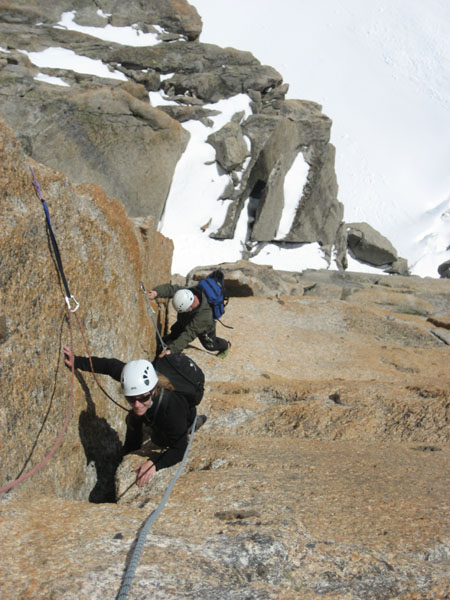 Rochelle et Dustin topping out the most famous 4+ sandbag of the Mt-Blanc Range! The esthetic Cretton's crack, the logical exit of Rebuffat's route, is a difficult offwidth which deserves its reputation.
Aiguille de la Varappe - Eole danza per noi
10.07.2008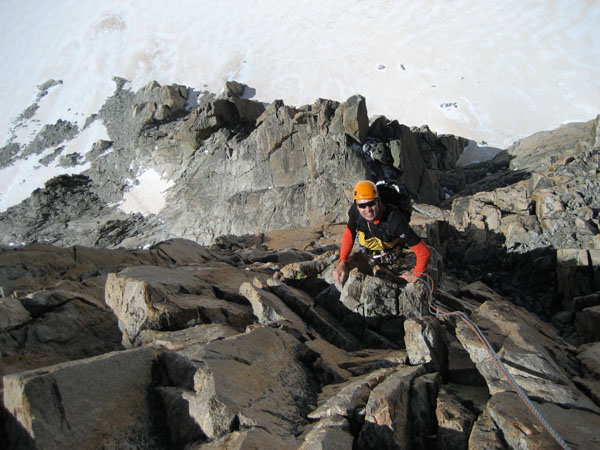 On the Swiss side of the Mont-Blanc Range, l'Aiguille de la Varappe invites climbers to taste orange granite. But be careful, after that climb, the risk is high to become obsessed... Coming back as soon as possible...
Voie Vaucher - Aig. du Peigne
01.07.2008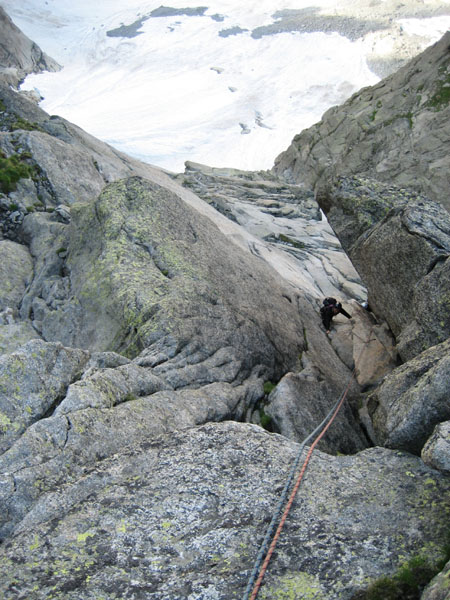 "In the Aiguilles de Chamonix, the Vaucher, a 16 pitches route was opened in '57 and still looks like a modern climb. Best granite, great climbing, alpine scenery: it's a classic.
On the picture, Klemens during the mythic section under the ""bloc immeuble"" on the 9th pitch."
Pointe Adolphe Rey - 3536
23.06.2008
La Salluard, a beautiful classic climb in the heart of the Mont-Blanc Range, is a must for the climber/alpinist. The protogine, known as the best granite of the Alps, offers here an airy and fabulous climb with glaciers and mythics mountains in the background.
Saleina - L'été indien
14.06.2008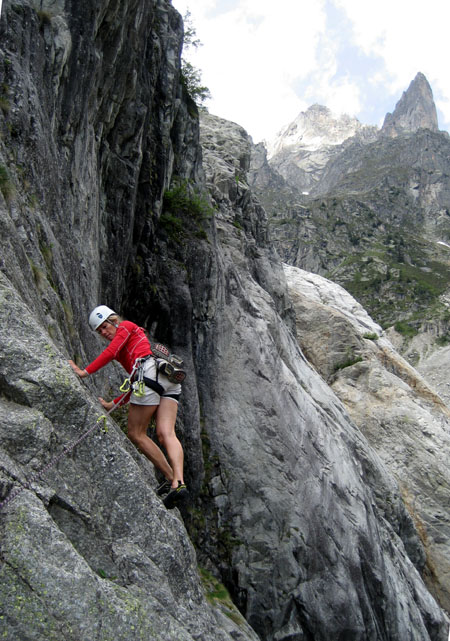 A new route at Saleina, with 10 pitches it's the longuest. Predominantly slabs, but also cracks and dihedrals and even some athletics moves making l'Eté Indien a varied itinerary on a magnificient rock. Thanks to Raoul for this masterpiece!
The Arbalays's route - Catogne
01.06.2008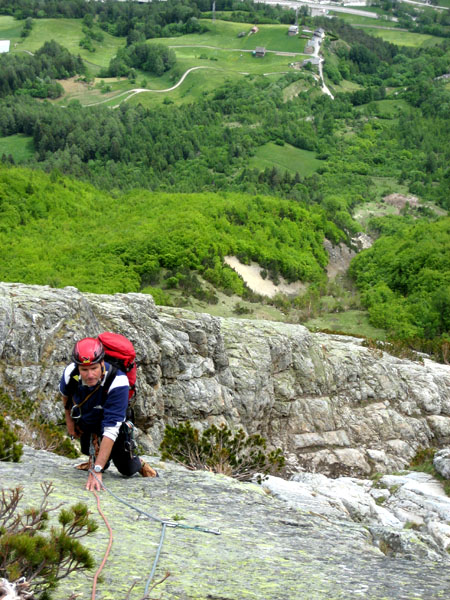 These new and easy climb on the South-East side of the Catogne (Entremont), offers 13 pitches on good rock (quartzite).
Thanks to the local guides JF Osenda and D. Taramarcaz for these future classic.
Nesthorn - 3824 m
17.05.2008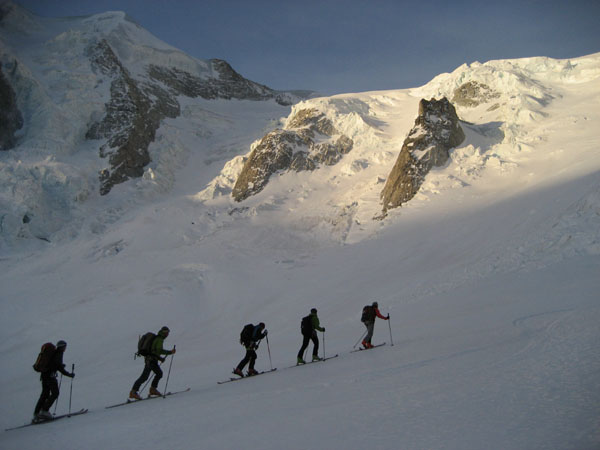 From the Oberaletschhütte, the skier-alpinist discovers an untouched alpine landscape during the Nesthorn's climb.
A few more projects to achieve and the 2007-2008 season will be over!   
Ski & Bike
29.04.2008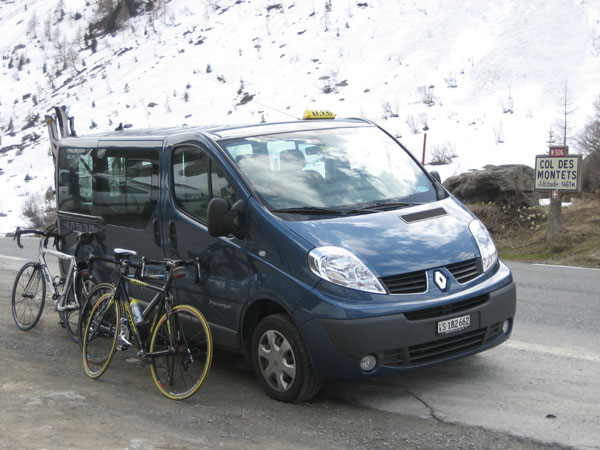 We enjoyed a sporty experience last few days with skiing in the morning and riding our bikes back home in the afternoon. The Vallée Blanche, the Wildhorn and les Diablerets offer great skiing and interesting roads for cyclists.
On the picture, rest on the Col des Montets next to the support car.
Petit Combin - North Face
13.04.2008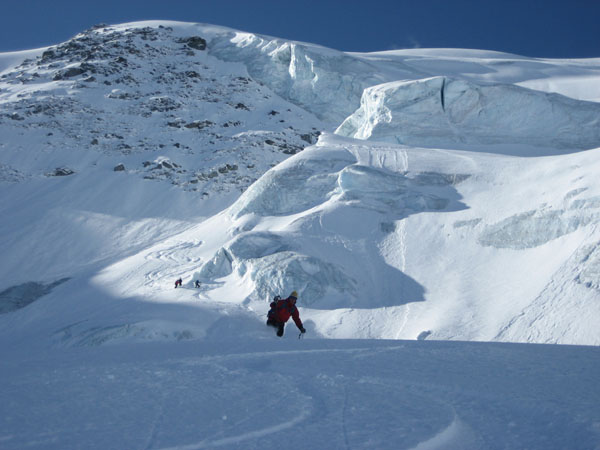 From 3672 m, top of Petit Combin, there's lots of beautiful ski descents. The direct line on the North Face, steep and exposed between hanging seracs, presents a sporty and fabulous alpine itinerary.
Héliskiing at Trient
13.03.2008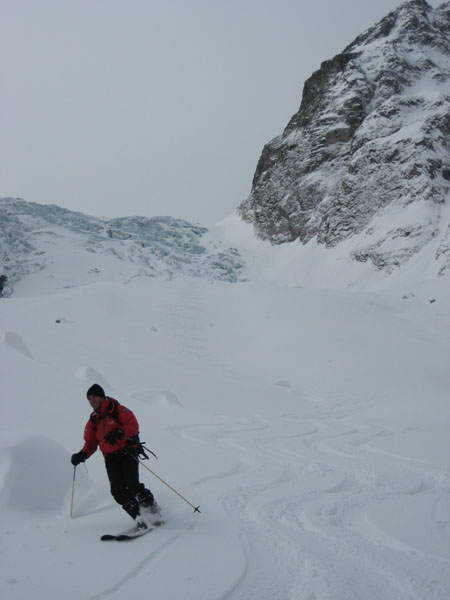 A few storms crossed the Alps during the last few days, ideal to improve ski conditions on glaciers. We enjoyed powder snow above 1950 m; but below, a thin crud gave everybody the occasion to show off personal techniques...
Ice gully - Val de Bagnes
25.02.2008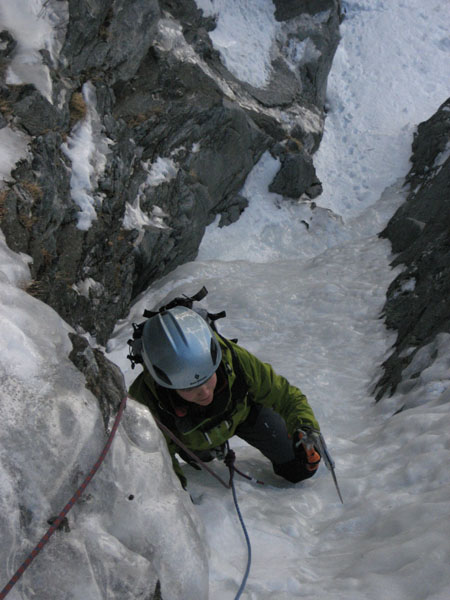 The Brucholay's Goulotte is in good conditions. The technical level is lower because some sections are covered by snow.
Find the description on the 04.12.2005 new.
Verbier - steep skiing
13.02.2008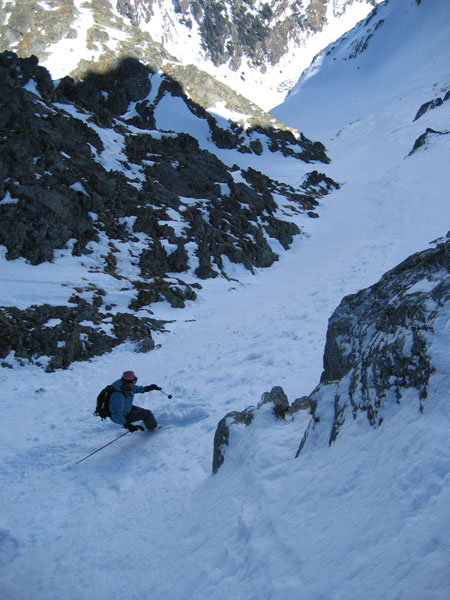 Great conditions and lot of sun for the last 10 days...
Powder snow, steep and long couloir: just another day in Verbier's skiing paradise.
Mont-Blanc Range - Steep skiing
30.01.2008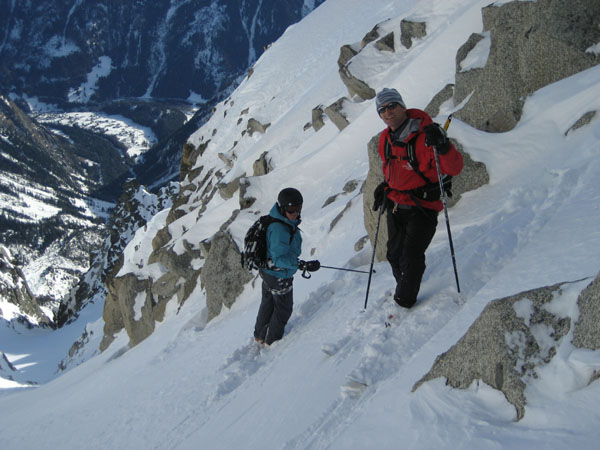 Pure and confidential line, rarely skied...
No comments!
A real winter...
16.12.2007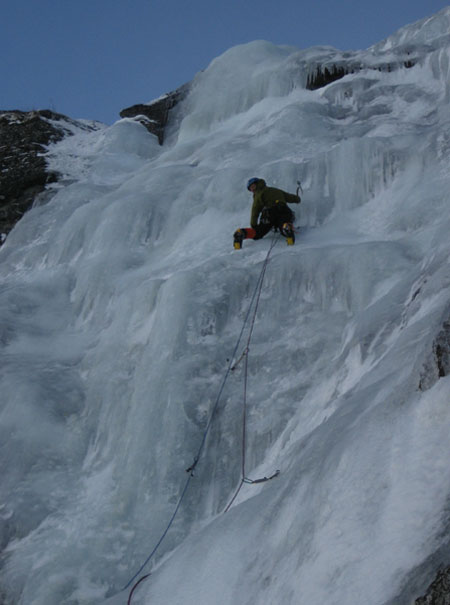 After 5 days of deep powder skiing, time is coming to ice climb again. Ice, like snow, is really there for the coming winter, which officially starts next friday.
On the picture, the guide and himalayist Fred Roux, climbing the Bonatschiesse ice fall in the Val de Bagnes.
Cornettes de Bise 2432 m - Chablais
18.11.2007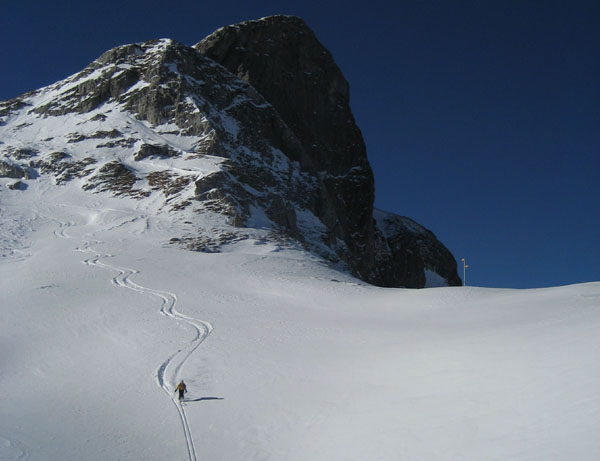 Mid-November and already great conditions for ski touring in the Valais. We haven't had as much snow in November since 1992.
Scientifics forecoasting recently a winter without snow should worry...
Finale Ligure - Italy
05.11.2007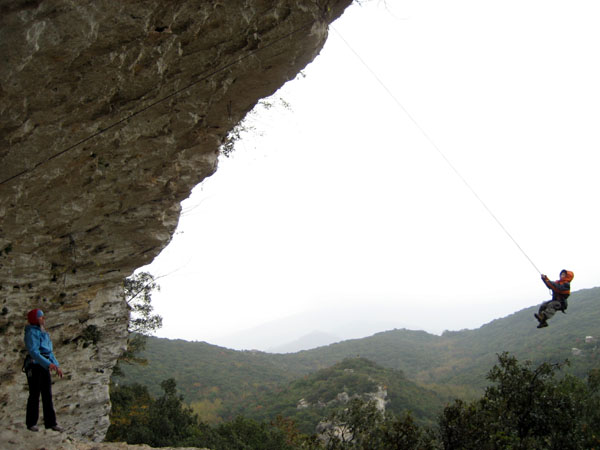 Back home after a family's week holiday on the Liguria's Coast, where we enjoyed beautiful limestone and deserted beaches. On the picture, Luc showing off on the pendulum.
Chapelle de la Glière - route Oraison
28.10.2007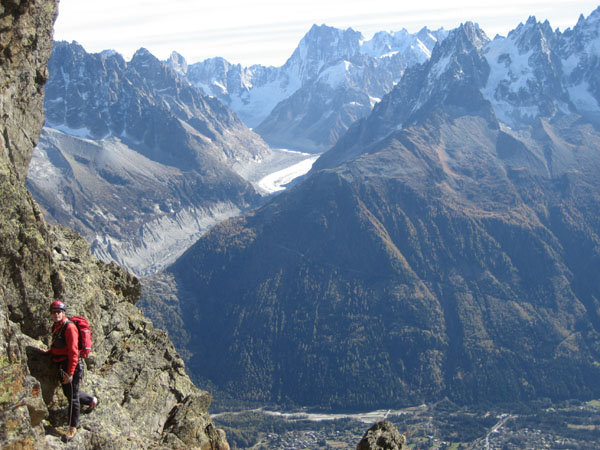 "We enjoyed sunshine and mild temperatures during the 10 pitches ascent of ""Oraison"" in the Aiguilles Rouges de Chamonix. This modern route, on a solid gneiss, follows a line close to the famous classic ""Arête Sud""."
Dent du Géant - 4013 m
24.09.2007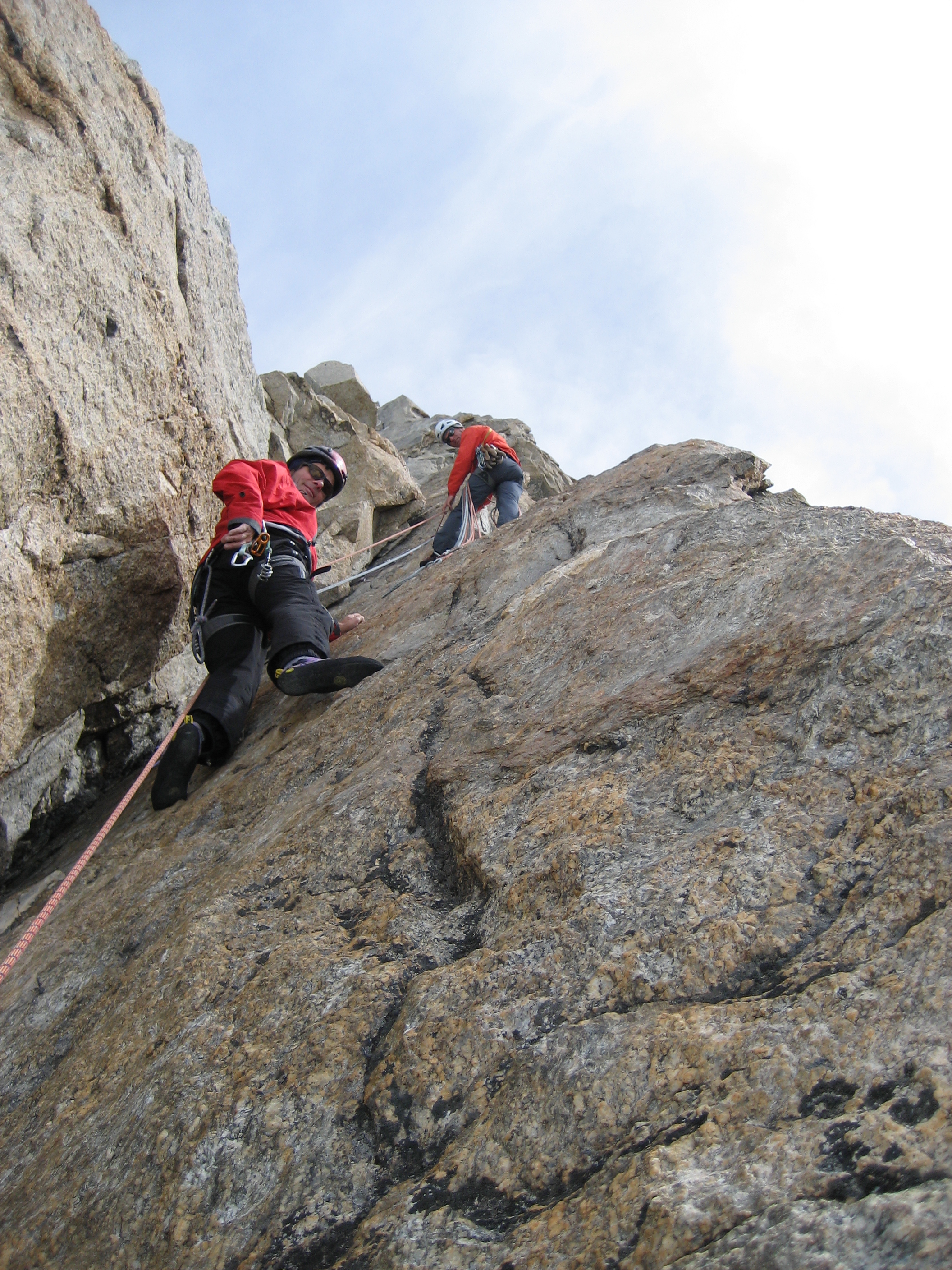 "To climb the Dent du Géant ""by fair means"" and to avoid the casual route which is over equiped with fix ropes is possible. In the route ""Géant branché"", 5 fabulous pitches on natural protections lead you to the emblematic summit.
Follow the guide !"
Piz Roseg 3937 m - North Face
20.09.2007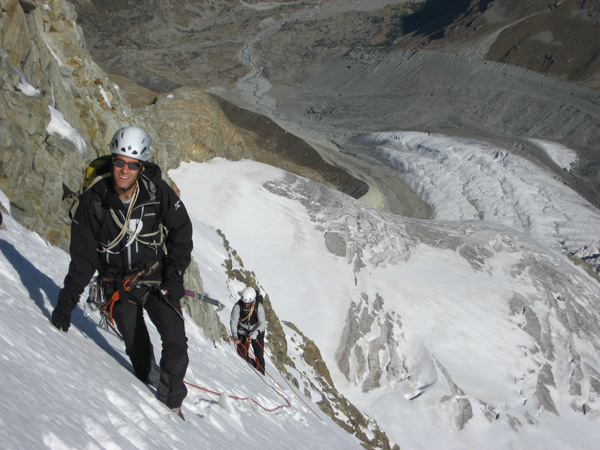 During the mountain guide course 2007, we climbed this famous North face in perfect conditions.
On the picture, Pierre crossing easily the wall half way up the route.
GI 8068 m + GII 8038 m
21.08.2007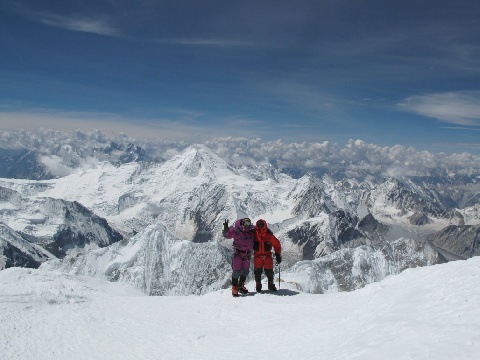 Successful expedition in Pakistan with two 8000 m peaks bagged : Hidden Peak, alias GI and Gasherbrum II, alias GII. With 4 8000er summits behind me, today I've probably become a veteran climber !
Respect and many thanks to my climbing partners (Mike Horn, Jean Troillet and Fred Roux) for the 40 days of fun and adventure spent together.
On the picture, courtesy of Troillet, Fred and myself on top of GII on the 12th of August 2007.
Blog, photos and videos on www.mikehorn.com
Pointe Lachenal 3613 m - Chamonix
30.06.2007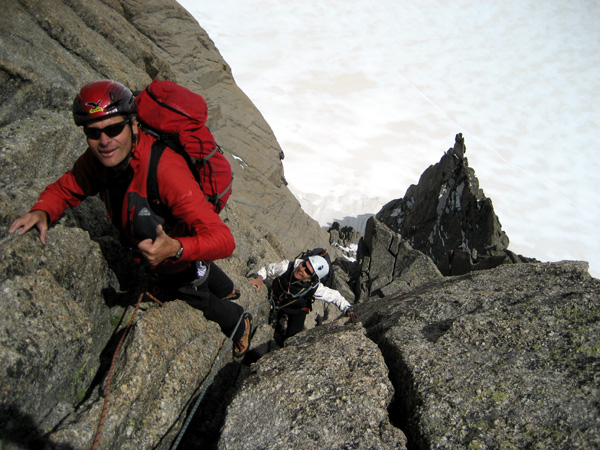 On the pillar in the center of the SE Face of Pointe de Lachenal, the route Marylène offers a superb climb to protect with friends and nuts.
Lagginhorn 4010 m - South ridge
25.06.2007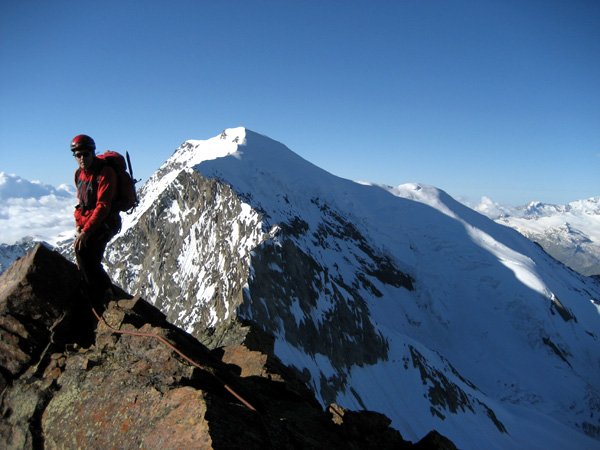 "Gastonomic week-end with Edouard in the Saas Valley. As a starter ""Alpendurst"" the modern, 14 pitches route on the Jägihorn. The airy South Ridge on the Lagginhorn, for main course. Dessert : the ride down with the cable car from the Hohsaas Hut!"
Finges's Pillar
13.06.2007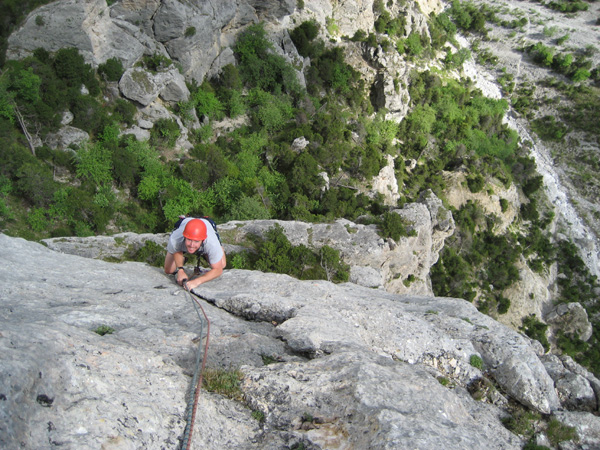 "Opened in 1968 and described in ""The 100 best climbs of the Valais's Alps"", this line is no more described in today's guidebooks. Only local climbers remenber that it's a beautiful and airy route..."
Last ski trip !
27.05.2007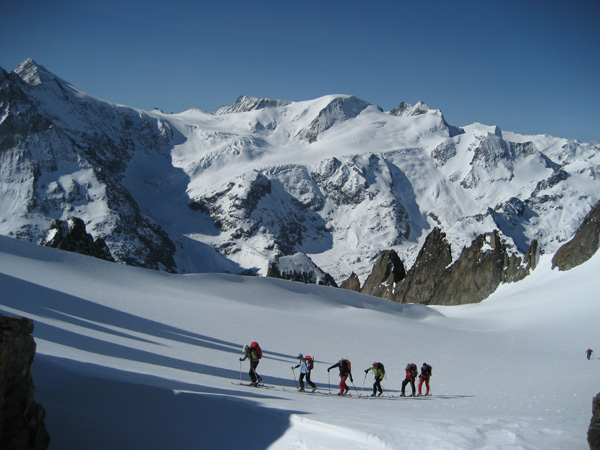 We enjoyed our last trip in the heat of Switzerland between Valais, Bern and Uri. Due to the early opening of alpine roads, we were able to ski all the way to the car.
In the back ground, the Sustenhorn 3503 m, a famous peak for late season ski touring.
Torre di Castelfranco - 3623 m
28.04.2007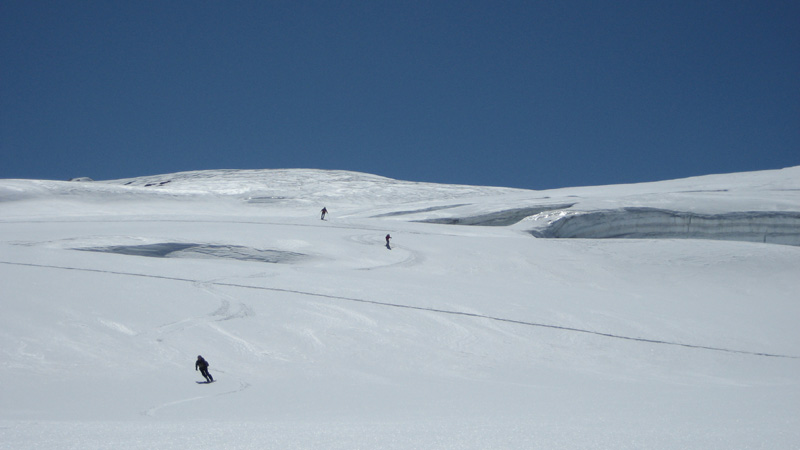 Located far above Macugnaga on the Swiss border, this scenic point of view offers a nice ski trip from the Zermatt ski area. Skiing down the North slopes on spring snow, between seracs and crevasses is a must.
Valgrisenche - Heliskiing
21.03.2007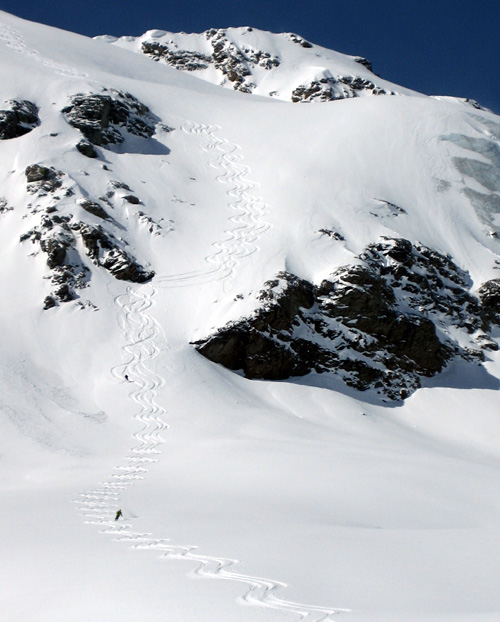 For the 1st day of spring, winter is back with polar temperatures and snow. South of the Alps, we enjoyed blue sky and powder on the sustained and steep North side of Pointe de Maurin.  
Mt-Blanc du Tacul - Pinochio
14.03.2007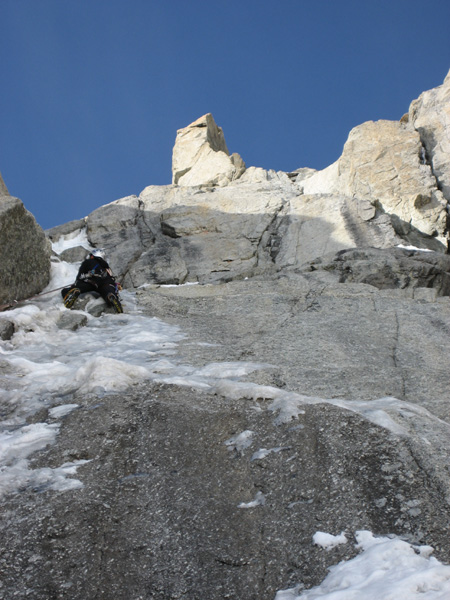 Difficult mixed climb on the Martinetti Pillar (Tacul), Pinochio was opened in 1994 by the team Haston/Gouault. Highly motivated, we had to fight to finish that serious 9 pitches line. On the picture, Gaby moving up on thin ice to reach the 4th belay.
Secret Spot !
05.02.2007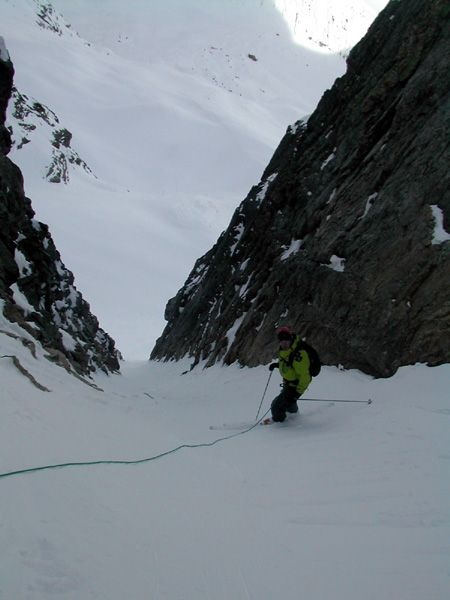 Safe snow layer, infallible ski technique, love of effort and discovery were the ingredients of today adventure. On the picture, Tom in the 50° gully leading to the endless and never tracked powder slopes !
Ice climbing - Verbier
30.01.2007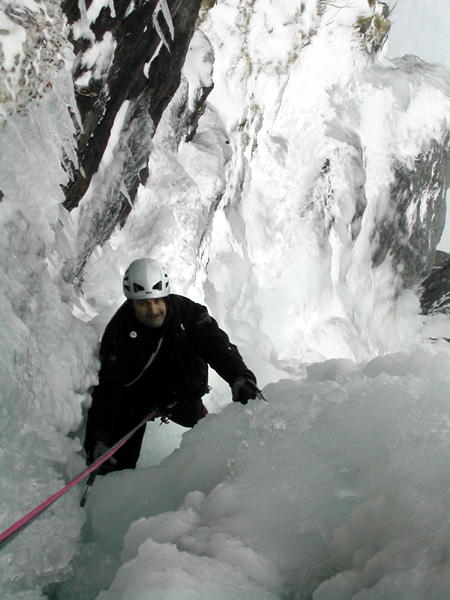 A few lines are into shape in the Val de Bagnes like the Brucholay waterfall.
On the picture Jean Troillet, the famous guide from La Fouly, on the 3rd pitch.
Heliskiing on Petit Combin 3672 m
26.01.2007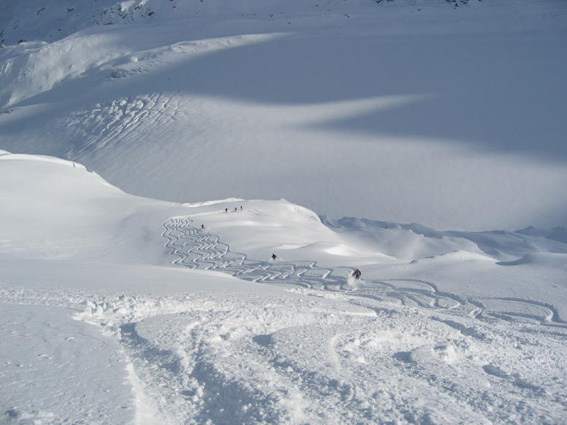 Great conditions along the Follat's Glacier on Petit Combin with a temperature of -25° !
We forgot the Global warming...
Merry Christmas and Happy New Year !
25.12.2006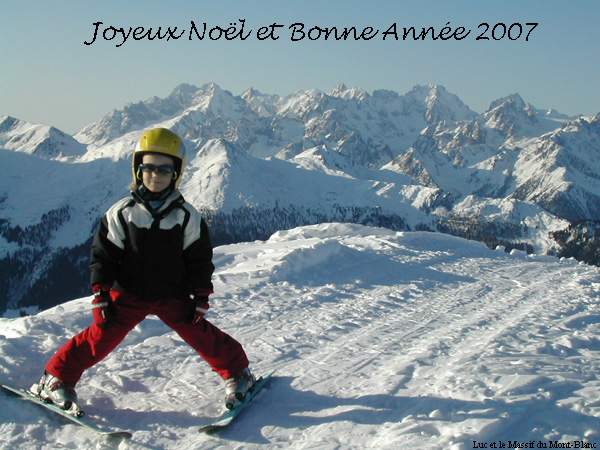 First ice climb - Mauvoisin
19.12.2006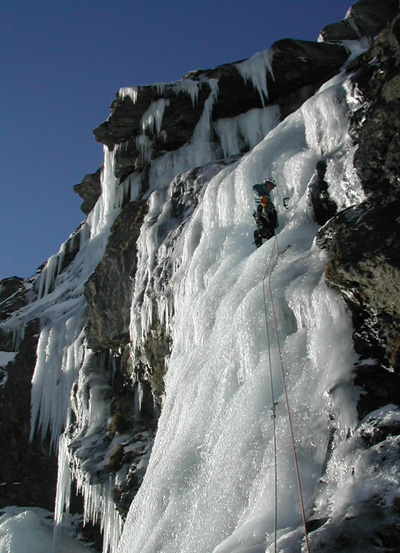 For their first outing, they were happy the new Hans's Nomics with soft and thick ice. A few lines are now in shape in the Val de Bagnes.
Aiglun - Alps Maritimes
06.12.2006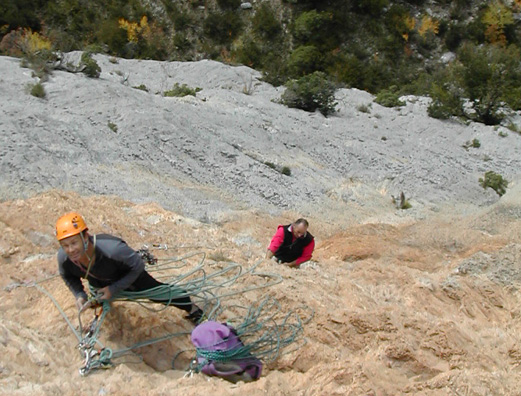 "Not far away from Nice, it's possible to climb on winter days on the beautiful cliff above the village of Aiglun. Bolted sport climbs next to severe aid climbs follow beautiful lines on this 200 to 300 meters high wall.
On the picture, local climbers in ""La cerise sur le gâteau""."
Multipitch route at Barberine
17.11.2006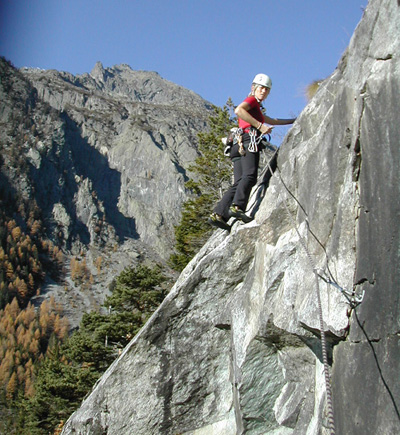 "Andrea climbing the 1st pitch of ""Mirror of the celling"" on the  Barberine cliff. Located in Valais, half-way between Martigny and Chamonix, this spot offers 7 multipitch climbs of 250 m."
Envers des Aiguilles - Chamonix
08.11.2006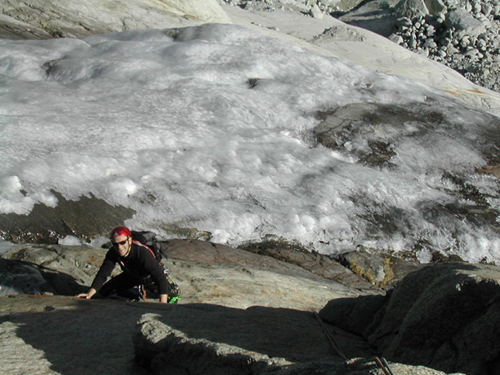 "All week we had freezing nights and cool days. Klemens enjoys climbing the 1st pitch of the ""Pilier des Rhododendrons"" on warm granite, along an icy waterfall."
Mont-Blanc 4810 m - Innominata
28.09.2006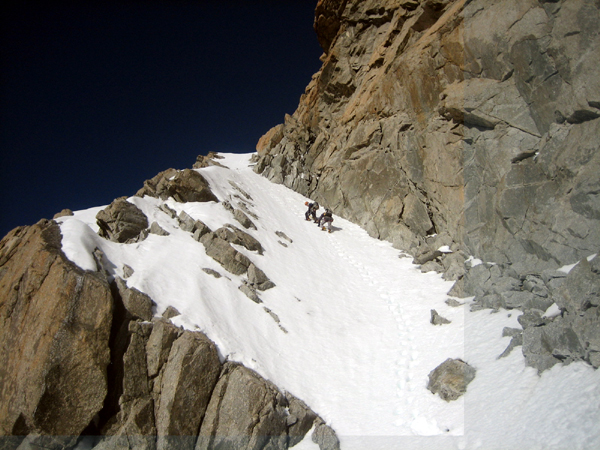 To reatch the summit of Mont-Blanc climbing the Innominata is 3200m of pleasure... Between glaciers and granite pillars, an himalayan ambiance floats on the South side of Europe's roof.
Grand Capucin - O sole mio
28.09.2006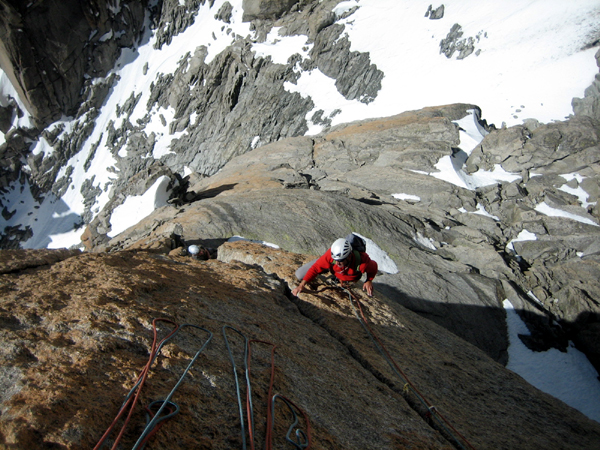 "After the route ""Les Suisses"", O sole mio is today a classic climb on the Grand Cap. Even with severe ratings and long runouts it's a superb and beautiful climb. On the picture the 4th pitch."
Val d'Orco - Caporal
27.08.2006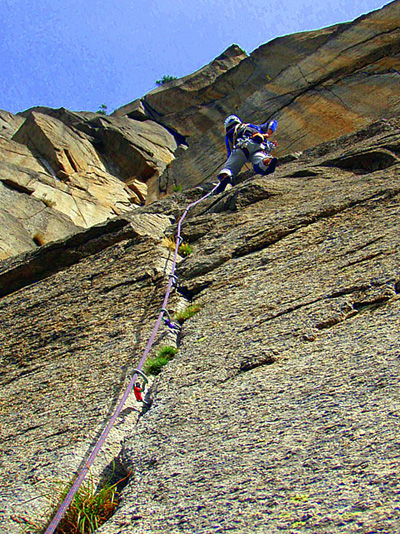 The Caporal is the most famous cliff in Val d'Orco and even in the Piemont. To climb the 6 pitches of Itaca del Sole + Rattle Snake is a various and beautiful climb on this Yosemite like rock. On the picture, the 4th pitch (6b+).
Punta Marco 3640 m - Alison's Route
13.08.2006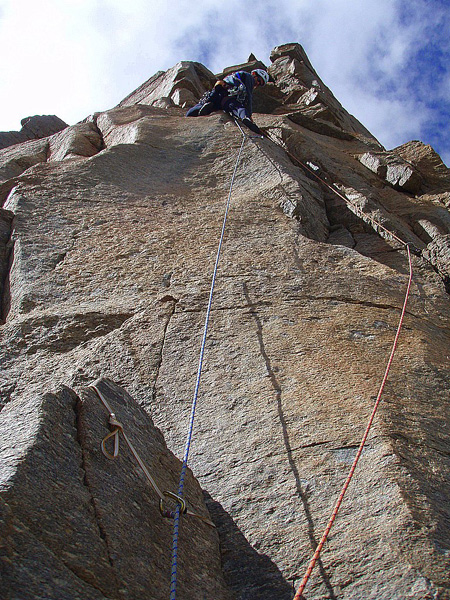 Grand Paradiso's satellite, the Punta Marco is an incredible needle of red gneiss which rises above the Moncorvé Glacier. Opened in '97 by the adopted Sardinian and prolific climber Maurizio Oviglia, the route Alison ascends the South-West Face.
Midi-Plan
26.07.2006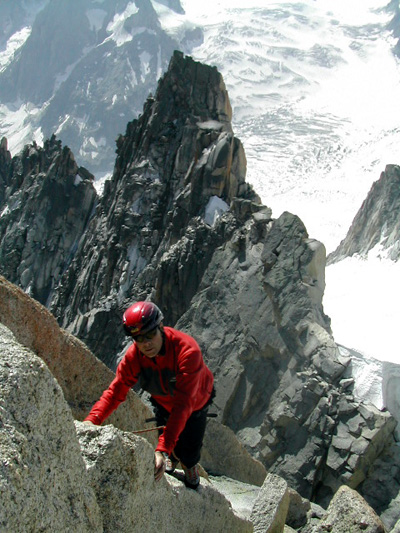 The traverse from Aiguille du Midi to Aiguille du Plan offers all types of climbing. We reach the summit after a few airy moves on solid granit; but it's not finished...One still has to find the way through the labyrinth of Glacier d'Envers du Plan to go back home. What a fabulous day !
Mont-Blanc du Tacul 4248 m
15.07.2006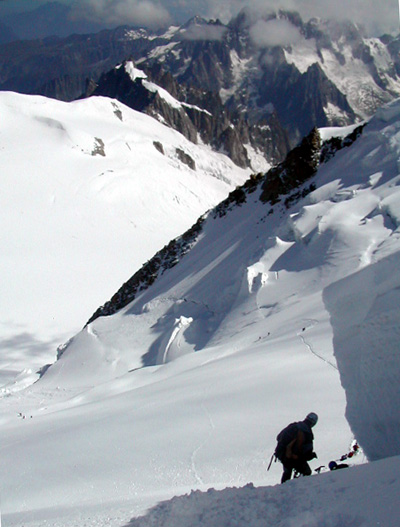 From Aig. du Midi, the Mont-Blanc du Tacul is a 4000 one can climb in a day. But don't forget that fabulous lines climb his East Face: Gervasutti Pillar, Super Couloir, Totem...
Cosmiques's Spur + Ridge - Chamonix
26.06.2006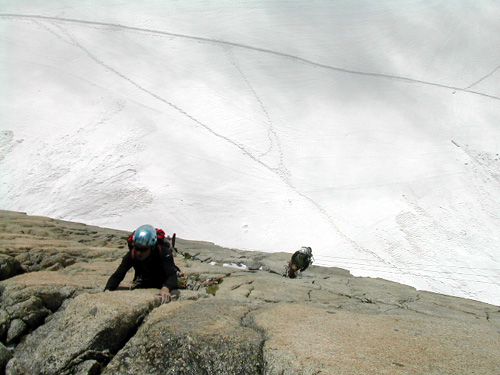 Less famous than the Rébuffat on the South Face of Aig. du Midi, the Rébuffat on the Cosmiques's Spur is also a beautiful climb. On the Spur's summit, we go on with crampons along the Cosmiques's Ridge : what a great and various climb !
Lomasti Pillar - Aosta Valley
02.06.2006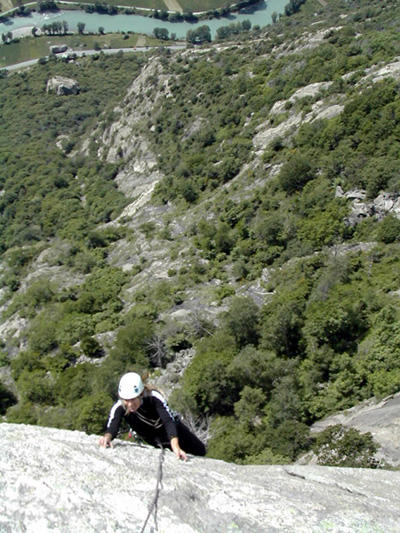 "High above the Aosta Valley, the Lomasti Pillar offers numerous beautiful routes. The six pitches of grade 6 in ""La Rossa e il Vampirla"" follow the Pillar's center on a fabulous gneiss."
Petit Combin (3672 m) North Face
12.05.2006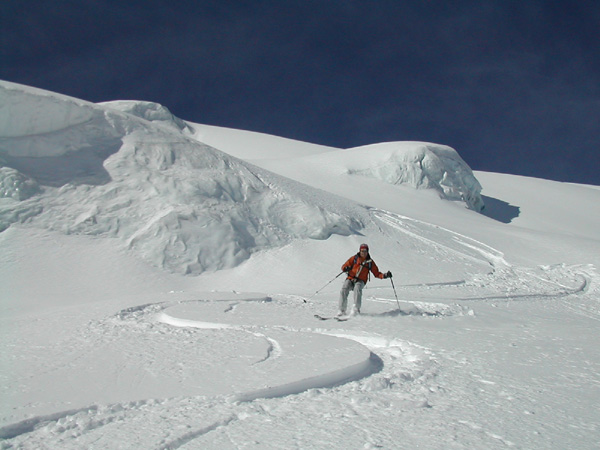 Deep powder in the North face, we enjoyed fantastic skiing !
The ski season is not over, there's still snow above 1600 m.
Ski Tour between Italy and France
07.05.2006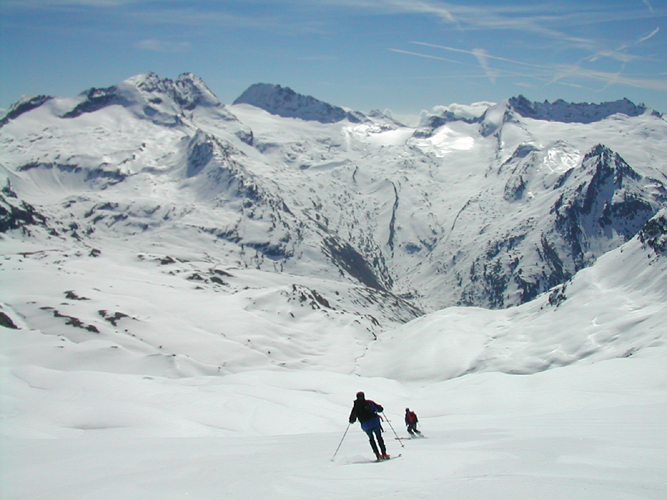 From the 1st to the 6th of Mai, we enjoyed ideal spring conditions. It was the 16th edition of our traditional trip,  Ueli didn't miss one since '91. We skied from Val Grisenche to Maurienne, through Val d'Isère.
On the picture, spring snow in the High Maurienne.
Petit Combin
16.04.2006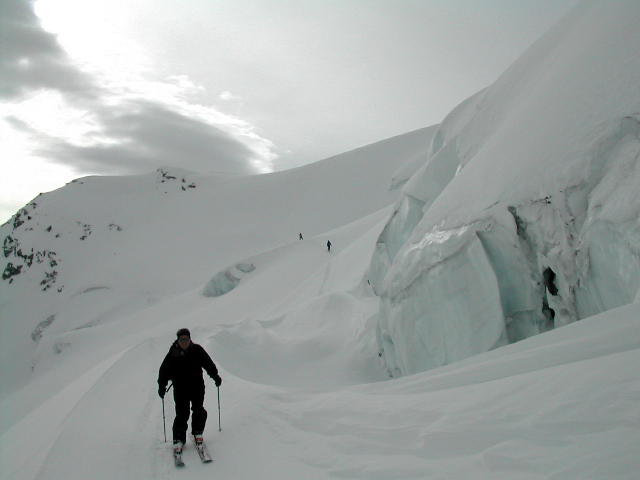 Like today on Petit Combin, glaciers are full of snow.  Strong storms hit the Alps during the last 2 weeks.  We will take advantage of excellent conditions for the rest of the ski season...  
The hidden valley - Verbier
04.04.2006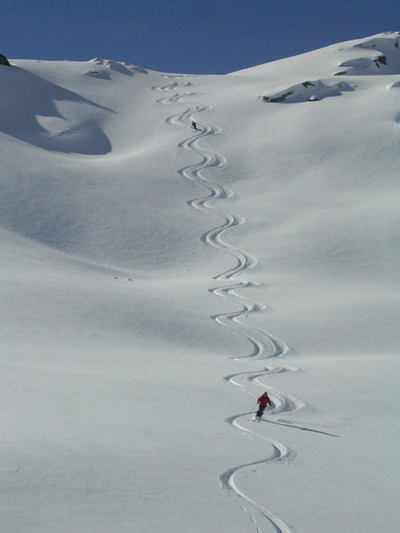 Wonderful April offers us, when the mountain doesn't really know if it's winter or spring, unforgettable skiing days...
Glacier skiing
21.03.2006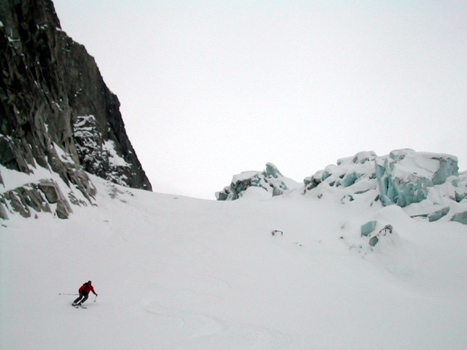 After recent heavy snow falls, the glacier are well covered and we can ski must of the runs.
Héliskiing : Saleina's Glacier
07.03.2006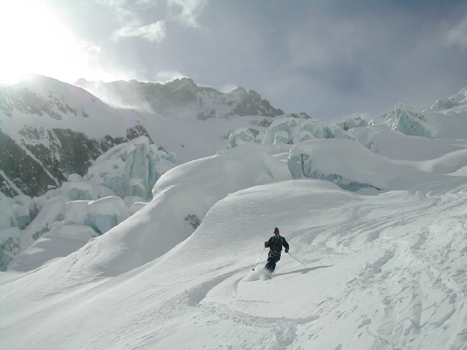 We take advantage of fabulous ski conditions for a few days. Skiing down Saleina's Glacier this morning was especially fabulous.
Dents du Midi : Dent Jaune's gully
27.02.2006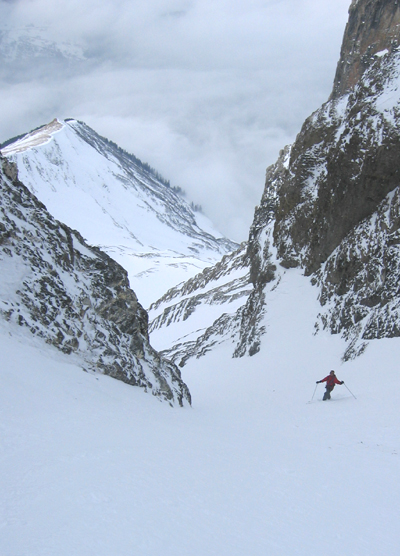 What a fabulous traverse : Les Marécottes -> Val d'Illiez across Col de la Dent Jaune.
We enjoyed a sustained 2200 meters drop of powder skiing through the steep North Face of Dent du Midi. For me it's one of the five best runs in the Alps!
Ice tower in Fionnay
26.01.2006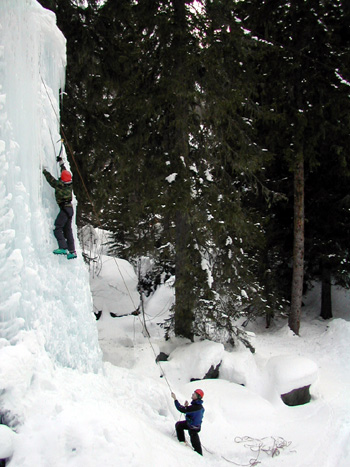 Every climber knows there's plenty of ice climbs in the Haut Val de Bagnes, but only few climb on Fionnay's ice tower. For beginners or when conditions are tricky on big climbs it's a good option. Free entry!
Errance - Ice climbing in Trient Valley
10.01.2006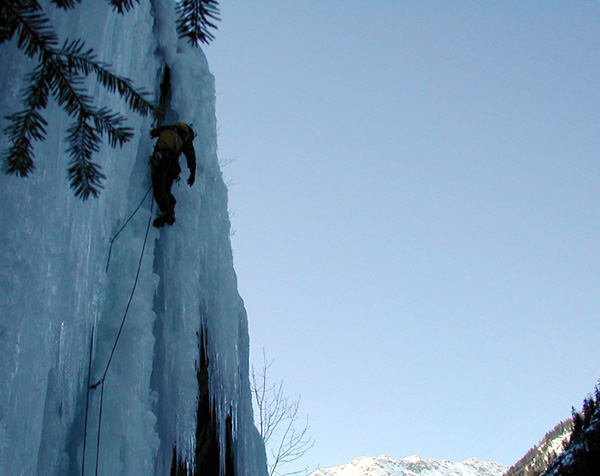 "Snow conditions are good and we enjoyed wonderful ski trips the last 10 days, but today we couldn't resist to go ice climbing.
""Errance"" in front of Finhaut (Bas-Valais), offers 4 pitches of sorbet ice."
Ice climbing in Trient Valley
20.12.2005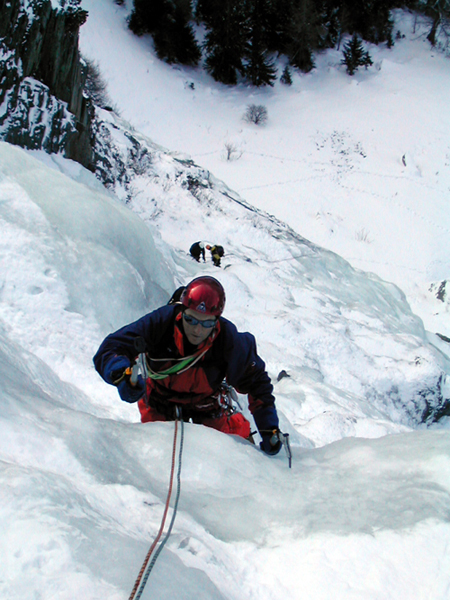 Despite recent heavy snow fall, the conditions are great.
We were three parties on the Charcotins today, but there was room for everybody on the different lines.
Holiday on ice
09.12.2005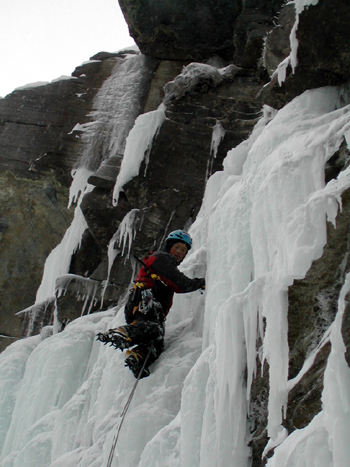 Winter but good conditions on this fabulous line, on the right side of Mauvoisin Lake.
It's a climb only for very cold days:risk of stalactites fall. Acces from the top with three bolted belays.
Brucholay's Goulotte
04.12.2005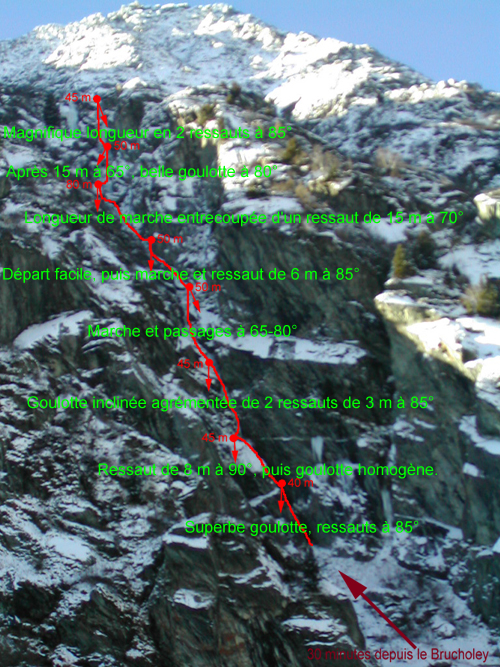 In condition!
Located in the Val de Bagnes, the Brucholay's waterfall ice is classic but the goulotte isn't in guidebooks described...
OK, the line isn't sustained but lengh and variety offer a great climb. It's better to climb it with little snow to enjoy more ice and to find the recent bolted belays.
Sex des Nombrieux -1805 m
10.11.2005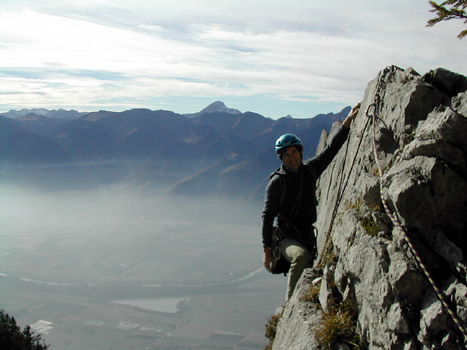 Low summit in the Vaudoises Alps, the Sex des Nombrieux is a great point of view on the Geneva Lake and the Alps. A nice and long 8 pitches route follows it's West Ridge. It's a real alpine climb, with a few cracks to protect on nuts, actually an excellent training for more serious trips.
The Valais's Dolomites
28.10.2005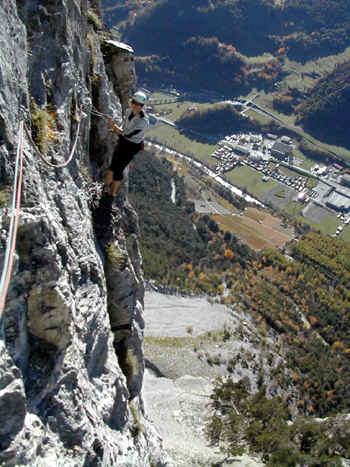 Today was my annual's pilgrimage in Mission Possible. It's a 10 pitches routes on the Crevasse, right above Sembrancher. Often climbed since last summer, the rock is getting clean even if theres's still some loose sections. On this sunny cliff, it's possible to climb till the first snow fall if you're ready to enjoy Dolomite's atmosphere.
Dibona 3131 m
29.09.2005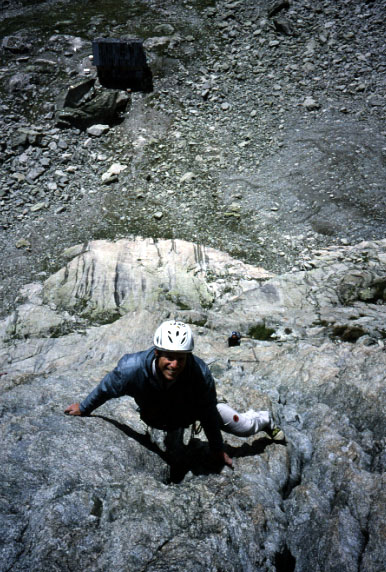 Jewel of the Oisans, the Aiguille Dibona, above the Soreiller's hut offers great climbing on best granite.
Roi de Siam - 3600 m
03.09.2005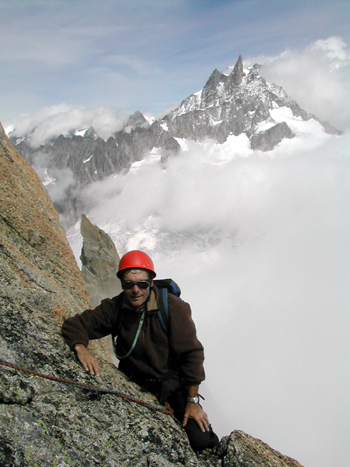 Around Mont Blanc du Tacul, like on Roi de Siam, there's plenty of great climbs on best granite. Climbing on these peaks in a scenic high-mountain environment is the best the Alps can offer.
Becco di Valsoera 3369 m
18.08.2005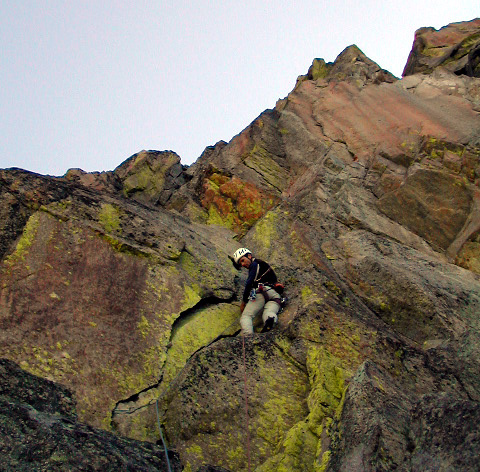 In the valleys South of Grand Paradiso, there's plenty of granite climbs. Opened in 1960, the Perego-Mellano, follows the West Pillar on the Valsoera. In Italy, this climb is famous as the Grand Capucin's routes for his history and awesome line. A 500 meters high TD, you should not miss.
Paroi du Dard - Sixt
12.08.2005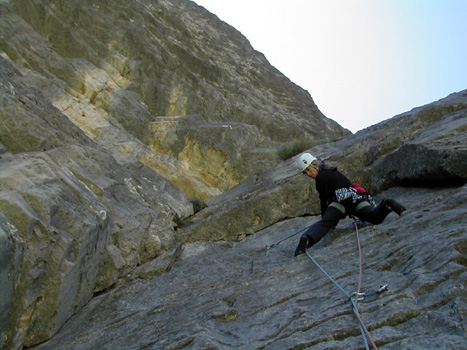 At the really end of the Giffre's Valley, the Cirque du Fer à Cheval is reputated for his big limestone walls. Tourists don't come to climb these loose rocks, but only to contemplate them. Only a few cliffes, like the Paroi du Dard (250 m high), offer some modern climbing routes on good rock; perfect for climbing in an unreal scenery on hot summer days.
Arêtes de Rochefort - Courmayeur
29.07.2005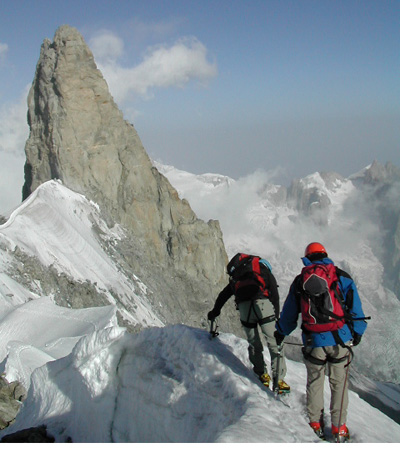 Scenic and airy traverse on the Arêtes de Rochefort. In the back ground : la Dent du Géant (4013 m)
Aiguille du Van - Les Perrons
23.07.2005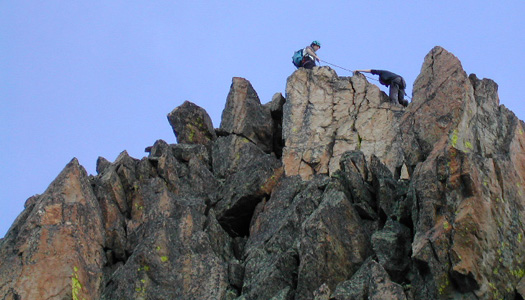 The final pitch on Aiguille du Van, it's an airy peak above Emosson's dam.
Aiguilles Rouges - Chamonix
13.06.2005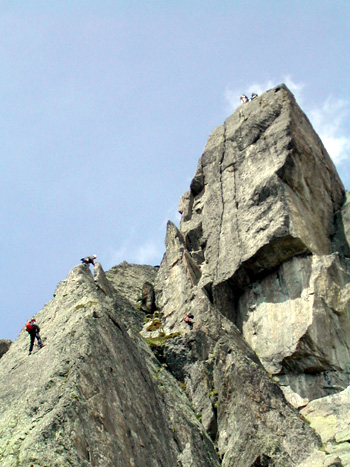 "Fabulous climbing day in the route ""Cocher-Cochon"". It's a new climb leading to the Plampraz's Clocher."
Mont-Blanc, 4808 m
10.06.2005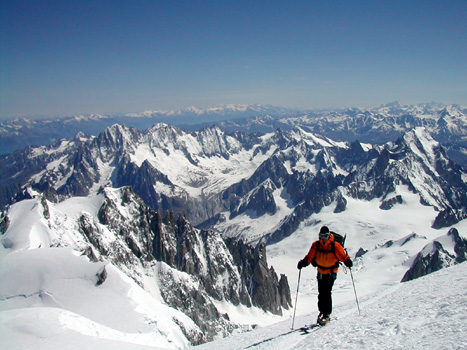 Skiing is over...
To finish this awesome and long ski season: the roof of Europe. June offers once again beautiful skiing on the North Face.
Climbing in Verbier
27.05.2005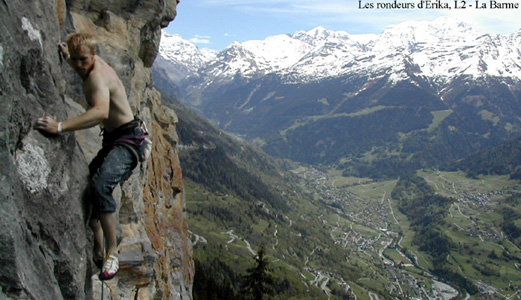 La Barme's cliff above Verbier offers 69 routes from 5a to 8b. From single pitch climbs to 120 m multipitches everybody will find a challenge.
Grand Combin 4314 m
21.05.2005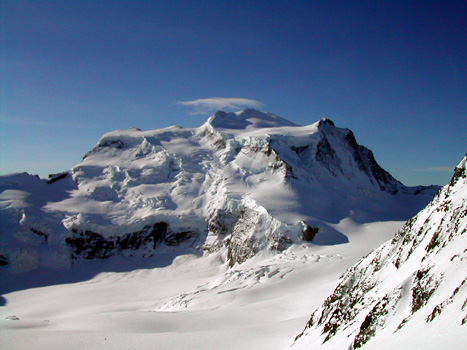 The Combin de Valsorey's South Face offers today super climbing conditions. We enjoyed a few big turns in powder to ski quickly the Corridor, where speed means security...
It looks to me that the Corridor and also the Voie du Gardien are highly exposed to seracs this season. Climbing the Grand Combin from the South is today the safest choice to summit this himalayan 4000.
Petit Combin, North Face
30.04.2005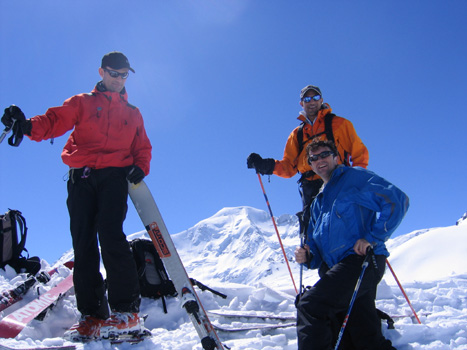 A very happy team after the 1st ski descent of the season on the Petit Combin's North face. Thanks for the picture JYM.
Spring has sprung
22.03.2005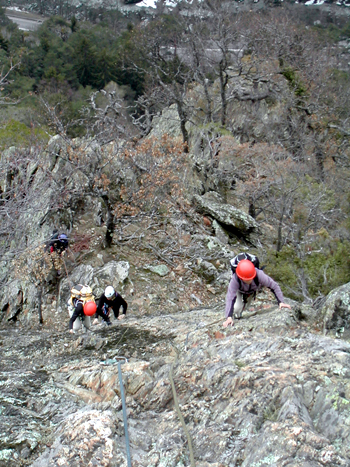 Bad conditions for off-piste skiing: warm temperatures and cloudy weather. Today we went rock climbing...
Ski mountaineering
07.03.2005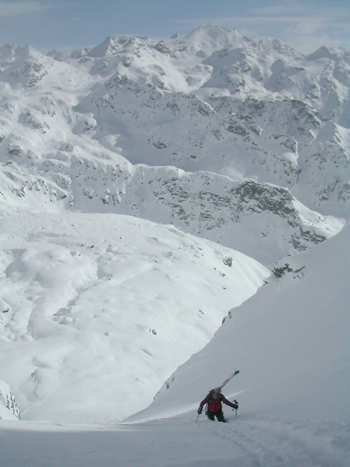 We forgotten that spring is on its way with powder snow and extremly low temperatures. Still awsome winter conditions...
Unbelievable skiing day after day...
23.02.2005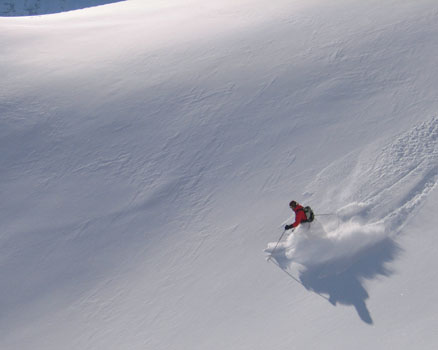 Daily snow showers, windless and polar conditions offers nothing but the best from 3672 to 712 meters.
Awsome skiing between the larches
14.02.2005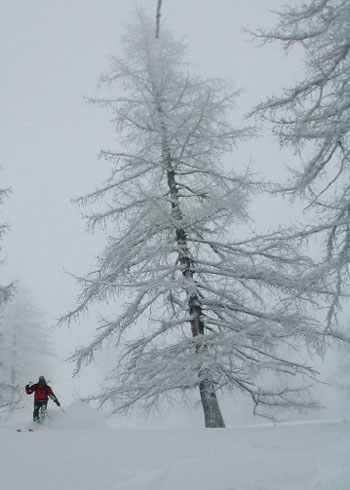 Often, grey and foggy days offer us great snow and magnificient descents...
We just received 70 cm of powder at 2500  and 25 cm at 1500.
Powder, sun and low temperatures...
27.01.2005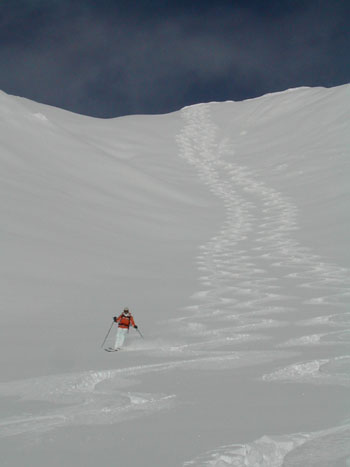 We have had alot of snow all the way down to the bottom of the valleys, ski conditions are excellent. Be careful avalanche danger level 3.
Little snow, lot of ice
15.01.2005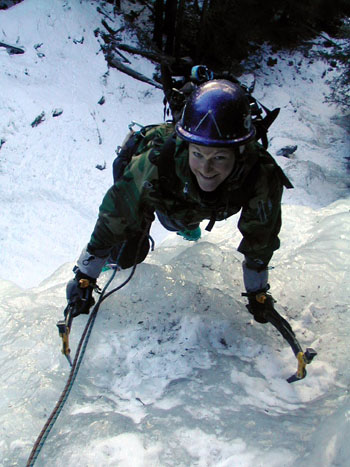 Yes, there's not much snow for the season all over the Alps...Even if in our area many ski tours offer pretty good conditions, it's maybe a good oportunity to try ice climbing like Amanda who takes advantage of excellent conditions in the Val de Bagnes.
Col du Jorat
09.01.2005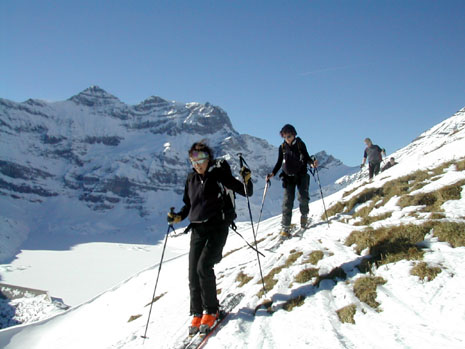 The snow layer is still thin but we take advantage or sunny days for ski touring. On the picture the arrival on Col du Jorat with Lac de Salanfe and the wild NE face of Tour Salière behind.
Ski, sun, powder...
29.12.2004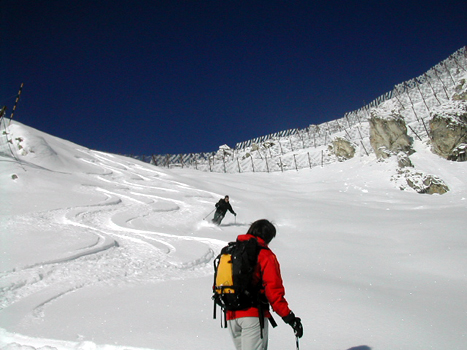 For two weeks there's some serious skiing around Verbier. The last snow falls allow us to ski off-piste different runs on best powder.
Multipitch climb at Finale Ligure
26.11.2004
Not far from Genova, in Finale Ligure it's possible to climb all year around. The cliff of Bric Pianarella offers airy multipitch climbs higher than 250 meters.
Ice climbing : the season starts
18.11.2004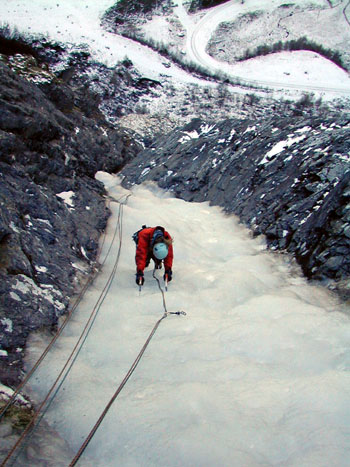 A few lines are already in great conditions around Mauvoisin in the Val de Bagnes. Time to sharpen your blades...
Indian summer...
22.10.2004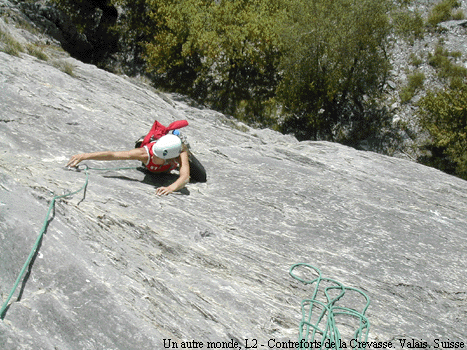 After the snow and freezing weather, the sun and the heat are back allowing us to climb in T-shirts above Sembrancher.
Kaunertal - Tirol
18.10.2004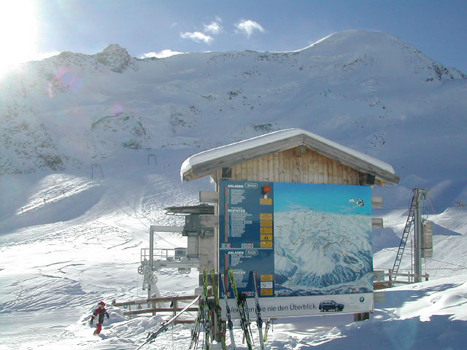 From 3535 meters, the Weiss Seespitze is shining above the Kaunertal's ski area. We enjoyed great snow conditions during an equipement testing day, sharing the slopes with ski racers and tourists.
Salvan VS - Pissevache
06.10.2004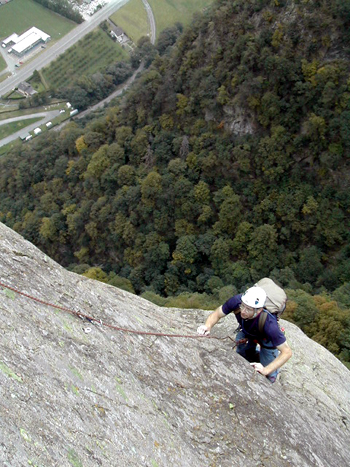 In the 5th pitch of Miles Davis. It's a beautiful and scenic climb right above the Rhône's valley.
Active automn...
26.09.2004
The season for high mountains climbing is soon over due to the fresh snow and the closure of huts. Take advantage of sunny days to discover the numerous climbing routes in the Bas Valais. Down in the valley like today at Les Trappistes or on middle altitude mountains, fun will allways be there.
Bernina Range 4049 m
24.09.2004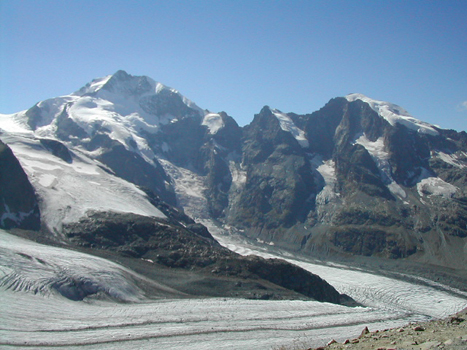 Last week, we climbed the Sperunza Grat on the Morteratsch, the Esel Grat on the Roseg and finally the famous Bianco Grat on the Bernina.
Dolomiti, Cima Grande di Lavaredo
24.09.2004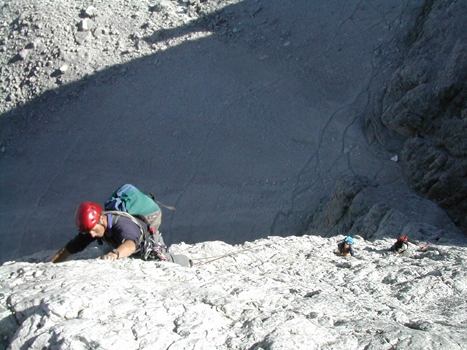 Not far from Cortina d'Ampezzo, the Drei Zinnen of Lavaredo are the most famous mountains in the Dolomiti. The North face of Grosse Zinne (Comici) and Westliche Zinne (Cassin), opened between the two wars are still serious challenges today.
Aspiring guides - final exams in Grindelwald
04.09.2004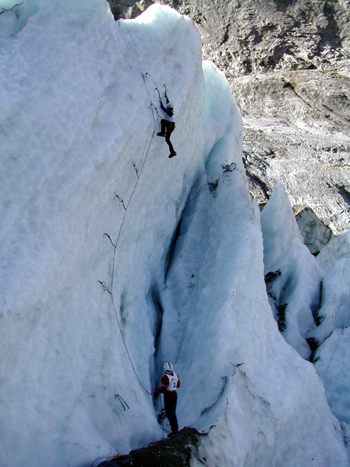 Steep ice climbing was very captivating next to more classics exams like crevasse rescue, cutting steps and climbing on crampons. On the picture, Simon the ice specialist gave us a clean demo.
Grand Clocher du Portalet - Orny
16.08.2004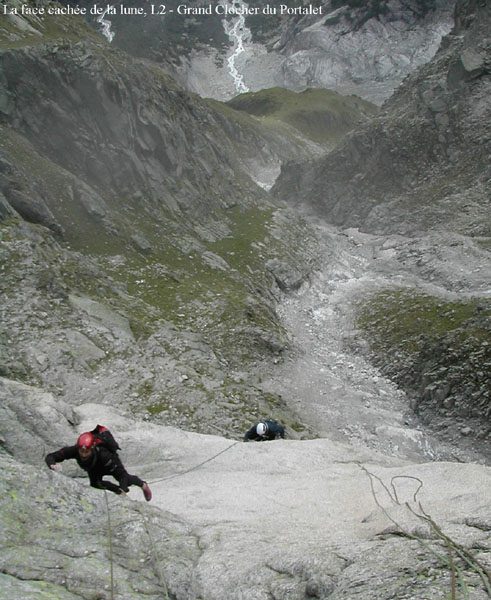 Another route to discover... First ascent in '92 but no more then 5 parties have climbed it! It's the longest and one of the best climb in Orny's area.
Aiguilles Dorées - Trident's North face
10.08.2004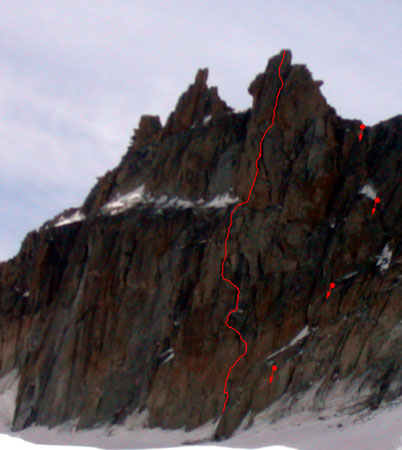 It's a beautiful 250 meters alpine rock climb. Despite an easy approach from the Trient's hut and difficulties between 5c and 6a the line is rarely climbed.
Matterhorn 4478 m
02.08.2004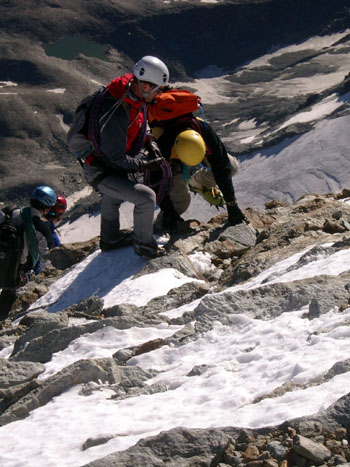 Stephen and myself reaching the summit of the Matterhorn via the Hörnli's ridge. The conditions are good but the mountain is very crowded.
Cosmiques ridge, Chamonix - Mt Blanc
26.07.2004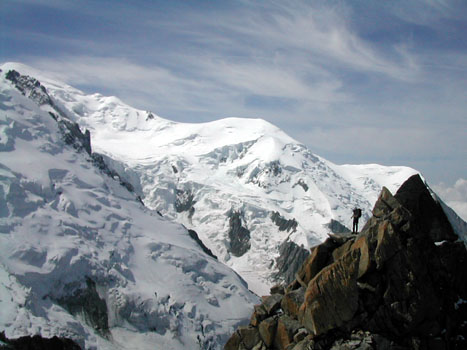 This mixed climb leads to the top station of Aiguille du Midi cable car. It's a scenic route on a perfect rock.
North Face of Tête Blanche
19.07.2004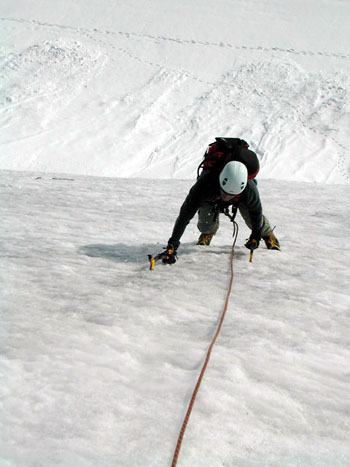 The ice axes plant easily into the soft ice, but the snow is deep and wet due to last night rain and mild temperature.
Rock climbing in Verbier
12.07.2004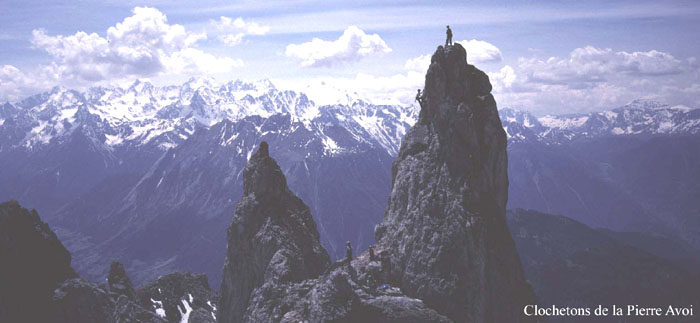 We had a few sunny windows during the last few days. Climbing at Pierre Avoi on a great rock and enjoying the stunning view is always a must. Right above Verbier, there's 50 routes from 1 to 6 pitches from 3rd to 7th grade.
Skiing the Mont Blanc North Face
09.06.2004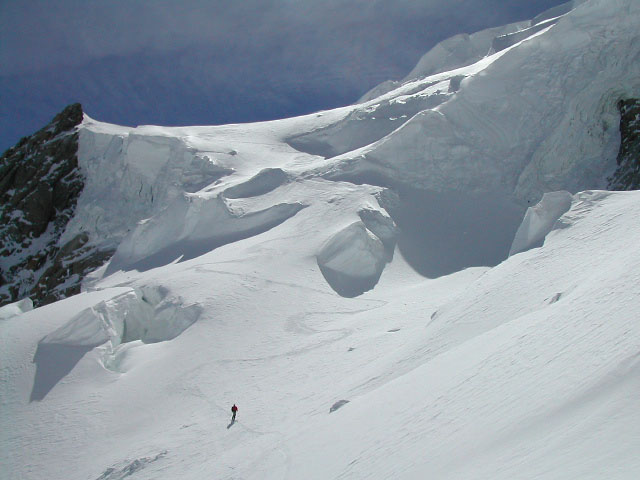 Last trip of the season ?
June is definitly the best period for  skiing the high peaks above 4000 m. Difficult to stop skiing after such a wonderful day...
Pilier de la Pissechèvre in Lavey (VD)
12.05.2004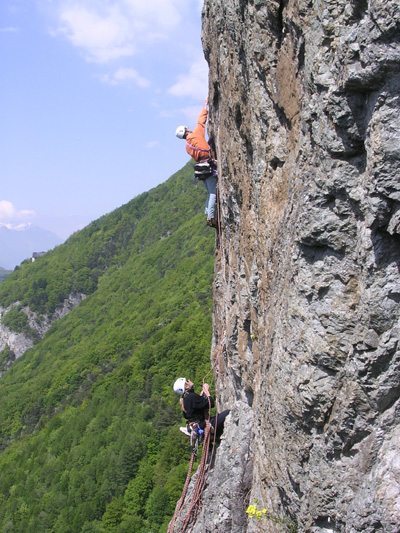 In the crux of Farinet 6b+ above Lavey-les-Bains. Since last year, there's 2 long routes (8 pitches) on that pillar. Thanks to Ph. Gay and L. Monnet for cleaning and bolting these lines!
Aig. du Midi : the Envers du Plan
02.05.2004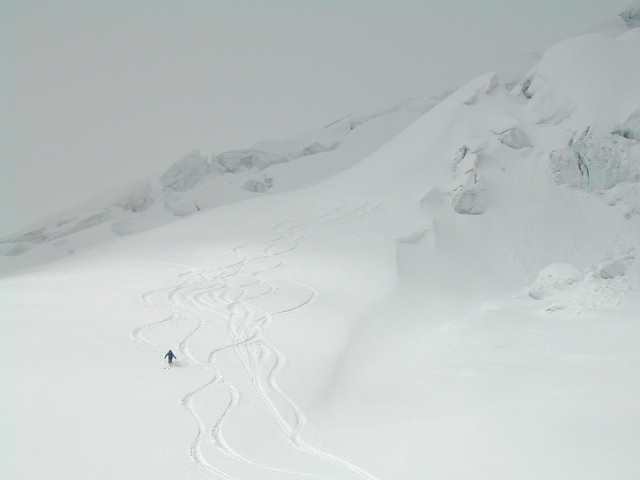 Nice to turn in 25 cm of fresh snow on the 2nd of Mai. We skied all the way to the Montenvers's cable car.
Col de Saleina
25.04.2004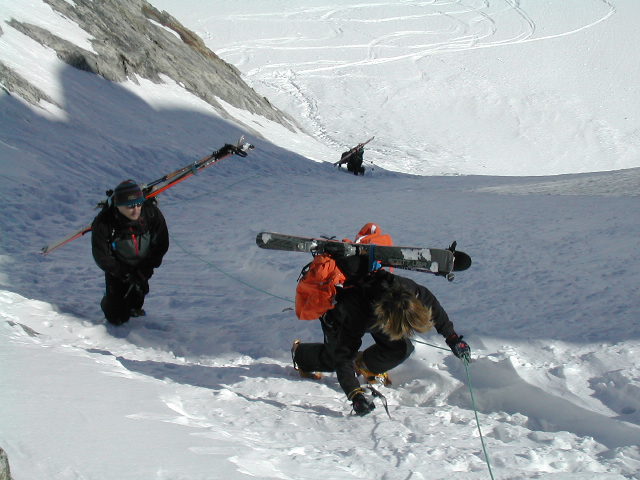 Because the ice is not far crampons and ice axe are useful to cross over Col de Saleina. There's still plenty of snow to ski down to La Fouly and conditions are great after cold nights.
The Aiguilles du Tour
11.04.2004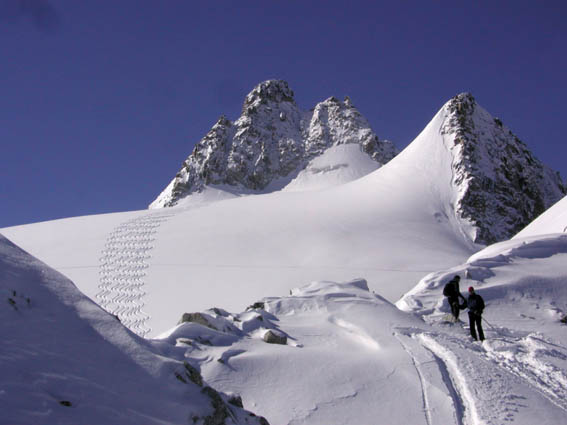 Awesome would be the only way to describe today's snow conditions from the Aig. du Tour down to Trient. Don't stop skiing to early in the season...
Pélerins's North Face, Rébuffat-Terray
08.04.2004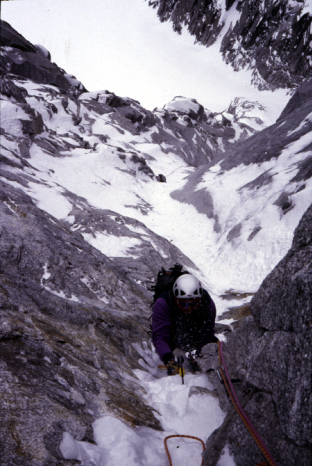 The 1944 Rébuffat/Terray's line has become today a modern mixed and ice classic route in the Aiguilles de Chamonix. Nicolas is enjoying some technical moves 3 pitches below the summit. The conditions will stay good as long as the temperature does not raise too much.
Heliskiing in the Valgrisenche
27.03.2004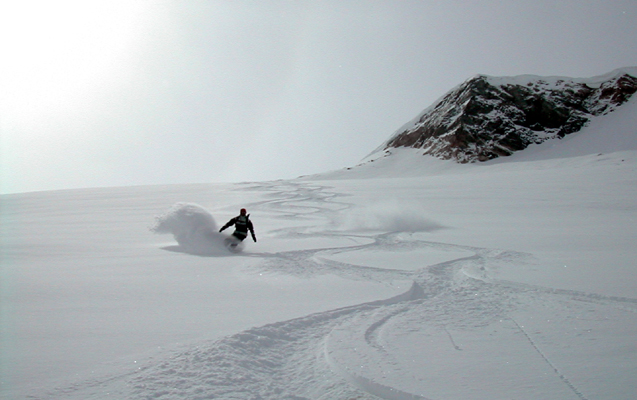 In the Valle d'Aosta (I), the Valgrisenche is the most famous heliskiing destination with 14 landing spots. The last few days we had fabulous conditions : snow during the night and sunshine in the morning.
Chopper drop on Trient's Plateau
16.02.2004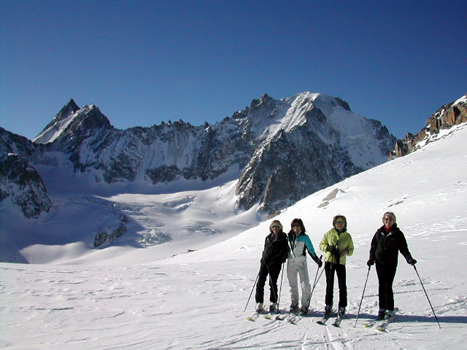 Easy skiing conditions: powder snow on a hard base. From Col des Plines, the officiel landing spot, we have to choose between ten different runs leading even to France in the Chamonix's Valley.
In La Gure on skis...
06.02.2004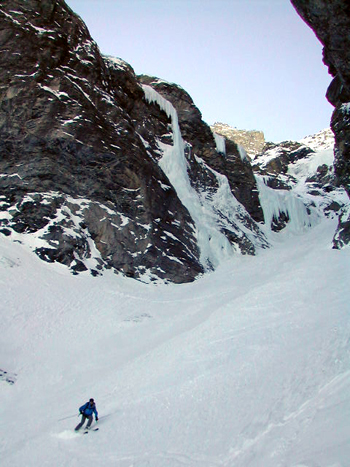 During the last two weeks of January, we had a huge amount of snow.
Glacier skiing is still delicate but there's plenty of snow in gullies. Today we skied in the wildest and most secret canyon in the Bas-Valais: la Gure.
Ice fall of the cascade, Fionnay
28.01.2004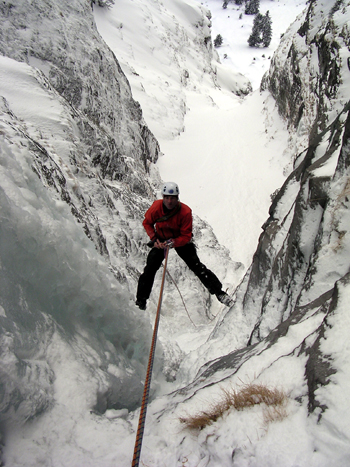 "Cold and humidity offer us great ski conditions but also some interesting lines for ice climbing. The direct exit of ""Cascade de la Cascade"" right above Fionnay was never repeated since the 1st ascent because of the lack of ice. Today conditions are good. We bolted the 6 belays for a quick and safe rappel descent."
Great skiing in Val Ferret
19.01.2004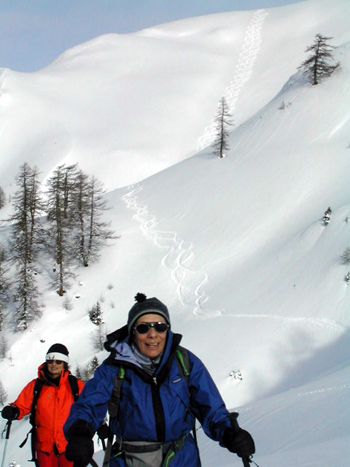 Excellent snow conditions above 1200 meters. Powder snow and cold temperatures for a sunny day between two storms.
Powder snow in 2004
05.01.2004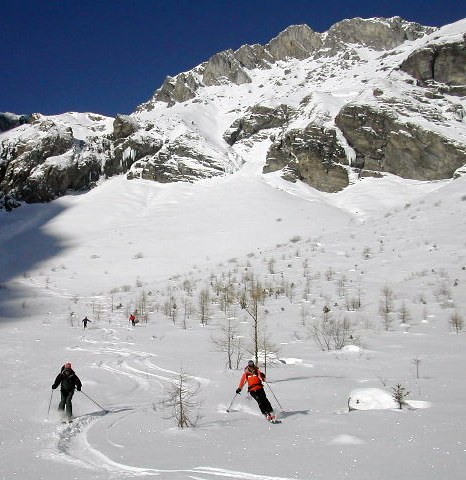 We start 2004 with 5 sunny and powder snow days. One day South of the Alps, the next one North, the powder hunters programm is varied...
Giétroz's waterfall ice
17.12.2003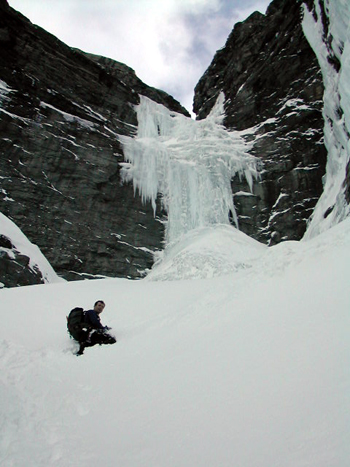 Good ice conditions in the Giétroz's canyon (Mauvoisin) but low angle sections are plastered with snow. Also a lot of snow (waist deep) during the approach.
Ice climbing at Mauvoisin
12.12.2003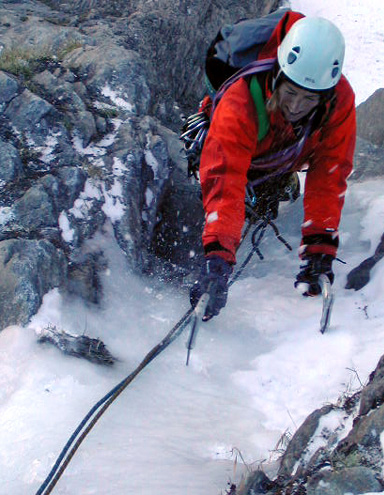 Not much ice, but a few lines are already in shape above 2000 m like the Pierre à Vire goulotte. The road is still open and dry up to the dam.
We start the ski season
08.12.2003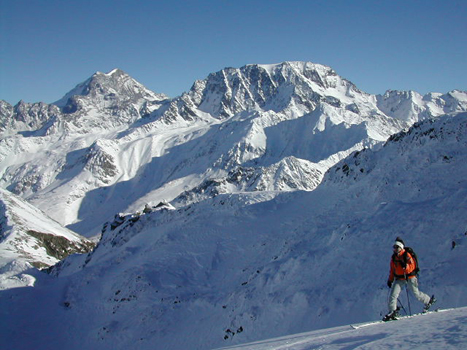 Good conditions around the Grand St-Bernard. For the season, there's plenty of snow on the italien side. On the Swiss side, the wind did a good job by packing the snow offering us nice possibilities.
Sunny and warm on the rocks
05.11.2003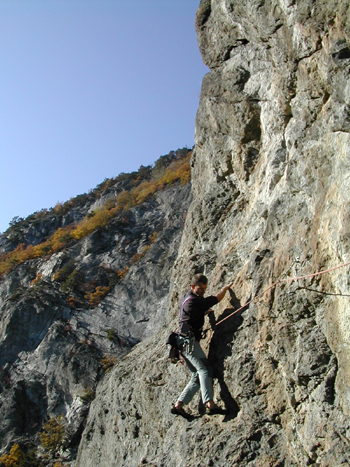 "The snow recovers already the mountains and temperatures are far below 0° during the night. We still enjoy rock climbing on sunny cliffs like today on a 7 pitches route ""Au fil du temps"" only 15 min away from Verbier."
Climbing in Sardinia
02.11.2003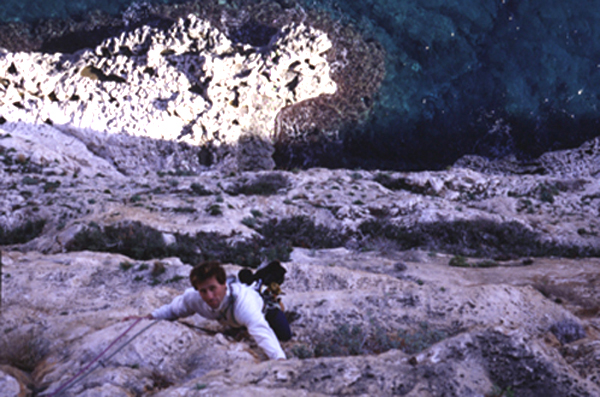 Based in Cala Gonone on the East coast we climbed some of the must beautiful routes of the area. In the wilderness of the Supramonte like on the Punta Cusidore or just above the Sea like on the Aguglia di Goloritze, everywhere we found great limestone and beautiful modern routes.
Swiss aspiring guides course
11.09.2003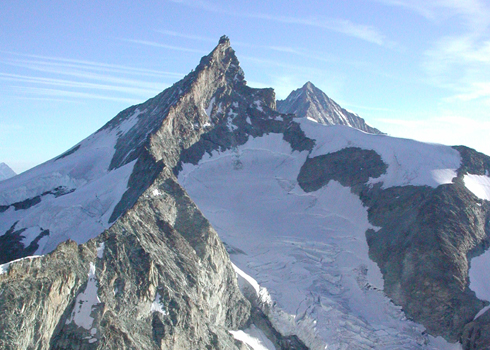 After a few instruction days and some training climbs  in Orny / Trient areas, we climbed in the Valleys Hérens, Annivers, Turtemagne and also in the Mattertal. Classics 4000 m ridges like Bishorn, Obergabelhorn, Zinarothorn and Dent Blanche were on the programm. The final exams took place in the Fieschertal and on the Aletsch Glacier.
Arête du Meitin, Grand Combin 4314 m
20.08.2003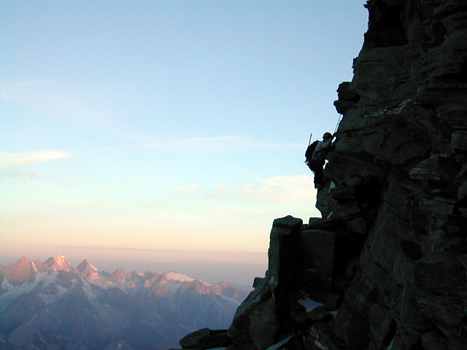 Sunrise on the Mont Blanc range when we started climbing the Meitin ridge. Equiped with 40 inox Fixe bolts, it's with current conditions the safest route to Grand-Combin. The itinerary is also perfect to get off the mountain quickly.
Piz Badile, North Face
06.08.2003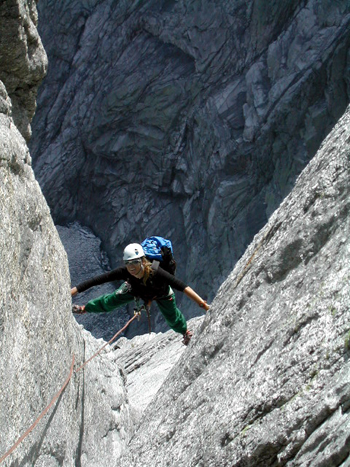 In the V chimneys in the Casssin's route on the Badile (Bergell Range). It's one of the five mythical North faces in the Alps with Eiger, Matterhorn, Grandes Jorasses and Cima Grande di Lavaredo.
La Sud-Est au Petit Clocher du Portalet
30.07.2003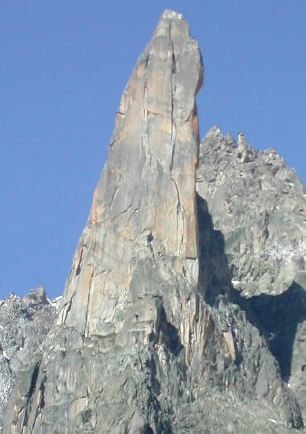 2 weeks ago, after a decision of the Bas-Valais guide's society, around 40 rusty pegs were taken away offering some new grips in cracks. New belays on chains and 4 to 5 bolts were added in the pitches. Today one has to protect cracks with natural gear making the route a challenging modern free climb.
Arête Sud de l'Aig. Noire de Peuterey
24.07.2003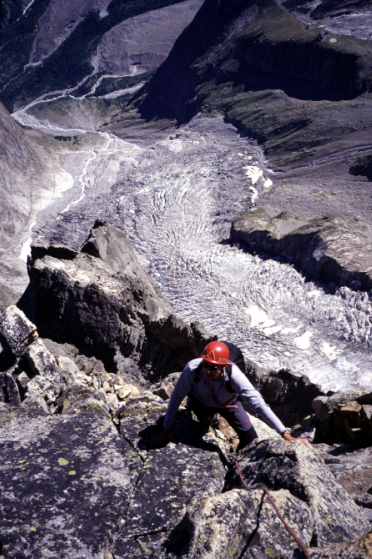 It's a serious climbing trip with a long and strenuous descent on loose rock. Some airy pitches follow the ridge and offer an incredible view on Freney's and Brenva's glaciers. Numerous bivouac sites proove that often climbers spent an extra night outside due to the lenth of the climb.
Aig. de la Varappe : Eole danza per noi
16.07.2003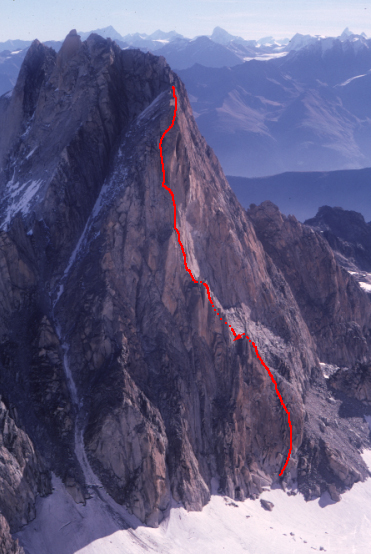 Rock's quality, lengh (400 m), alpine atmosphere and environnement; it's for sure one of the best modern route in the Mt-Blanc Range. The route is never crowded: were alone in the face last Thuesday...
Rock climbing in Val de Bagnes
01.07.2003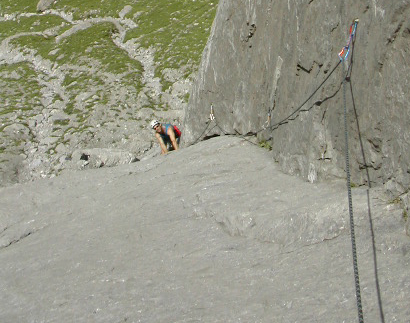 "In the 2nd pitch of ""La diagonale de l'oeil"" in the upper Bagnes's Valley. New 5 pitches route (5c,6a,6a+,6a,6a+) 20 min from Madzeiria's climbing crag."
Baisers orageux on the Aiguille du Belvédère
24.06.2003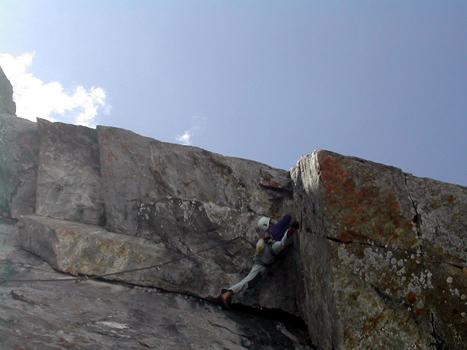 "Beautiful ""Piola's"" route in the Aiguilles Rouges, Chamonix. Andrea fighting with the roof in the 6th pitch (6c+)."
Ice climbing in summer
22.06.2003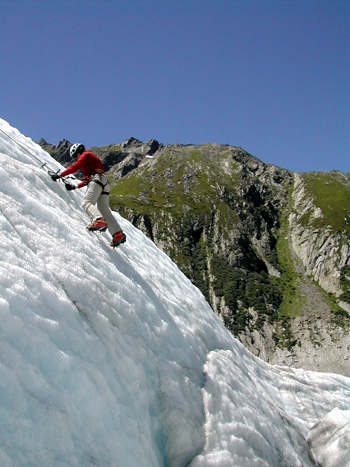 "Christine is practicing ""ice tooling"" on the Mer de Glace away from the continuing heat wave."
Petit Clocher du Portalet
11.06.2003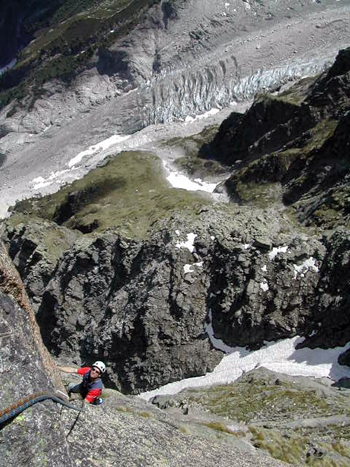 Nothing better than altitude to escape from the heat wave.
Le Chic, le Chèque et le Choc a master piece from the Rémy's brothers on the South Face of Petit Clocher is a fabulous climb.
Mont Blanc traverse on skis
07.06.2003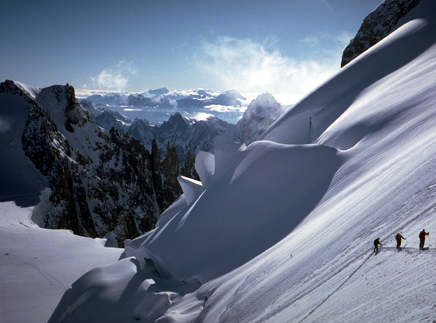 Good conditions on the traverse from Cosmiques, especially excellent during the North Face descent. Below Grands-Mulets it's getting tricky because of the lack of snow.
Around the Bernina 5->10 mai
13.05.2003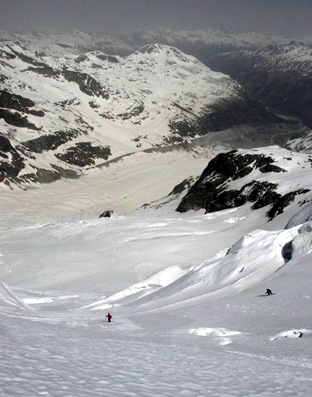 The skis are in the cupboard after a dreaming week around the Bernina (4049 m). Alone in the mountain huts, no skiers tracks and perfect snow : late season ski touring is great!
Föhn
26.04.2003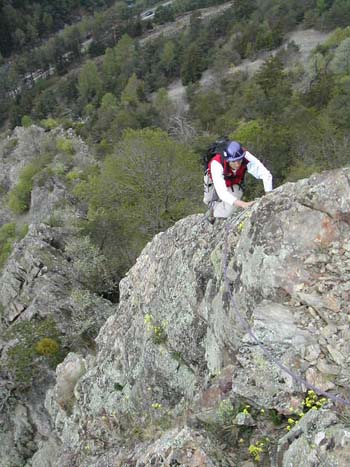 "Grey sky and mild temperatures: it was better to go rock climbing than skiing ! The route ""Les singes"" above the Grand St-Bernard road offers 8 pitches from 4a to 5b."
Powder skiing has not finished yet !
11.04.2003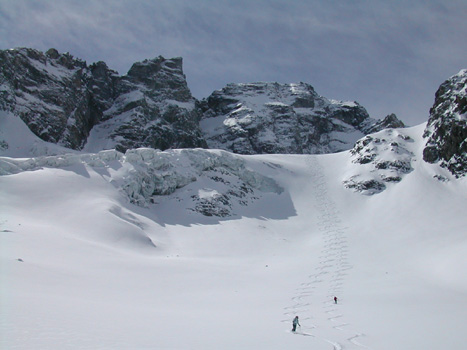 Alice and Charles are cruising in April's powder snow. The picture of the day taken in the Combin's Range (Wallis, Switzerland) proves it.
Dreaming descent in front of Dolent
25.03.2003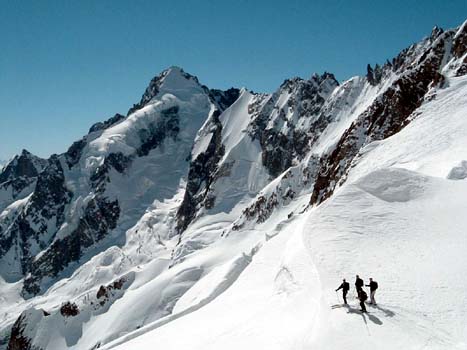 One more sunny week ! We skied the Grande Lui above La Fouly in the Swiss Val Ferret on spring snow from top to bottom: wonderful.
Spring snow  !
18.03.2003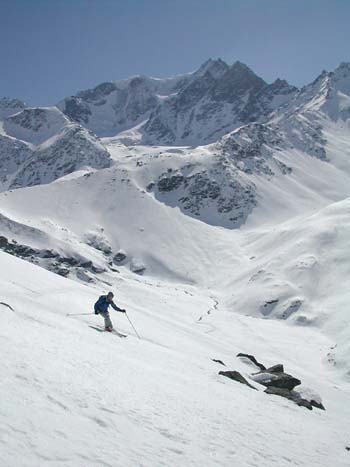 Sunny but cold weather and freezing nights garantee great spring snow conditions on sunny slopes. With Mont Vélan as only eyewitness, we skied endless slopes offering nearly 2000 meters drop.
Chopper drop on Petit Combin
09.03.2003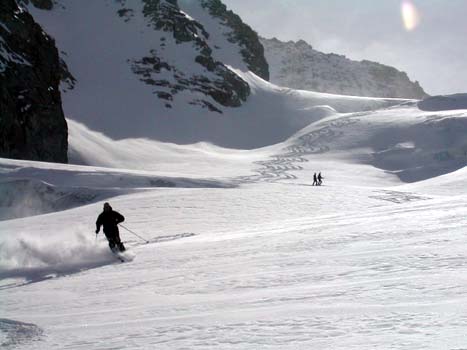 Last Sunday's and Wednesday's snow falls improved conditions. We're enjoying powder snow on glaciers and North slopes.
Heliskiing on Trient Glacier
15.02.2003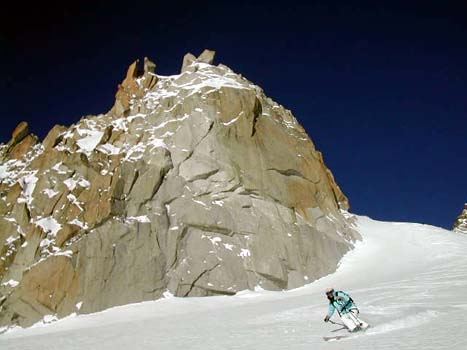 For 10 days the weather is beautiful and cold. The snow is well packed but still excellent at high altitude and on N, E and W slopes.
Doug Coombs Steep Camp in Verbier
13.02.2003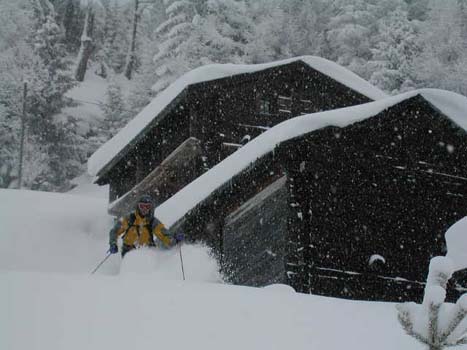 We didnt ski much steep couloirs in the 2003 camp, but very deep and perfect snow. That was enough to keep everybody smiling.
Please visit : www.DougCoombs.com
Skiing down to Valsorey
28.01.2003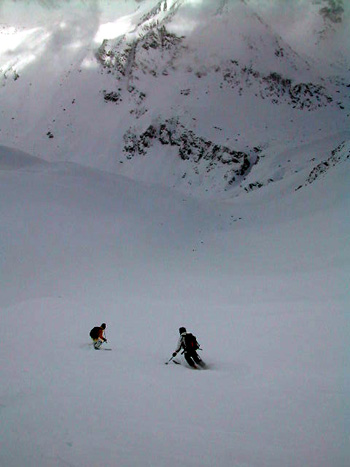 Last saturday was the best day of the season so far ! But the weather is turning funny again : mild temperatures, fog, snow showers. Today we were lucky, the sun was not far during our ski tour above Bourg-St-Pierre.
Eden exit
25.01.2003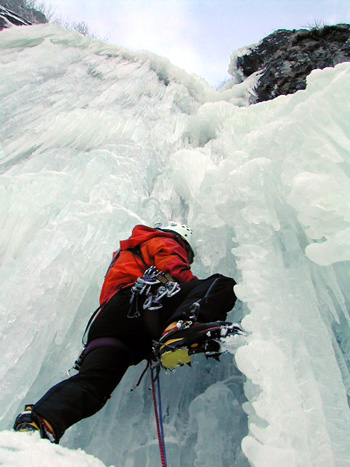 Beautiful line in good shape in the Vallée du Trient opposite les Marécottes. Plastic ice, with mushrooms in vertical pitches and snow plastered ice in low angle sections. 6-7 pitches of perfect climbing !
Pointe de Vouasson (3489 m), North Face
16.01.2003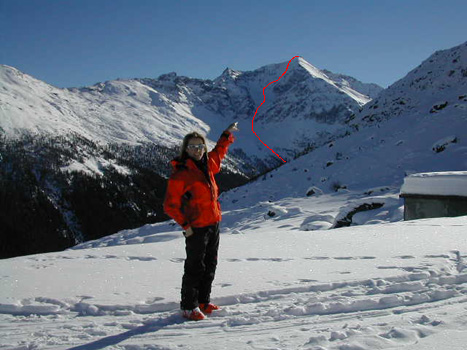 One of the best descent in Valais : Pointe de Vouasson in the Val des Dix. Complicated itinerary on a steep >45° hanging glacier, followed by an increadible canyon leads to the road; precise knowledge of the line and perfect snow conditions are required to ski this run.
Ski touring to Rogneux
09.01.2003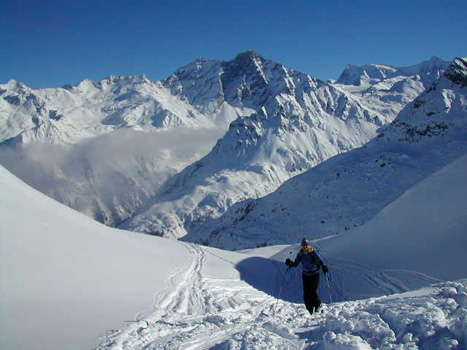 Beautiful cold winter conditions which gave us an exeptionnally great descent. The Rogneux (3083 m) in the Bagnes Valley is possible in a day trip; to spend the night at Brunet hut is also an option to cut the climb into 2 days.
In the Entremont Valley like in Canada
05.01.2003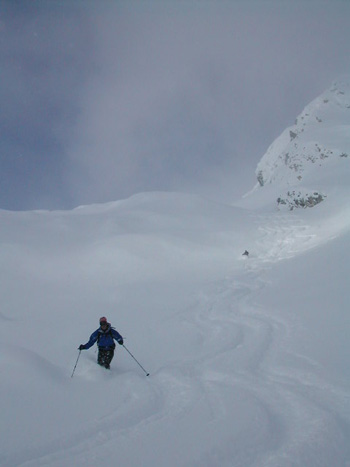 Powder snow, cold temperatures and a bit of sun : conditions are fabulous, but the avalanche danger is high (level 4 !).
Freeride and ski touring from Mont-Fort
02.01.2003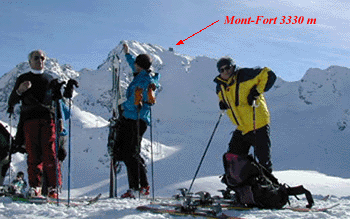 The Mont-Fort lift carries skiers up to 3330 m and offers them many off-piste runs. When conditions are good at altitude like these days, Mont-Fort is often our starting point for freeride and ski-touring.
The Giétroz glacier's canyon
24.12.2002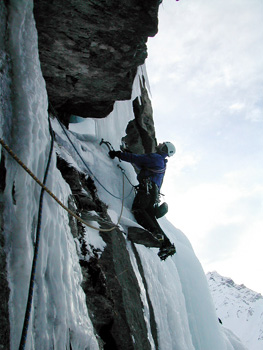 "Located above Mauvoisin's dam at 2300 m, the canyon offers many different lines up to 4 pitches. Access from Mauvoisin on le Pleureur's trail. On the image: ""Chasseurs de blonde"" very fat this season is the line left from ""Chasseurs de glace"". During our ascent we bolted the belays."
There's ice below the snow !
15.12.2002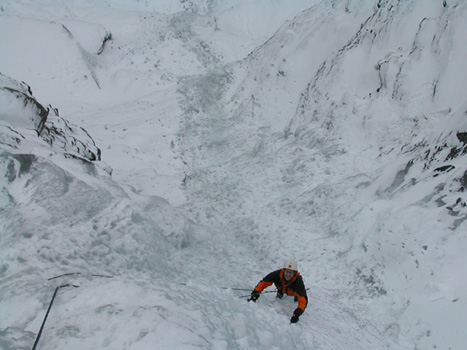 During last night 5 cm of fresh snow plasted the ice offering real scottish conditions. We had a great time climbing even with the humidity and fog.
Waterfall ice climbing
13.12.2002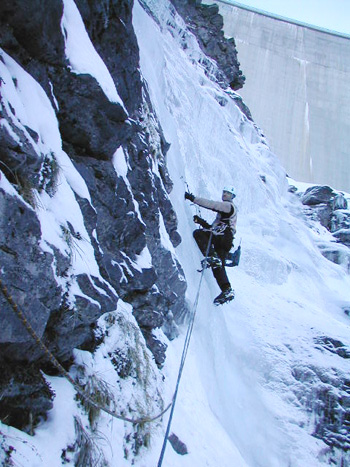 At altitude many ice climbs are ready. Today we did bolt all the belays on a waterfall ice climb located below Mauvoisin dam. 5 interesting pitches for 220 meters.
Off piste skiing in Verbier
06.12.2002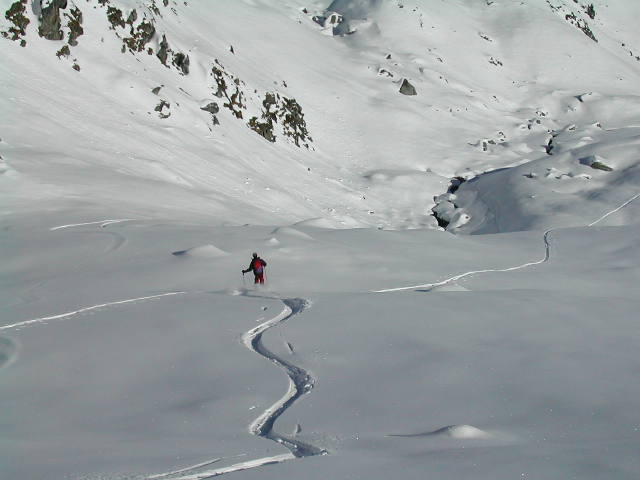 Good conditions and enough snow above 2000 m. We do enjoy pre season days : no tracks, no queues...
Rain in the North, sun in the South...
10.11.2002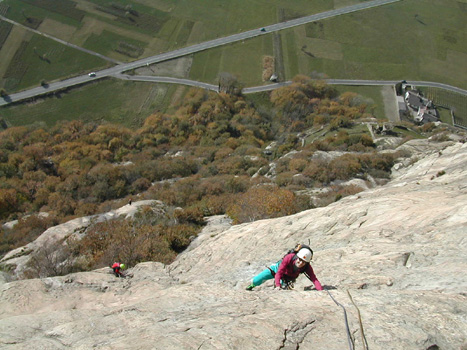 Rainy day in Valais, but by driving 1 h 20 mn South through St-Bernard tunnel, we had a great day climbing on Machaby's sunny slabs, in Arnad (Valle d'Aosta).
Climbing in les Trappistes, Sembrancher
21.10.2002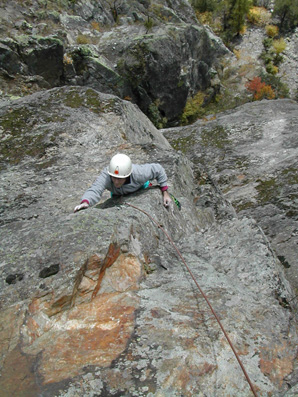 Low altitude crags, still offers good conditions for multipitch rock climbing. On the picture: Gargantua, 5 pitches, 150 m, 6a/6b.
Ice climbing on Mt-Blanc du Tacul
14.10.2002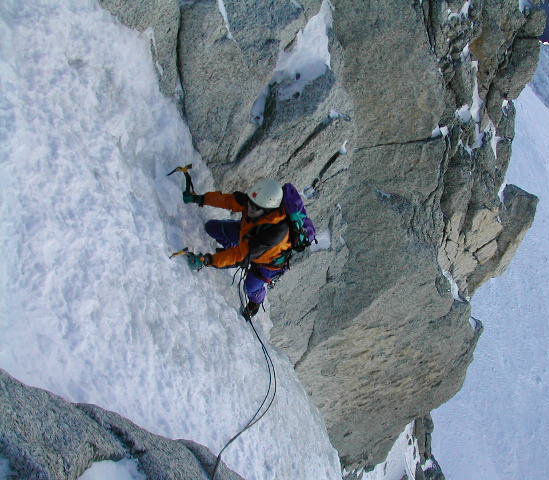 Nice sunny weather on Sunday in the high mountains, between 2 storms. We didn't miss the opportunity to start the ice climbing season because the ice runnels in the Mont-Blanc Range are in good conditions.
Great conditions in North faces
08.10.2002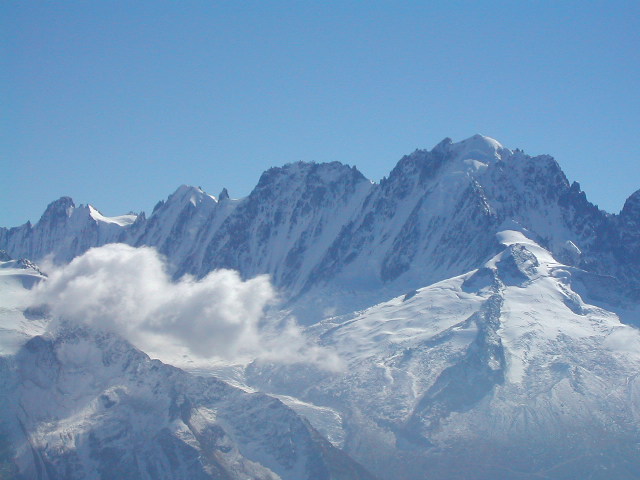 Mont-Blanc Range North faces: le Triolet, les Courtes, les Droites, l'Aiguille Verte. Great conditions for mix, ice and snow climbing if the weather stays good...
Climbing week-end
08.09.2002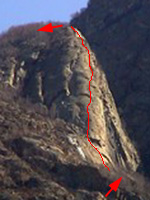 "Great last outing with the ""young climbing team"" in Arnad ""Valle d'Aosta"". We did enjoy the classics ""Diretta Banana"" and the wonerful line on the photo ""La Rose et le Vampire"" on Lomasti's Pillar."
A great day high in the Val Ferret
02.09.2002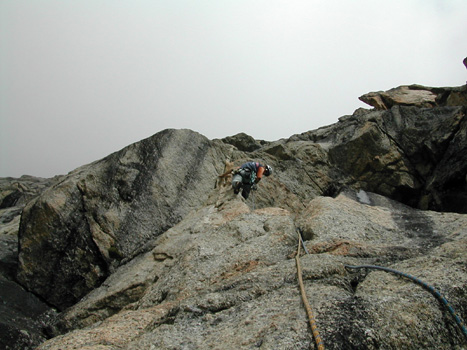 """L'homme est un loup pour l'homme"", 7 pitches of 5c/6a on the SW face of Grand Darrey in the Swiss Val Ferret. Great rock, alpine scenery: another masterpiece of Piola."
Aiguille d'Argentière North Face
16.08.2002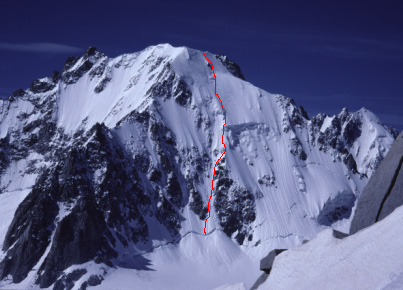 Yesterday we had perfect conditions in the North Face of Aig. d'Argentières. The wall, 700 m high is 50° steep. On this direct line, ice fall danger is pretty low. A beautiful climb...
Nollen : the best route on the Mönch (4099 m)
27.07.2002
Conditions were perfect for our ascent of the Nollen last Thuesday. It's a great climb : safe and airy ice and mixte climbing, with a North face atmosphere.
Back from the 4000 of Monte Rosa...
23.07.2002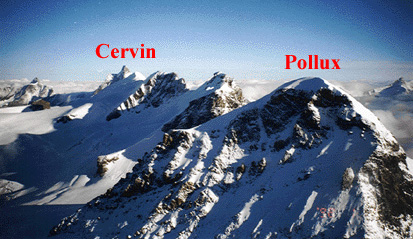 Warm and sunny weather is improving conditions after the heavy snow fall above 3800 m. Still too much snow on the Matterhorn's Hörnli Grat !
Climbing in Saleinaz, Val Ferret
21.07.2002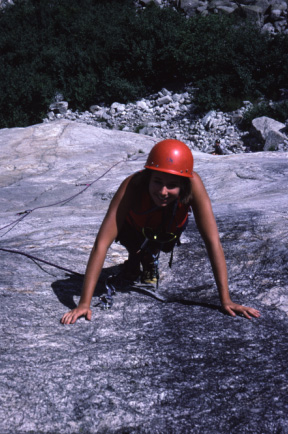 With some more bolts, la Brise du Glacier (4 pitches from 5c to 6a+) offers today a safe friction climbing on a perfect granite.
A route to discover...
15.07.2002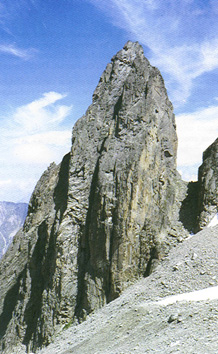 La voie du Soleil on the Petit Clocher des Planeureuses in front of Saleinaz Hut is a climb to do. Well equiped, best granit, difficulties from 4 to 5c. Have a nice day climbing !
Grand Capucin, Swiss route
28.06.2002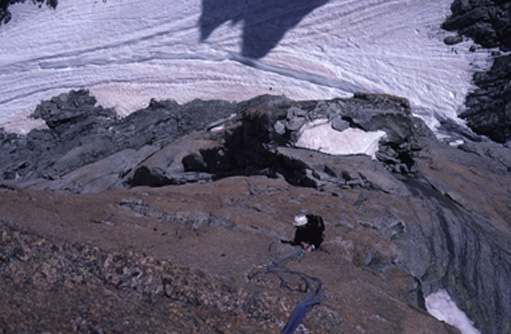 What a pleasure to climb a great classic of the Mont Blanc Range without crossing other parties. The fabulous conditions allow to climb all high altitude rocky itineraries. Why waiting for the high season's crowds ?
On top of Shisha Pangma 8046 m
24.03.2002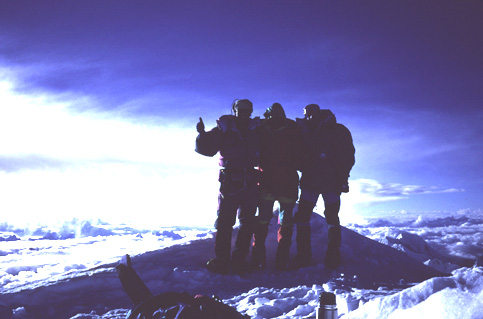 This picture was already taken 6 months ago when we were standing, with Kobi and Nicolas, on top of Shisha after climbing the 2200 meters high South face. Less than 24 hours were enough to climb and down-climb the breathtaking route. These journey at high altitude is our greatest achievement in the mountains.
Spring early February !
06.02.2002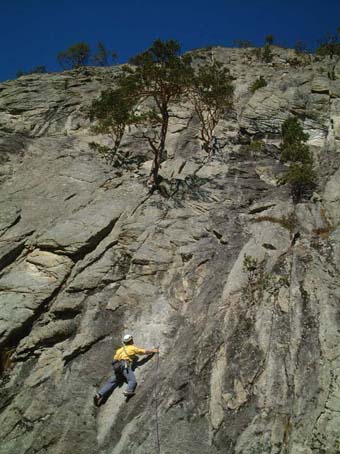 "Little snow and spring temperatures, offered last week best conditions for rock climbing. A phone call to Hans-Peter, always ready for funny adventures, and we went for the 1st winter ascent of ""Moments authentiques"" (topo on 06.12.01 News). No frosbite..."
Pleureur waterfall
13.01.2002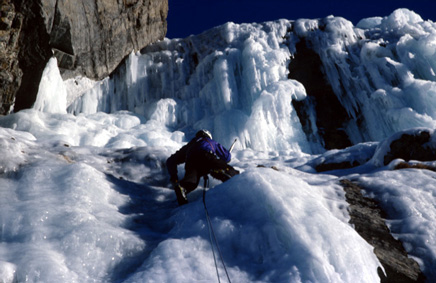 François Perraudin, guide and photographer, sent me today the photos of our 18th December climb. It was a memorable day. The waterfall, 6 pitches long, is formed from an artificial stream from the Mauvoisin dam.
Holiday on ice
09.01.2002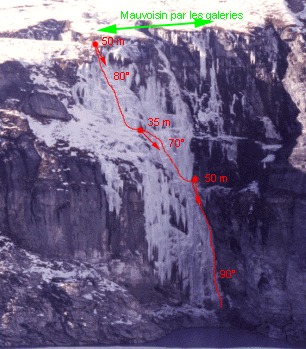 Fist ascent in 96 by Ch. Portmann and R. Largey, Holiday on ice is a great climb above Mauvoisin lake, facing Giétroz glacier. Yesterday we did bolted the belays for a safe and easy descent.
Waiting for snow and ice...
19.11.2001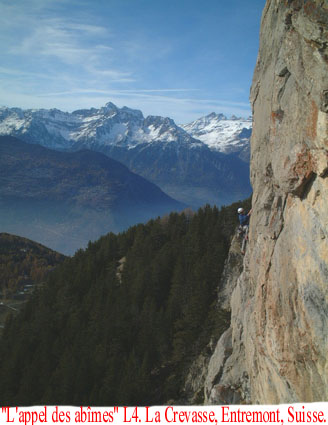 Thanks to temperature inversion, we still climb on sunny days. Yesterday at La Crevasse at 1800 m. Thanks for the picture HP !
Success on Shisha Pangma South face.
30.10.2001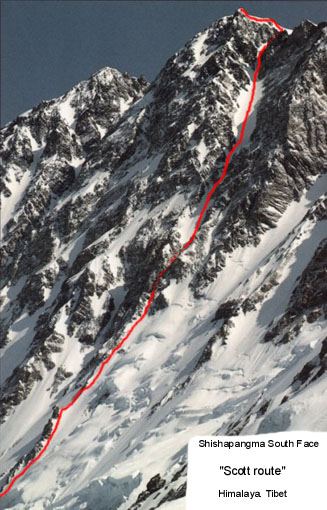 Kobi, Nicolas and myself reached the main summit of Shisha Pangma (8046 m) on the 24.09.01 around 8 h 30 am. We left advanced base camp (5600 m) on the 23.09 and climbed alpine style the Scott's route, without intermediate camp or oxygen.
Climbing under the sun at Presles
27.10.2001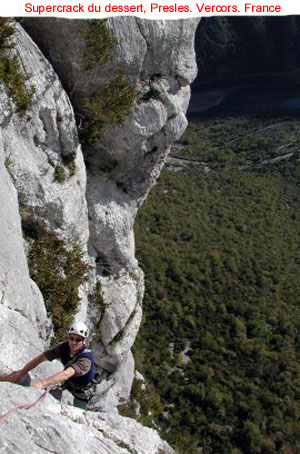 "Bruno Fara and his friends put up in 2000/2001 3 new routes in ""Le fond du cirque"" area. Thanks, it was a great occasion to start climbing again."
Chamonix - GRANITE
28.07.2001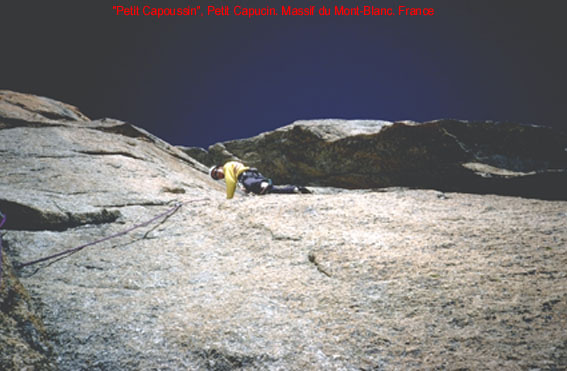 "The summer is back! To climb on Mont-Blanc Granite is the must. I discovered three great new climbs on le Brévent ""La Frison Roche"", on Aig. du Belvédère ""Baisers Orageux"" and on les Perrons ""Squatteurs de Lune""."
Climbing in Ubaye
22.06.2001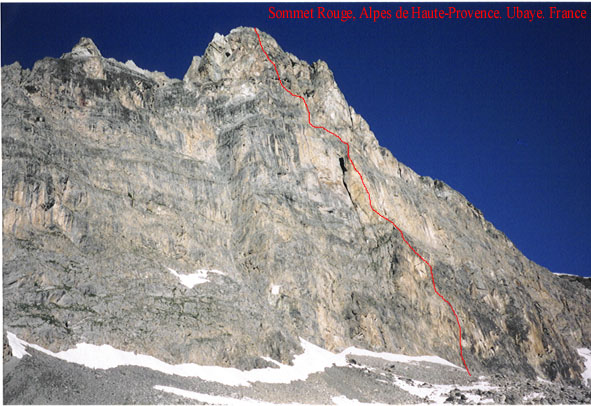 "A week climbing in Ubaye to discover this beautiful valley and some great climbs. ""Festival"" opened recently by Chevalier and Fiaschi is a 450 m. limestone route on the Mont Rouge."
Mont-Blanc on skis
06.06.2001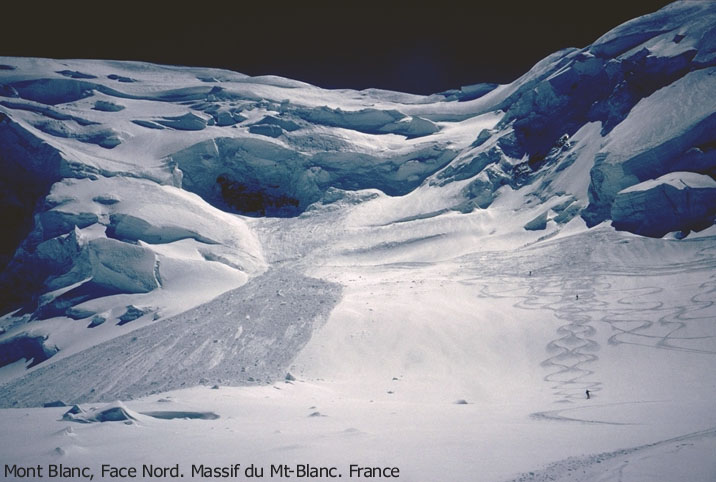 Conditions are still great on the Mont-Blanc. We skied from the summit at 4807 meters down to Plan de l'Aiguille at 2300 meters.
Rock climbing in Presles
31.05.2001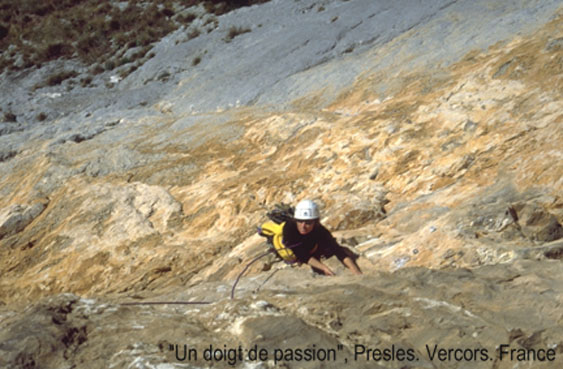 Back from a climbing week in Presles in the Vercors (France). The limestone cliff, between 200 to 300 meters high and kilometers large offers 250 different climbing routes.
Steep skiing
19.05.2001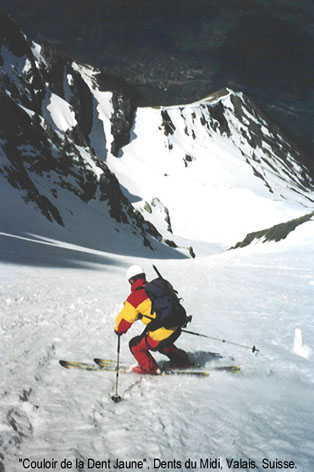 "On the 13th of Mai, after a short hike with skins, we climbed the ""Dent Jaune Gully"" with crampons and ice axe. Didier and myself enjoyed our best steep-skiing run on corn snow of the 2001 season. Conditions are still great above 2000 meters after cold nights."
North Face of the Petit-Combin
07.05.2001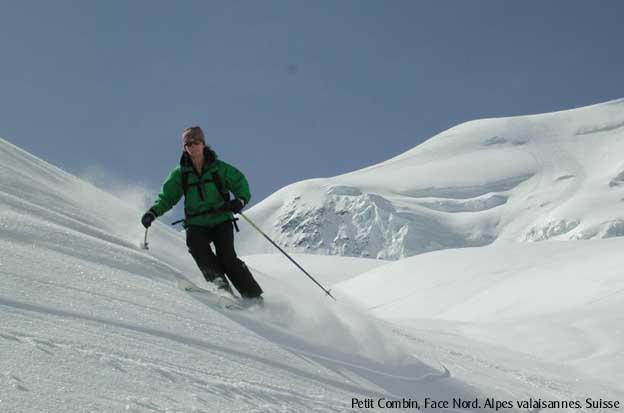 There's still great skiing possibillities in mai ! We skied all the way down to the taxi at 1700 meters.
Haute-Route : Verbier - Arolla - Verbier
04.05.2001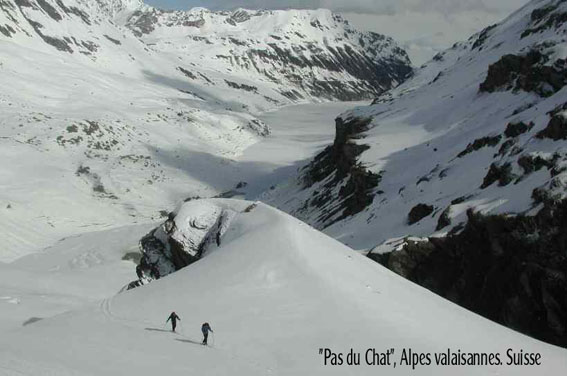 "For a week the ""foehn"" is blowing, it was impossible to climb the high peaks on the main crest of the Valais Alps, but we did have some beautiful sunny spells."
Grenz Gletscher. Monte Rosa Range, Switzerland
22.04.2001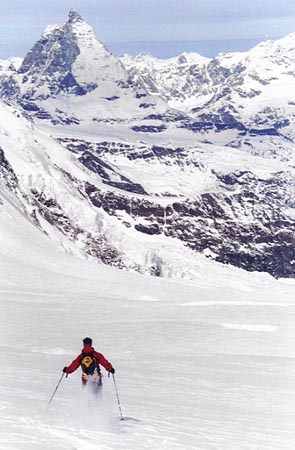 Early April, Chopper drop on Lysjoch at 4250 m. Skiing down to Zermatt in front of the Matterhorn, after a trip on the italien side of Monte Rosa.