Introduction
Olivier Roduit, based in Verbier, in the heart of the Alps between Chamonix (Mont-Blanc) and Zermatt (Matterhorn) brings a life time of knowledge and experience to his profession which he follows with passion and enthusiasm since 1987. Mountain-Guide IFMGA, Ski-Instructor ISIA and Professor to Aspiring Mountain-Guides, he is guiding and teaching on requiry all year round.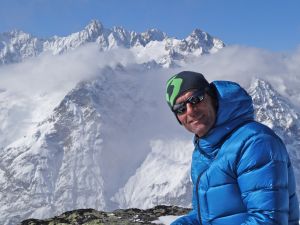 A former member or the Swiss Ski Team he has developed to become an extreme skier who has many impressive descents to his credit. He has conquered many of the most challenging and difficult alpine routes in the Alps from the Ecrins to the Dolomites, and some Big Walls in the Yosemite.

After his first expedition on Alpamayo, he became fascinated by high altitudes which led him to take part in numerous expeditons. Olivier has successfully summited Pumori and Kilimandjaro. On two separate occasions he climbed, without bottled oxygen, close to the "Top of the World" by reaching 8300 m on the North Ridge of Everest. Alpine style and still without supplemental oxygen, he also summited four 8000 meters peaks: Dhaulagiri, Shishapangma, Hidden Peak and Gasherbrum II.

Join with Olivier and he will show you the magic and beauty of the high mountain country. Climbing, skiing or touring, whether you are a novice or experienced, a veritable cocktail of activities and destinations await you in the Alps and elsewhere.
Life journey
1965 : Born on the 19th of November in Fully VS
1983 > 1985 : Swiss Ski Team
1984 : Diploma de l'Ecole Supérieure de Commerce
1987 : Ski Instuctor ISIA
1989 : Mountain Guide UIAGM, Alpamayo 5947 m
1990 : El Capitan (The Nose)
1991 : Ski Trainer in Chili
1992 : El Capitan (Salathe), Half Dome (Regular), Pumori 7162 m (South-West Ridge)
1994 : Dhaulagiri 8167 m
1995 : Married with Andrea
1997 : 1st attempt up to 8300 m, Everest North Ridge
1998 : Kilimandjaro 5860 m
1999 : 2nd attempt up to 8300 m, Everest North Ridge
2001 : Shisha Pangma 8027 m, South Face (Scott-Mc Intyre)
2002 : Father of Luc
2003 : Instructor at Swiss Mountain Guides education SMGA
2008 : Kilimandjaro 5860 m
2009 : Attempt up to 7800 m on Broad Peak
2015 : Mentor ISTA (International Snow Training Academy)
2017 : Technical leader at Swiss Mountain Guides education SMGA
2018 : Mera Peak 6461 m
Alpine experiences
Mixed
Droites North Face (Davaille, Tournier, Ginat), Lyskamm North Face (Nessi-Andreani), Cervin North Face (Schmidt), Courtes North Face (Suisses), Mt Blanc du Tacul (Supercouloir, Gabarrou, Modica, Pinocchio), Aiguille des Pélerins (Rébuffat-Terray)...
Rock
Mt Blanc Pilier Central de Freney (2X), Mt Blanc Pilier Rouge du Brouillard (Gabarrou-Long), Marmolada South Face (Vinatzer-Messner), Cima Grande North Face (Comici), Piz Badile North Face (Cassin 2X), Petit Dru (North Face, American Direct, Bonatti Pillar), Le Fou (South Face), Salbitschijen West Ridge, Petites Jorasses West Face (3X), Mt Blanc du Tacul Pilier Gervasutti (2X)...
Steep skiing
North Faces: Petit Mont Collon, Pigne d'Arolla, Pointe de Vouasson, Obergabelhorn, Aiguille du Midi, Tour Ronde, Aiguille de l'Amône, Gd Combin de Valsorey...
Couloirs: Dent Blanche WSW, Couturier, Doigts, Dent Jaune (4x), Barbey (2X), Jäger, Diable, Spencer...
First
Dent Blanche West SW Couloir ski descent, Aiguille de l'Amône NE Face ski descent, Goulotte NE au Petit Grépillon, Goulotte RoRo au Tournelon Blanc, rock climbing routes (30+), ice climbs (20+)...
Guided ascents
Mt Blanc Pilier Central du Frêney, Eperon Tournier aux Droites, Aiguille Noire de Peuterey S Ridge (2X), Aiguille Verte Couturier Couloir, Pilier Gervasutti Mt Blanc du Tacul, Petites Jorasses West Face, Badile NE Cassin, Badile North Pillar (2X), Grand Capucin (6X), Nollen Mönsch (3X), Aiguille d'Argentière North Face, Everest North Col, Kilimandjaro (2X), Mont Blanc (30+), Grand Combin (20+), Cervin (20+), Dent Blanche (10+), Eiger (3X), Toubkal, Mera Peak...
60 peaks above 4000 m in the Alps.
Guided ski descents
Couloir Marinelli (3X), Pigne d'Arolla North Face, Glacier Rond, Mönch South Face, Couloir Dent Jaune (3X), Petit Combin North Face (15+)...