Entremont Escalades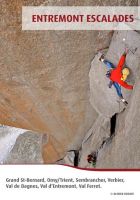 The region detailed is the district of Entremont which is located in the Bas-Valais of South-West Switzerland. The area encompasses the three valleys of the Dranses rivers: Ferret, Entremont and Bagnes.
There are 75 sites spread over 7 separate areas:
Grand St-Bernard
Orny/Trient
Sembrancher
Verbier
Val de Bagnes
Val d'Entremont
Val Ferret
In all, there are 1000 climbs varying from 10 to 600 meters which are individually detailed.
Text in French
380 illustrated pages
Edition: 2011
ISBN 978-2-8399-0827-6
Author: Olivier Roduit
Described sites
| | | |
| --- | --- | --- |
| 1. La Dyure | 26. Madzeiria Beach | 51. Pilier des Essettes |
| 2. Bovernier | 27. Boutzes du Pleureur | 52. Cabane de l'A Neuve |
| 3. Le Clou | 28. Tsè des Barmes | 53. Grand Darrey |
| 4. La Fory | 29. Madzeiria | 54. Plan de l'Arche |
| 5. Les Trappistes | 30. Le Giétroz | 55. Ancienne Cabane |
| 6. Sembrancher | 31. Les Arbaleys | 56. Pinacle du Portalet |
| 7. Etiez | 32. Li Blanche | 57. Sattelite du Portalet |
| 8. Contreforts de la Crevasse | 33. Tour de Bavon | 58. Petit Clocher du Portalet |
| 9. La Médille | 34. Toules | 59. Grand Clocher du Portalet |
| 10. Secteur Tara | 35. Cabane du Vélan | 60. Cabane d'Orny |
| 11. Le Troubayet | 36. Cabane de Valsorey | 61. Aiguille de la Cabane |
| 12. Chemin | 37. Les Botseresses | 62. Gendarme d'Orny |
| 13. Sommet de la Crevasse | 38. Becs Noirs | 63. Aiguille d'Orny |
| 14. Col du Tronc | 39. Grande Chenalette | 64. Cabane du Trient |
| 15. Les Evouettes | 40. Montagna Baus | 65. Trident et Tête Biselx |
| 16. Le Levron | 41. Bloc d'Issert | 66. Aiguille Purtscheller |
| 17. Grand Lui | 42. Falaise du Vrieux | 67. Aiguille de la Varappe |
| 18. La Barme | 43. Prise d'eau de Saleina | 68. Promontoire de l'Aig. sans Nom |
| 19. Pierre Avoi | 44. Bloc de Saleina | 69. Aiguille sans Nom |
| 20. Col des Gentianes | 45. Glacier de Saleina | 70. Refuge de l'Envers des Dorées |
| 21. Sarreyer | 46. Clochers des Planereuses | 71. Gendarme des Plines |
| 22. Corbassière | 47. Cabane de Saleina | 72. Les Ecandies |
| 23. Plamproz | 48. Dalle de l'Amône | 73. Six Carro |
| 24. Fionnay | 49. La Fouly | 74. Clocher d'Arpette |
| 25. Le Bourrot | 50. Pilier de la Maye | 75. Bloc d'Arpette |
Price
Sfr 49.-
Postage included
Payment 30 days net
Shipping only in Switzerland
Order form